Skullgirls APK 6.0.1
Are you down for a fun girls fighting club? Install Skullgirls APK to get a classic fighting RPG. Build your ultimate team to fight against bosses here!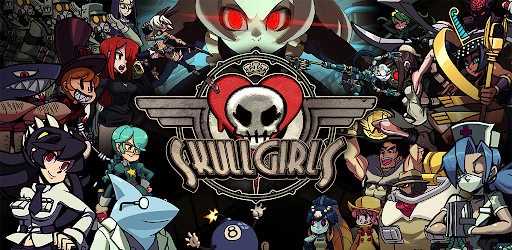 Download Skullgirls APK – Fighting RPG
Fighting games have been around for decades now. When you combine them with RPG, they result in a new adventure. Skullgirls is an instant classic as it has received a 4.6-star rating in the Google Play Store.
It's a game full of action, fighting and cool characters. It features characters that are out of this world from robots to fighting ninjas and more.
The game has many bosses for you to fight while assembling the ultimate team. Multiple game modes are also present such as multiplayer and offline modes.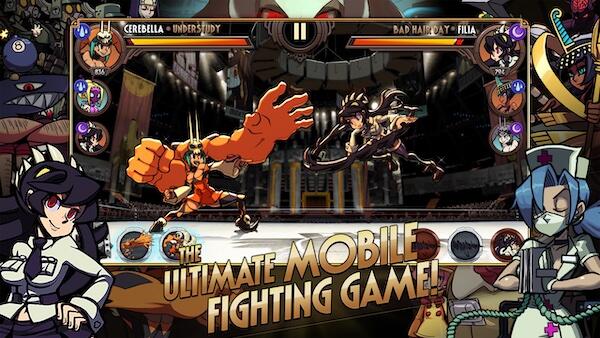 There are hundreds of fighters to get and many more combos to perform. Upgrade your characters and show your combat abilities as you find the Skullgirl who will unleash hell upon the world.
A Close Look at Skullgirls
Once every seven years, a new Skullgirl is born. Depending on the purity of her heart, she can destroy the world or not. It's been seven years since and there's still no sight of her.
Meanwhile, you must prepare yourself and your team to defeat the evil and ultimately the Skullgirl. In this action RPG game, the goal is to fight your way through endless bosses.
You can use different characters to build a team, upgrade them, customize, and fight. There are various skills and combos to use in the game with lots of dialogues which makes the story interesting.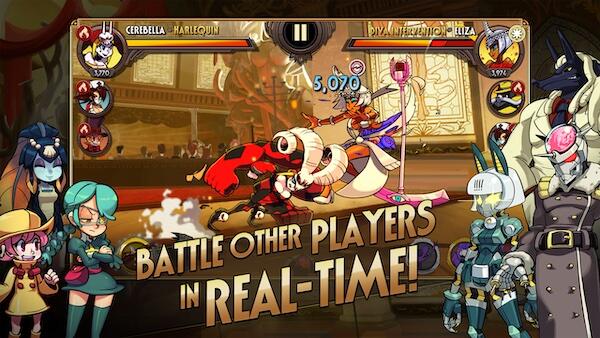 At the start, there's a tutorial for you to get into the groove of the game. After that, you'll be left to complete the story mode or even try the multiplayer mode. Enjoy an action-packed game with the most amazing graphics!
Hundreds of Unlockable Characters
Characters in Skullgirls are ones that you can add to your team to use when fighting. You can create a team of three fighters with the best combinations to make their teamwork the best.
In the game, there are many characters to be unlocked such as:
Marie

Annie

Big Band

Valentine

Umbrella

Filia

Squigly

Eliza

Parasoul

Cerebella
Each of the character has their own origins, skills, and different personalities. In addition, players can level them up and unlock special moves and Blockbusters that can be upgraded.
Offline vs. Online Game Modes
Skullgirls has multiple game modes for players to get into. These are a combination of offline and online game modes. Here are they:
Prize Fights

Story Mode

Versus Mode

Daily Events

Training

Rift Battles
The Versus Mode is the sole multiplayer mode where players can contend with others in real-time. They are a way to level up your characters while fighting with the best in the world
The Story Mode is where you'll fight plenty of monsters and bosses in each level. There's a story in the game and to enjoy it, you'll need to play this mode. Then, there's also the Prize Fights where you can compete with others to get new characters.
The Daily Events are where you can use certain characters to complete objectives. Plenty of rewards are waiting for you! In the Rift Battle, players need to defend themselves and challenge others.
Lastly, Training is where you can use different characters to try out various modes and items. It's one where you can fight against AI characters.
Level up and Perform Combos
Skullgirls is an RPG fighting game so there's a level up system in here. The characters can be leveled up to increase their stats and chance of unlocking new skills. Fighting stronger opponents means new challenges which poses the need to level up.
With Skullgirls, you can fight using strategies as you use combos to perform incredible attacks. The controls are easy to use as there's a tutorial at the start of the game. The controls allow you to use different combos but with gestures. Instead of physical buttons to press, you just need to swipe the screen in different directions and in successions.
There's no way to move around in the game but you can switch characters anytime. You can also perform combo moves with your characters to take down enemies.
Before the start of any fight, you can select the fighters that you'll bring. You can also use the skill tree for any character to unlock different skills. In the game, you'll see their skills, signature moves and moves list complete with the controls.
Hand-Drawn Animation
Skullgirls was created with thousands of hand-drawn animations. From the crisp characters to the backgrounds and effects, nothing is out of place. Every single detail has been created to look like the perfect RPG.
It also features a quirky soundtrack and effects to complement your moves. There are also dialogues that each player shouts when making certain moves. The combination of colorful graphics and soundtrack makes this an appealing game.
Download Skullgirls APK – free version
When you want an exciting RPG fighting game, try Skullgirls. Level up, unlock new characters and fight evil!