The Walking Zombie 2 APK 3.7.1
Download The Walking Zombie 2 APK – latest version – Free for Android to rid the world of the zombie infestation while helping survivors to complete quests.
Humanity is on its last legs. The world is overrun with zombies – victims of a mutant virus. Download The Walking Zombie 2 APK to fight off the millions of zombies, bosses, and other nasty creatures that now have complete control over the planet.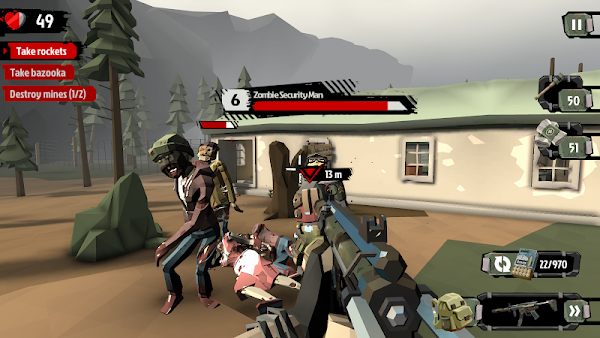 You are humanity's last hope. Thanks to a mutation in your immune system, you're completely immune to the virus that has turned humanity into flesh eating zombies. You can fight them off without becoming one of them – but that doesn't mean that they can't tear you into little pieces.
Kill them zombies, kill 'em all!
You'll have access to tons of weapons, with a variety of ammo and grenades to use against the hordes. You'll also have all sorts of melee weapons to bash their zombie heads in with! But be careful – you wouldn't want to only have a bat when it comes to fighting a boss zombie.
You can also unlock vehicles to help you run them down and mount heavy weapons on them to blast the zombies into the abyss. The Walking Zombie 2 APK has all the makings of a great FPS zombie shooter – but it doesn't stop there.
Complete quests
You'll also be able to complete quests to help out the last remaining survivors of the outbreak. Quests are often in-hand with the game's storyline, which in-turn allows you to progress through the game and encounter new things as you go.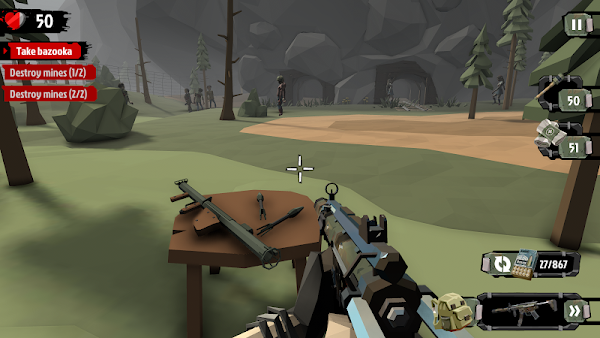 Choose your path
You don't have to curry up favor with the survivors - you can also choose a darker path. You'll be measured in karma throughout the game and your score will allow you to choose different paths that weren't previously available. Will you become the guiding light of humanity, or will you serve your own twisted needs?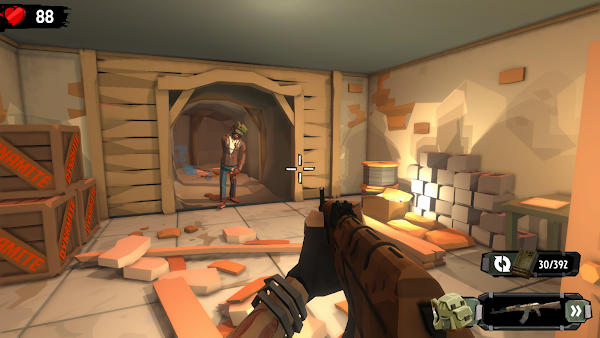 Upgrade your weapons
There are tons of weapons in the game and you can make mega upgrades to all of them. Attach perks to them so they're more deadly, or change their paint to make them look more badass. It's up to you. You can choose to carry around a golden AK if you want, or you could go for some much more creative…
Tips for playing The Walking Zombie 2 APK
Playing a complex new game is a learning curve – it'll take you time to master the ins and outs of the whole game. Here are some great tips for playing The Walking Zombie 2 APK.
Perks: There are a lot of cool perks in the game. You should invest in ones that make you advance quicker, like Bookworm and Animal Language. You can learn skills too – trader is a good one as it lowers the price of things in the game.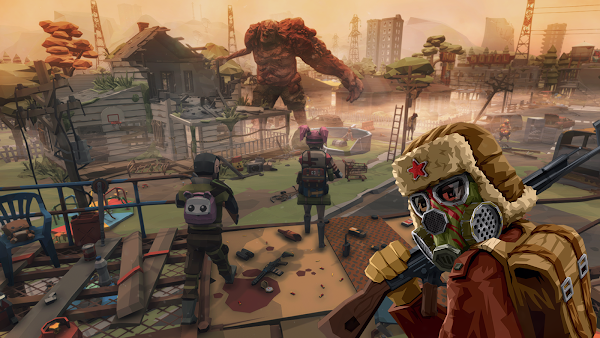 Complete quests: It should go without saying that the quests in the game are important. You can complete them to advance and unlock more areas to explore. They'll also give you a lot of XP.
Check the trunk of the car: There are often some great treats in the trunk of the car – open it up and see what you can find – weapons, ammo, and more.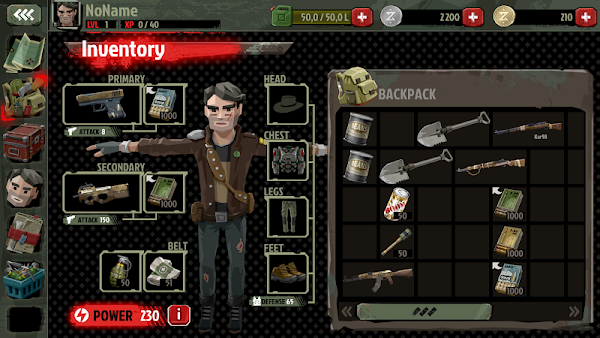 Change shooting settings: You'll fire whenever you move the view over a zombie. You can change this in the settings to aim for more precise shots and preserve some more ammo. Aim for the head, of course, or for things like explosive barrels – those good ol' things.
Walking Zombie 2
Money, gas, ammo? There are so many things to stock up on in the event of the world collapsing. We've seen this in real life with recent events like coronavirus, so now we know for sure that it isn't going to be easy to survive if everything ceases to function.
Download the Unlimited Everything APK for The Walking Zombie 2 to make gameplay more about shooting and less about searching for food. Enjoy!