Clash Mini APK 1.2300.5
Would you love to play a new Supercell game? Try Clash Mini APK Beta to play a strategy board game where you can deploy troops and destroy opponents using strategies!
Download Clash Mini APK – Epic Strategy Game
Let's be honest; we've probably played all the types of games there are by now. Many genres are available like casual, puzzle, action, racing, fighting, RPG, simulation, and many more.
But if you've played strategy games, you know how addictive they can be, especially if Supercell makes them. Today, the company has launched a new strategy game called Clash Mini, and it's looking epic!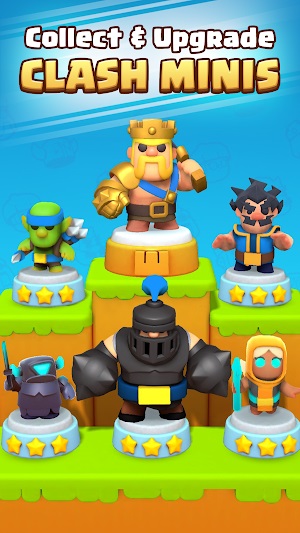 In this real-time auto-battler, you're able to collect a lot of minis as you rally them behind the hero. Here, you can choose the perfect hero to lead your armies, such as the Archer Queen, Shield Maiden, Barbarian King, and many more.
You'll find plenty of troops to unlock from the Clash universe and new ones. There are so many ways a match can be won, so it's all about your strategies and troop placement. Here, you can fight against others in a one vs. one match or the Rumble mode.
Fun Strategy Game
If you're looking for the best games to play, consider strategy games today. There are tons of strategy games that one can enjoy right now, such as King of Battles, Battle of Polytopia, DomiNations, Iron Marines, Clash of Clans, and many more.
If you love the strategy genre, then you've undoubtedly played some Supercell games by now, such as Brawl Stars, Clash Royale, Boom Beach, Clash Quest, and many more. Now, they're adding another fun game to the mix, which is called Clash Mini!
This game is similar to Auto Chess, where you don't directly control how your troops attack and defend. You need to place your troops on the board however you want, and they will automatically battle with the opponents.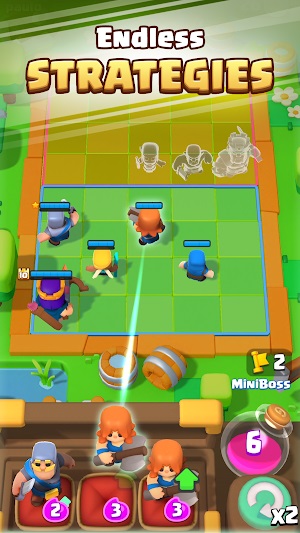 Here, you can select one hero to lead your army to battle: the Archer Queen, Barbarian King, Shield Maiden, and many more. You can also unlock and upgrade tons of troops like Wizard, Barbarian, Mega Knight, Archer, Electro Wizard, Battle Healer, and many more.
In here, each battle lasts only under 5 minutes, but they can be intense!
Clash Mini Highlights
If you enjoy strategy action games, then you're in for a treat with Clash Mini! This is a brand-new Supercell game you can enjoy.
Strategy Action Game – Many exciting strategy games are available today. Strategy games have evolved so much from simple war stickman games to modern action games.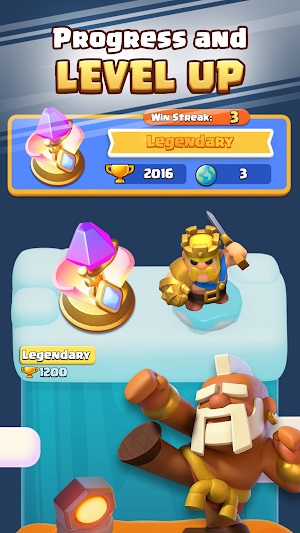 Now, you can find many of these games that you can play for free! There are so many exciting strategy games to download now, such as Clash Mini! This is a game that works just like Auto Chess but with a lot of twists.
In this game, you'll be responsible for placing the hero and the minis on the board however you want. Then, they'll automatically battle the enemies once the timer starts until you win or you lose.
This game lets you enjoy a fun strategy, one where you can freely pick the best troops to place at certain times and places. The winner is the one that has the best strategies in the game! Essentially, this is just like Clash Royale but an automated version.
Unlock heroes and minis – If you love the Clash universe, you'll get a lot of the same characters plus some new ones here! There are essentially two roles that characters can fit into here, which are the Heroes and Minis. The heroes are responsible for leading the army, so they'll be at the center of the board.
Then, the minis are your troops that you can place anywhere you like as they'll automatically attack the enemies. You'll need to sit back and watch as the battle has started in this game, but you can make adjustments in the next battle!
Enjoy fast and strategic battles – Each battle in Clash Mini can only last within 5 minutes. You can then enjoy a lot of matches in an hour of playing the game! The best part is that you can freely adjust your strategies so you can win.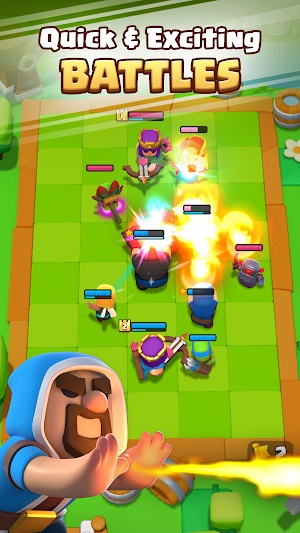 Here, the winner is the one that can get three victories or win 2 out of 3 matches. You can then enjoy playing one vs. one or enjoy the Rumble mode, where you can play against seven other players.
Play online and dominate the leaderboards - Clash Mini is an online game so that you will play against real people in real-time. Enjoy creating strategies and climbing up the leaderboards for more rewards! You can also buy plenty of heroes and troops in the shop.
Download Clash Mini APK Beta – Private server
If you're longing for more Supercell games, try Clash Mini today! Enjoy a Clash Royale automated game!