City Fighter vs Street Gang APK 2.5.1
Download City Fighter vs. Street Gang APK – latest version – Free for Android and become the street's most formidable foe by defeating the thugs!
Fighting games have been around since the dawn of mobile gaming. There have been many versions, iterations and sequels to these games than anyone can count. Why? Because they're fun and easy to play. Plus, they're a classic, especially the arcade fighting games since they go back to the arcade games in the 80s.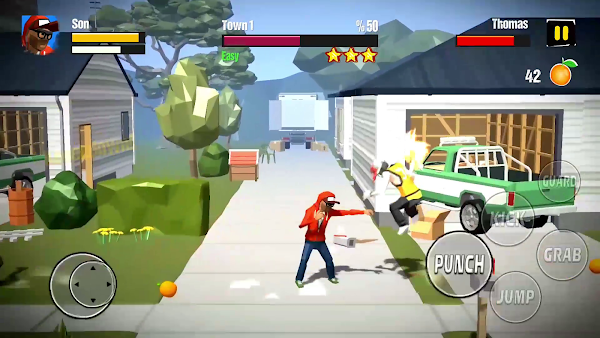 City Fighter vs. Street Gang APK by Game Theory Games is one of the best fighting games around today. With more than 5 million downloads in Google Play Store, there's no question about its popularity. But what makes this game different from all the other fighting games out there? That's what we're going to find out in this article. Read on to know more!
What is City Fighter vs Street Gang?
The story of this game goes like this. A crime fighting person just wants to drink some orange juice. But one day, some stupid guy breaks into his house and steals all of his orange juice! Then after further investigation, he finds out that the Street Gang stole all the juices around the world because their boss ordered them to. Now, he must fight against the robbers, mafia, thieves and gangsters just to save the orange juices.
The premise isn't what you'd expect but it does its job. It's funny enough to be considered a backstory. But the true call for attention happens once you play the game. You'll be thrown into an action-packed game filled with violence and orange juice! Think of this as a throwback to the original arcade fighting games that we once used to play. But now, it's more epic and has a lot of features.
And the graphics are 100 times much better than the ones back then. Aside from that, you can show off different fighting styles such as Kung Fu, Muay Thai, Kickboxing, Karate, and the good old boxing. This means that you're in for an interesting time as you fight your way to the boss. However, it's not going to be easy as you'll find that the more you fight, the tougher they get. But once you get the hang of it, you'll be enjoying it in no time! Read on to know more.
Features of City Fighter vs Street Gang
City Fighter vs. Street Gang may seem like your typical arcade fighting game at first glance, but it's not! This game packs some powerful features that will keep you wanting more! Here are they:
Different characters and moves – City Fighter vs. Street Gang features a lot of players for you to try such as Arya, Hitman, Jason and more! They each have different fighting styles so it's up to you to decide who you're using. But you can always collect them all. Also as mentioned, you can use different fighting styles in here such as Kung Fu, Muay Thai, Kickboxing, Karate and more! Show off your amazing hand-to-hand combat skills to your unsuspecting victims. After they take a beating, they'll never bother to steal orange juice anymore!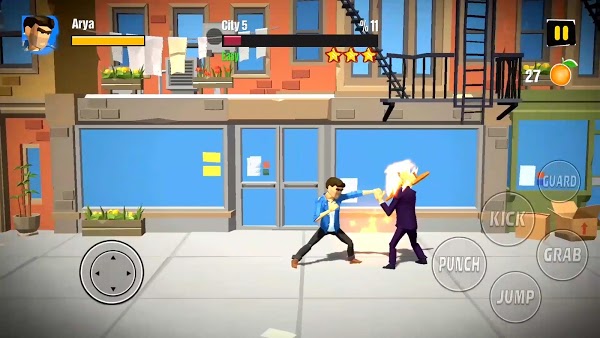 Weapons – Aside from your bare hands, you can also use weapons you pick up from boxes. This adds a whole new level of action to the game. There are many weapons you can use such as hammer, crowbar, mallet and more! Of course, you can't always use them as they are only available in certain boxes. However, they are extremely useful especially when you're surrounded by enemies!
High quality graphics – What separates this game from other fighting games is the smooth 3D animation. Even though this is an arcade game, the 3D elements are enough for you to salivate just by looking at it! It's designed with modern vector graphics that truly captures the essence of fighting. Then, you can also appreciate the effects that you get when fighting enemies. There are slow motion elements that truly makes this game a modern one.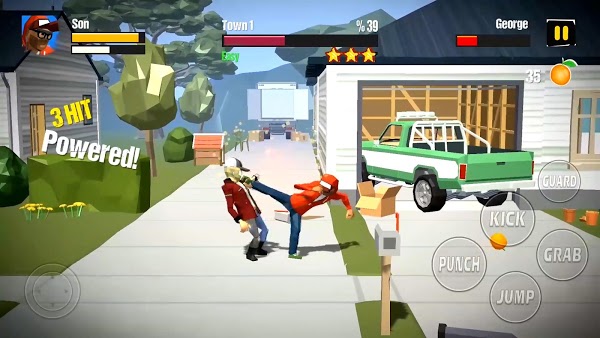 Old-school controls – What makes arcade fighting games so enjoyable are the simple controls. In City Fighter vs. Street Gang, the controls are pretty much the same! In the left side of the screen, you'll find the virtual joystick that you can use to move your character. Then on the right, you'll find the buttons for: punch, kick, jump, guard and grab. And as for the other controls like choosing your characters, you can just tap left or right. For the most part, the controls are direct to the point.
Retro style – City Fighter vs. Street Gang brings back a lot of the elements we've come to love from arcade fighting games. First, the 2D street style where you'll fight against enemies left and right is nostalgic. Then, you'll also love the effects that they added to have a modern touch but still brings back old memories. Then there's also the matter of good old hand to hand combat action that you'll utilize. Lastly, as you fight enemies, there are texts that comes out which says: 1 hit, knockdown, defeated and so on. This is truly the mark of the 80's arcade games.
Customize your characters – Aside from choosing your characters, you can further customize them by changing the color of their clothing. This option adds a whole new excitement to the game!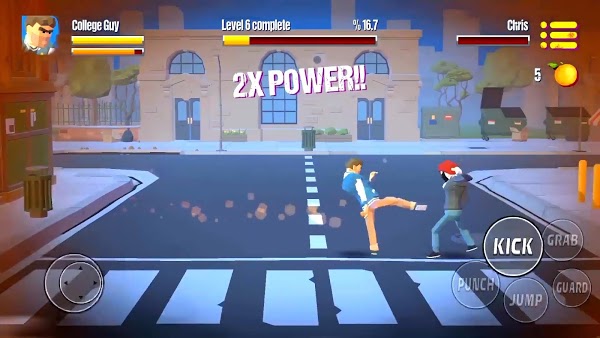 Collect oranges – In this game, your objective is to collect as many oranges as you can. You can do this by defeating enemies or buying them in the store. As you get more oranges, you can then unlock more characters. Aside from that, you can also use your oranges to increase the stats of weapons such as their damage and durability. But of course, you can only unlock the weapons as you find them.
Tips for Playing City Fighter vs Street Gang
City Fighter vs. Street Gang may look like a typical street fighting game but it's not. Here are some tips:
Watch ads – After every street cleared, you'll have the option to double your oranges just by watching video ads. As much as you can, do this so you can have more oranges!
Master different combos - The key to succeeding in this game is to be very proficient with your moves. This means that you should be able to combo opponents to render them immobile as you knock them out.
City Fighter vs Street Gang APK
City Fighter vs. Street Gang is an epic arcade fighting game. But if you don't want to deal with ads and you want to unlock all the characters and weapons, just download the dumb enemy!