CatMouse on Firestick – How to Guide
CatMouse Video Streaming
Everyone is always looking for the best way to stream their favorite videos, Television shows and movies. Especially during this pandemic, people have had a lot of free time to stream and binge watch as many programs as possible. CatMouse is one of these amazing services that allows you to do just that.
CatMouse is an application that streams movies and TV shows. The following service as the one of the BEST available by TROYPOINT. You can enjoy all services, ad free without any interruptions. This is the way video viewing and entertainment should be enjoyed.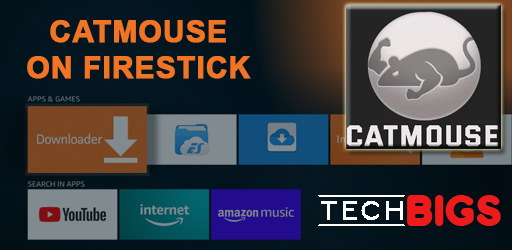 In addition, the app has taken the place of Terrarium TV, which has already been removed from the list of apps that support FireStick. So, if you are familiar with the latter application, you have now found the better alternative option.
With that being said, it's a fairly easy process to add CatMouse on Firestick for your unlimited television streaming. Simply follow through our instructions to figure out how this is possible.
CatMouse Features
There is a plethora of great features that make CatMouse one of the better options when choosing your streaming service. As such, we have listed those reasons for your viewing.
CatMouse is the best alternative movie stream application to Terrarium TV.
Video audio quality is crisp and clear, especially when using your earphones or speakers.
There are multiple subtitles available in various languages. Making the app another great option for many different demographics.
Also, the application fully supports both HD and Full HD quality videos.
Users can toggle notifications. So, whenever new episodes of their favorite programs are released, they are the first to know about it.
Easy to understand user interface. Taking full inspiration from Terrarium TV, the layout of CatMouse is near identical. To this extent, anyone already familiar with the past application will have no issues navigating through this one. Likewise, new users can easily become adjusted and find what they are looking for.
Lastly, the app is compatible with various devices.
Install CatMouse on Firestick TV
Now, we have listed the step by step instruction on how to CatMouse on Firestick TV. There's no need to worry, this process is quick and easy to understand. Simply follow along as you read the guide to instantly begin your streaming.
Note: It is illegal to access movies and TV shows which are protected by copyright laws. We hold no responsibility toward the videos you choose to stream. Likewise, we do not recommend the consumption of such copyrighted content.Furthermore, if you choose to view these videos, there is a chance your location and information can be monitored. For that reason, we recommend installing a VPN to change your IP address. This will make it impossible to track your location and keep you safe from hidden eyes.
Without further ado, let's begin with the tutorial:
Installation Guide
First, you'll need to open up your Fire TV and access the Home screen. From here, click on the Settings.
Then, click on My Fire TV.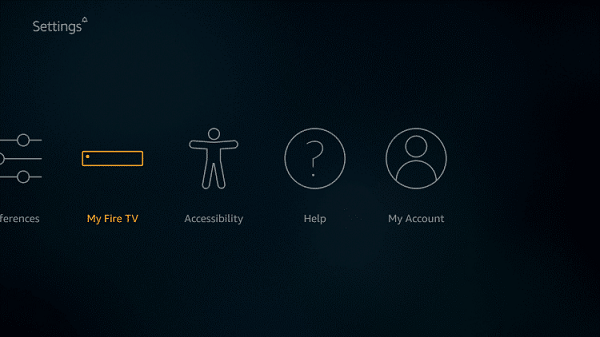 Next, click on the Developer
Before installing, you will need to allow "Unknown Sources" to be installed to your device. The direct option will be available on this page. Go ahead and turn the feature on to allow CatMouse to be added onto your Fire TV.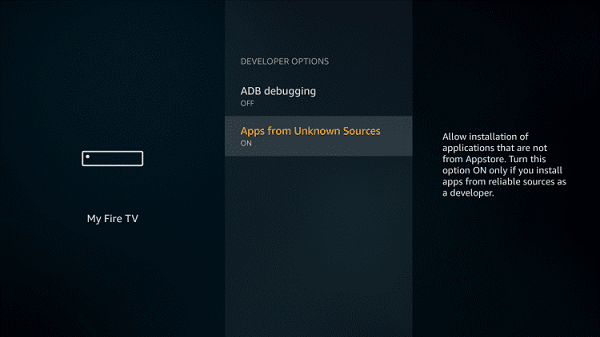 Once that is finished, go ahead and return to the Home screen. Head over to the search icon.
Type "Downloader" into the text box. From this point, the Downloader option should be your first choice. Go ahead and click on it to continue.
The Downloader app will be displayed in the Apps & Games Go ahead and click download to begin installing the app.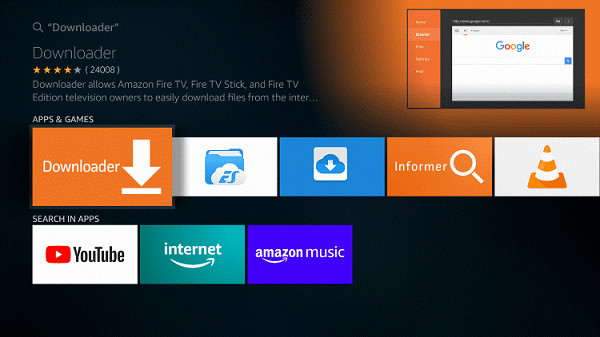 Open up the app. If you are prompted with a message, just click "Allow". Then select "OK".
Pressing OK on your remote will open the keyboard for the search option.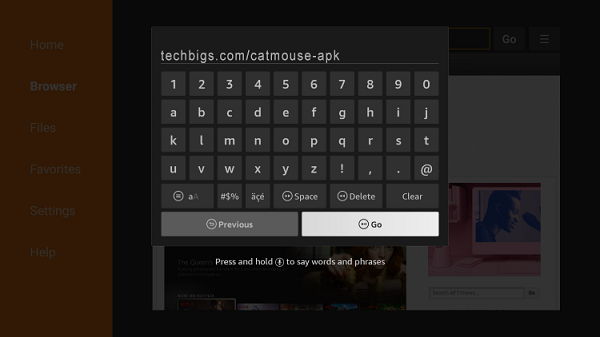 Type in the URL: "

techbigs.com/catmouse-apk

", to find the direct download link for CatMouse.
Continue to proceed with the download and wait for the APK to fully install.
Once finished, select "Done" to proceed again.
Now, with the app installed, there is no reason to hold on to the download APK file. You will be returned to the Downloader app. From here, you can choose to delete the APK to free more space on your device. We recommend oding this, if you plan to add more apps in the future.
Afterwards, head back to your Home screen. Under your Apps & Channels, choose "Select All".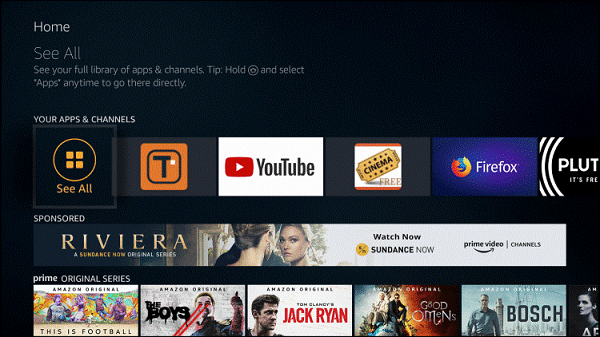 At the bottom of the list should be your newly installed CatMouse application. You can choose to move it to the top of your list. This way, the app will always be displayed directly from your Home screen.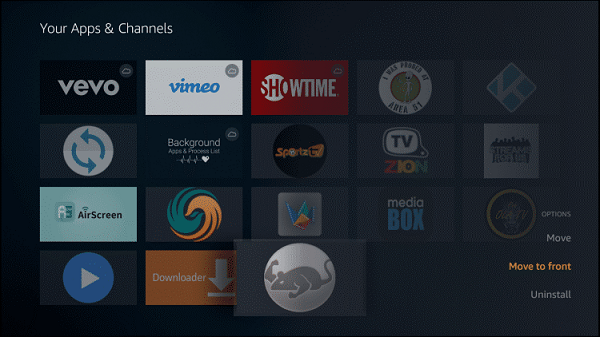 And that's all there is to it! You have successfully downloaded and installed CatMouse on Firestick TV!
Maybe you missed this great article: CatMouse Not Working
FAQ (Frequently Asked Questions)
Is CatMouse safe?
For the most part. Your safety is guaranteed during the use of the application itself. However, when streaming, your device may be susceptible to having its location monitored.
Is CatMouse illegal?
CatMouse is legal to download and install onto your device. However, the streaming of copyrighted content without having already purchased the product is not legal.
Is CatMouse free to use?
Absolutey! CatMouse is a free movie and television streaming service available for mutlipel platforms and deivces.
Can I download videos on CatMouse?
Definitely. The process to download videos is extremely simple as well. To begin, select the movie or TV show you wish to download. Once you have selected the video, there should be a "download" button available. Select this button to begin downloading the video onto your device.
Once the video is downloaded, you can watch it at any time, without an internet connection.