CatMouse APK 3.0
Download CatMouse APK – Latest version – Free for Android if you want to watch the latest movies and tv shows for free! Watch your shows now without limits!
| | |
| --- | --- |
| Name | CatMouse |
| Updated | |
| Compatible with | Android 5.0+ |
| Last version | 3.0 |
| Size | 9 MB |
| Category | Entertainment |
| Developer | CatMouse, INC |
| Price | Free |
Over the past decades, we've seen countless movies and tv shows being made and released yearly. As we progress, their number seems to be going up because the demand for these become so high. Nevertheless, Hollywood and other production industries are relentlessly producing content here and there. As a result, there are more and more videos right now than we can watch individually.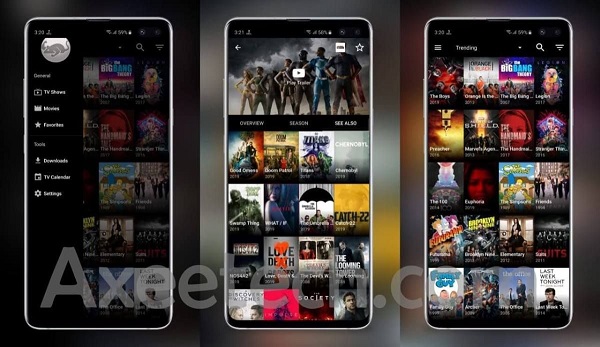 Because of this, the need for streaming services have never been so apparent. Because people don't have time to watch TV all day, they are looking for services such as Netflix and Hulu. This is where free streaming services such as CatMouse comes into play. This revolutionary app offers everything that these popular streaming apps offers without allowing you to pay a single cent! Aside from that, there are more features that this app is capable of. Read on to learn more!
What is CatMouse?
In this day and age, movies and tv shows are more in demand. Thanks to the advancement of technology, we now have cables and theaters. However, not everyone has the time to watch movies and shows with a cable subscription. And not everyone has the money to pay for streaming services as well. So, what would be the solution?
Meet CatMouse! This free streaming app allows you to watch countless titles for free! The app provides you the streaming links through which you can watch and download your favorite movies for free! That's how revolutionary this app is. But if you're asking what's the difference of this to torrents. It's simple, in this app, you can easily find anything you need thanks to its massive collection! What's more is that new users can't easily understand how the process of torrents work. But CatMouse acts just like a streaming platform they're used to! This allows them to easily watch and download any movie or show they like!
Aside from that, this app allows users to watch any video with subtitles. Regardless of whether the movie/show is in English or not, it can be understood as long as there are subtitles for it! Plus, the developers are constantly updating the app to add the latest movies and tv shows! This means that you won't get left behind even if your neighbor is paying for a streaming service such as Netflix! You can be assured that you can watch the same thing they get without paying for it!
Lastly, the app features user-friendly interface that allows beginners to easily navigate and find their movies and shows. Aside from that, you can watch the videos using the built-in player of the app or you can watch it in third-party viewing apps such as VLC or MX Player. Whatever the case, you can enjoy uninterrupted access to thousands of titles without paying for anything! Read on to learn more.
Features of CatMouse
CatMouse is a free video streaming platform that allows users to watch any movie or tv show they like! The app regularly updates its list, allowing you to watch content anytime anywhere! Here are its features:
Thousands of titles – If you can't pay for a monthly subscription of streaming services such as Netflix, CatMouse is the perfect app for you! This app has thousands of movies, tv shows and series that you can stream online! Now you don't have to settle for cable shows that only air series that they want. Thanks to this app, you can watch any movie or show anytime and anywhere. As long as you can find movies and shows, you can watch them uninterrupted with this app! Nothing can stop you.
No registration required – Unlike paid streaming apps such as Netflix, Hulu and other popular titles, you don't have to sign up in CatMouse to use it! This means that you don't have to give up sensitive info like your name, email and even birthday. The app doesn't require anything from you not even your info to stream movies and shows. This is incredibly important for a lot of people because they like to keep their privacy especially from advertisers! If you value your privacy as well, then this free streaming app is for you.
High-quality – Sure, you can download any movie or show you want from the web using torrents. Or you can watch them in Facebook or YouTube. However, not all of them assures you the highest quality possible when it comes to viewing. But in CatMouse, you can watch your favorite movies and shows in up to full HD resolution! Or you can choose to lower the quality to up to 480p to save data if you want. Whatever the case is, you can be assured that you will watch high-quality movies and shows whenever you want. Unlike in other ways where you're basically forced to watch anything even in low resolution while taking your money. But in CatMouse, everything is free!
User-friendly interface – CatMouse offers user-friendly interface that allows even beginners to easily stream movies and shows! Unlike in torrents, you don't have to do a lot in here just to browse your favorite movies and shows. The app offers interface that you're familiar with as with the popular streaming apps such as Netflix or Amazon Prime Videos. Because of the clean and minimal design, you can enjoy the content as much as possible without limitations.
Categories – This app also offers many titles in different categories! Whatever you're looking for, you're sure to find thousands of titles under that genre. There is genre such as sports, horror, action, comedy, romance, thriller, drama, and more! You can freely browse anything you wish so long as it's in the app!
Autoplay – CatMouse also features an auto-play feature that allows you to view the next episode automatically to provide effortless viewing. This feature is present in paid streaming platforms such as Netflix and Hulu.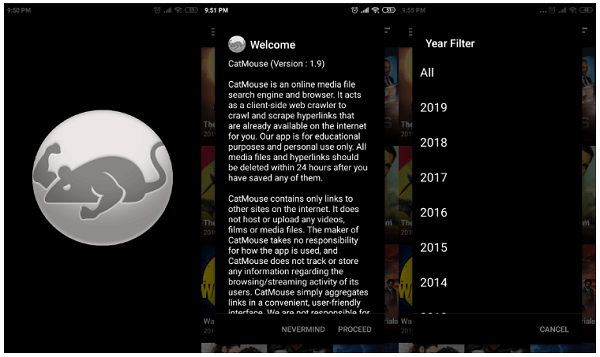 Reminder – In CatMouse, you can also set a reminder to watch your favorite movies and tv shows later! That's how powerful and thoughtful this app is. It lets you mark in the calendar when you want to watch the movie in the future to get a notification when the new episodes are uploaded.
Built-in media player – This app also has a built-in media player that's capable of supporting over 60+ video formats! Now you don't have to use third-party media players if you want a seamless viewing experience.
Download CatMouse APK – Latest version
CatMouse is an awesome video streaming app that allows you to watch thousands of titles for free! Download the latest version now!