Bit Legends APK 1.0.0
Are you a sucker for classic RPGs? Download and enjoy Bit Legends now and unlock fun characters and fight 100 monsters! Go for PVP and upgrade now!
RPG games offer a ton of fun for everyone. They're one of the oldest types of games around even before the age of mobile games. Today, you can enjoy a lot of them but if you're looking for a classic one that has a unique blend of modern gaming, here's one! Bit Legends is a game from GameFun Ltd and it allows players to venture into wastelands fighting enemies. Fight plenty of monsters and capture them to evolve them!
Here, you get to go on adventure in different locations and capture over a hundred monsters and bosses. As you capture them, you can evolve them so you can create your own battle team. You'll also be able to fight and defeat dungeon bosses so you can receive incredibly powerful weapons. Add these to your arsenals and create an unbeatable team today!
Classic Pixel RPG
Have you played a Role-Playing Game (RPG) before? These are extremely popular games that involves a lot of monsters and fighting. If you want the best one today, play Bit Legends now and get a taste of the past. In this fun RPG pixel game, you can venture into different locations and fight beasts. There are over 200 of them loitering around and you can also capture them!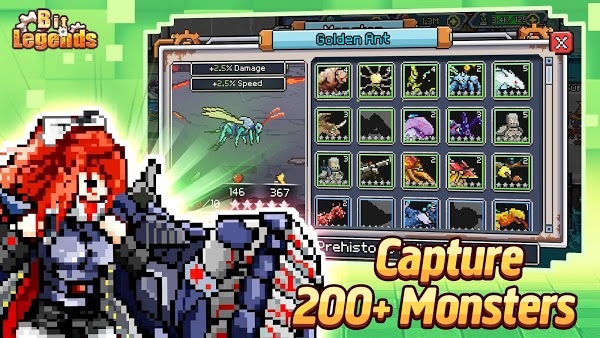 Similar to how Pokémon works, in this one, you'll just need to capture monsters so you can add them to your team. Upgrade them and equip them with rare items to increase their power. Here, there are many monsters to capture and defeat including bosses. Aside from that, you can play as one of the four classes which are Bounty Hunter, Engineer, Kung Fu Master and Artist. Each of them has unique capabilities and you can unlock their skills and talents.
Construct the best skill tree for your game style so you can conquer dungeons and defeat enemies. Fight zombies and monsters in this game that features 8-bit graphics today. Fight with other players as well and go in raids!
Bit Legends Capabilities
Are you looking for the best RPG to play today? You won't be disappointed with Bit Legends. A classic RPG game that has the following features: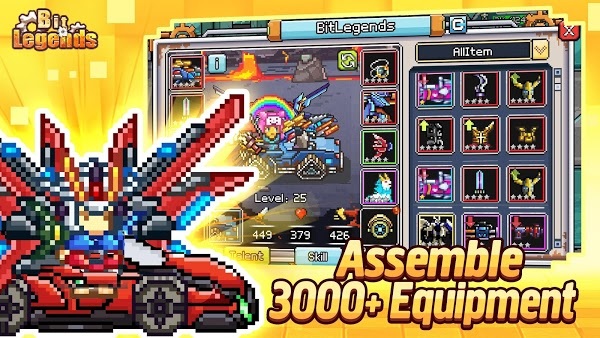 Pixel RPG – There are thousands of RPG games which you can download and enjoy today. Yet, most of them are copies of older ones. So, if you're not satisfied with modern graphics, why not go back in time? Take pixel graphics to the limelight again and play Bit Legends! In this fun RPG game, you'll take on many dungeons and fight monsters and zombies.
Aside from that, you have the ability to capture monsters to turn them into allies! Build your own team of monsters and fight others in epic fights. You can go for Auto fights so you don't have to fight manually. Here, there are also unique classes and a talent tree you can take advantage of. Conquer and defeat dungeon bosses today and show off your might.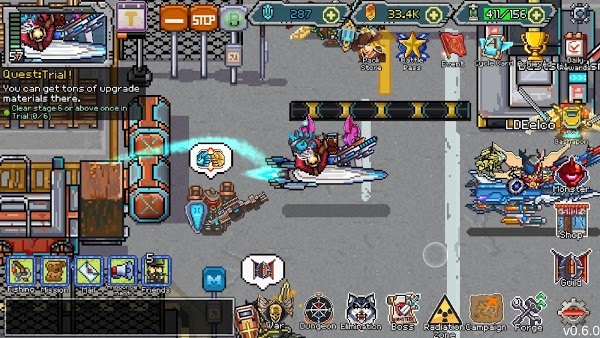 Fight and Capture Monsters – In this RPG game, you can go on different dungeons in the world and fight plenty of monsters and zombies. You can also capture them after defeating them to turn them into allies. Then, you can upgrade them and equip them with different items to increase their stats. Bit Legends allows players to grow and become more powerful. Go into different dungeons with confidence today and defeat many enemies.
Collect items – There are over 3000+ equipment you can collect and equip here. There are weapons, potions, armors, items and other things you can collect in the game. Raid dungeons and defeat bosses to get rare items today. Have fun upgrading and trying out different items to outpower enemies in this game.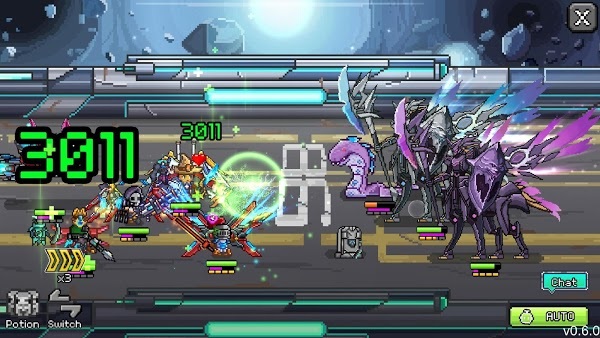 4 Class Systems and Talent Tree – You also have the ability to choose among 4 of the playable classes: Artist, Engineer, Bounty Hunter and Kung Fu Master. Each class has a unique talent and skill tree that you can unlock. Pick the most suitable skills for your gameplay today and unlock your true potential. Try to conquer enemies with brute strength or with magical items!
PvE and PvP – In Bit Legends, you can also go on raids with players from all over the world. Or, you can fight with them to see who has the stronger suit and power. Then, you can also create guilds so you can defeat stronger bosses and get tons of yields.
8-Bit graphics – In this game, you can fully customize your heroes and appreciate the 8-bit graphics. Everything is similar to how RPG games are back then!
Download Bit Legends APK – Unlimited Money
Download Bit Legends and enjoy a fun and classic RPG gameplay. Fight and capture monsters and fight with other players