Bad Team APK v31
Bad Team v31 APK download allows you to unlock new items and improve your Garena Free Fire gameplay. It has a simple UI, allowing you to inject scripts easily.
| | |
| --- | --- |
| Name | Bad Team |
| Updated | |
| Compatible with | Android 5.0+ |
| Last version | v31 |
| Size | 57 MB |
| Category | Tools |
| Developer | BAD TEAM, INC |
| Price | Free |
Everything You Should Know about Bad Team v27 APK
Bad Team v27 APK download is an entertainment app with in-built scripts that can help you to modify the Garena Free Fire gameplay. It has numerous that can give you an upper hand over your competitor.
The app will allow unrestricted access to tools, including heroes, weapons, backgrounds, skins, and sounds. This way, defeating your enemies will be a breeze! You'll enjoy flawless gameplay with superior features that would otherwise be difficult to unlock.
Even better, using this app is pretty straightforward. It has a simple UI that guarantees seamless playing for beginners and professional gamers. It is only 58 MBs and requires an android device using at least 5.0 OS.
How Bad Team App Works
Bad Team is an android application that can load scripts into games. This way, you will have access to special items, which may be hard to get otherwise. The scripts usually come in packages called.
Once you download it, you should select the you want to apply. Then, you will have to restart the game to load the scripts. This way, you will get free access to powers and abilities.
As such, this app will improve the overall gameplay and enable you to achieve your objectives with ease. You will beat veterans in the game since you can get superpowers right off the bat.
Unlock Bad Team VIP APK!
While using the free version of the app offers numerous, you can improve your experience by unlocking Bad Team VIP. It includes additional features such as removing ads and unlimited script downloads.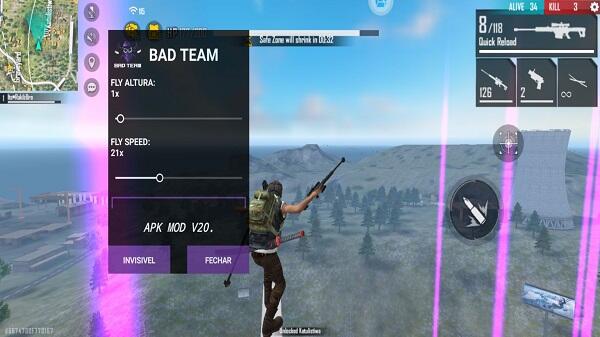 You can also access premium , which are often hard to come by. However, this is optional. You can still use the basic version and make your gameplay a lot more fun!
Features of Bad Team APK
Aimbot/ Headshot. The app allows you to automatically lock-on and shoot the target. This way, you will never miss a shot! The headshot feature will help you aim for the head, making it harder for your opponents to recover.
Anti-Ban Protection. The scripts are protected via anti-ban features, which prevent detection by game administrators. This way, you can inject without worrying about being banned from Garena Free Fire.
Numerous ESPs. The app has numerous ESPs, which allow you to gain access to information about enemies. The data includes location, health status, and weapon. This way, you can easily pick the best shot!
Ghost. The app allows you to gain an upper hand by turning yourself invisible. This way, you can hit enemies without them noticing until it's too late!
Flying. The flying script allows you to float in the air and move around without necessarily using a jetpack. This way, you will have an upper hand over gamers that rely on mobility tools.
Wall Stone. This script will allow you to run through walls, making it easier to move around and dodge attacks.
Speed. This enables you to run faster, allowing you to catch up with enemies or get away from other players.
Teleport/Teleport Car. The app allows you to move around the map using coordinates. You can be transported from one location to another instantly. Additionally, you can intercept your enemies' communication!
Improved Running/Driving Skills. The app makes you run faster and escape from pursuers. It also improve your driving skills, making it easier to move around the map. This way, you can intercept enemies or carry out special missions!
Faster Healing. The script speeds up your recovery process, helping you avoid damage and heal fast after taking hits.
Reset Guest. This script gives you a session ID, which can allow you to reset your player's data and get back some abilities that might have been lost in the process!
Free to Download and Use
Bad Team APK is a free application that can help you outrank other players within a few days. It does not require root access and is 100% safe to download.
Additionally, the app does not require login info, making it easy to use. All you have to do is download the app, install it on your phone, and run it! There are no complicated steps that will make using the scripts more difficult.
Finally, the application has no third-party ads. You can enjoy it without being distracted by other ads.
How to Download Bad Team APK
This application is available on your favorite third-party website. Just search for the term Bad Team APK, and you will find multiple results that lead to this app!
Open your trusted site and download it. However, you must first enable download from unknown sources.
After downloading it, open the file and click on "Install." This way, you can install the Bad Team script on your device within minutes.
Once installed, run the app, inject the scripts into Garena Free Fire through your smartphone, and use the to your advantage.
Bad Team VIP APK
You can download Bad Team APK if you want to experience a better gaming experience without unlocking the VIP version of the app. This version contains advanced that improve speed and make movement easier for you.
It also comes with precise analytic details, better graphics, and a better gaming experience. As such, this version makes it easier to handle missions without being caught off guard.
Conclusion
Bad Team APK is the best Garena Free Fire tool that will allow you to rank up in a few days. With its user-friendly interface and a wide range of features, you can easily outrank your opponents within minutes!
Some scripts allow you to turn invisible, run fast or teleport through walls, making it easier for gamers to get rid of their enemies. Download and use bad team APK and enjoy the game with your friends.