Widgetopia APK 2.6.0
Do you want your phone to look more like an iOS device? Download Widgetopia APK today! This app contains tons of widgets from iOS that you can use for free.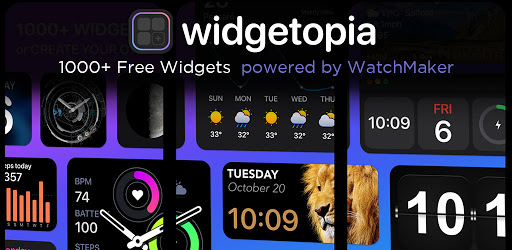 Download Widgetopia APK – iOS Widgets
There are many people in the world right now who use smartphones. You can enjoy these gadgets that contain tons of apps and websites that you can use today.
If you're someone who loves customizing your phone every time, then you can also enjoy many apps. If you have an Android phone and want it to look like an Apple device, you can download Widgetopia! This app contains tons of iOS widgets you can use.
So, what are widgets? Simply put, these can be added to your home screen so you can access info without opening an app. For instance, you can add widgets like the clock, calendar, memo, etc.
With this app, you can access over 20,000 pre-built widgets from iOS to your Android device. There are more than 60 themes to choose from, and you can fully enjoy your phone with this app today. You're free to customize your phone's look anytime you want!
Free iOS Widgets
If you're someone who loves phones, then you can freely download a lot of them right now. There are so many phones to enjoy right now as they're affordable, and they let you access many websites and apps.
You can watch movies, download apps, communicate with loved ones, and more with smartphones. You can also freely customize your phone with your wallpapers, themes, apps, and more. You're free to enjoy all of these on your phone, as you can also download Widgetopia! This is an app that contains a lot of free widgets.
As you know, widgets are valuable things that you can put on your home screen to get essential info right off the bat. There are already a lot of widgets available as default on our phones.
But with Widgetopia, you can access over 20,000 widgets that feature different styles and themes. They even feature widgets from Ios devices so you can make your Android look like one. With this app, there are numerous themes that you can use, such as flowers, cats, holidays, and many more.
What's great about this app is that you can also create your widget and customize your phone!
Widgetopia Highlights
If you want to make your phone stand out, then you should install Widgetopia now and get free widgets.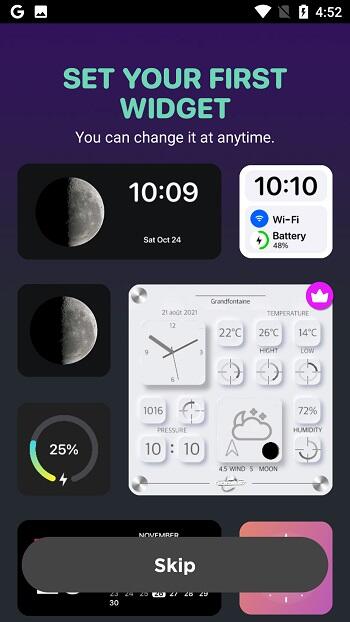 Free widgets – You can enjoy many things right now that allow you to customize your phone. We use our phones a lot right now, whether at school, work, or the park.
Since we use it every day, it's only fitting to customize it to however we want. We'll look at our phones often, so we need to customize the wallpaper, themes, and even widgets. You can use Widgetopia to customize your widgets for free.
Most phones include some default widgets that look old and outdated. With this app, you can access over 20,000 widgets that look good on any phone today. With this app, you're free to enjoy so many widgets with different themes like holidays, cats, flowers, green, pink, and many more.
You can also enjoy creating your widget to customize your phone entirely. You can access many widgets here in different styles such as digital clock, date, memo pad, charts, steps, countdowns, battery, and more.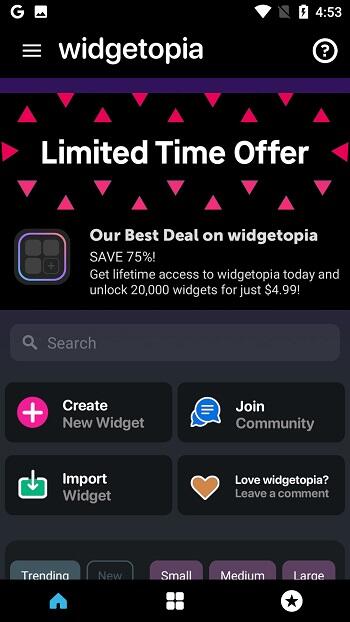 Tons of themes – If you're going for a particular look on your phone, Widgetopia can help you with that! This app features many widgets with a specific theme, such as holidays, animals, flowers, sunsets, and many more. You can choose from over 60 pre-made widget themes that you can readily use.
These include widgets like clocks, calendars, countdown, steps, and many more. With these themes, you can make your phone look more relaxed as you can even change your theme each day if you want!
Different widget options – Widgetopia features over 20,000 pre-built widgets that you can readily use. Here, you'll access many widgets such as countdowns, digital clocks, time, date, weather, charts, steps, battery indicator, photos, moon phase, activity rings, and many more.
You can even import widgets from other apps to customize your experience even more. This app also has a designer tool that you can utilize to create your widgets! Now, you can freely customize the whole experience.
Free – This app is free, and it's for every Android phone today! You're free to make your phone look iOS since it features many widgets from that system. You can also select different themes to use right now, as this is entirely free!
Download Widgetopia Premium APK – Latest version
If you're looking for the best app to use to customize your phone, download Widgetopia now, and you won't regret it!