Ridmik Keyboard APK 10.10
Download Ridmik Keyboard APK latest version and write your messages in Bengali. It boasts many emojis and dynamic editing options for flawless typing.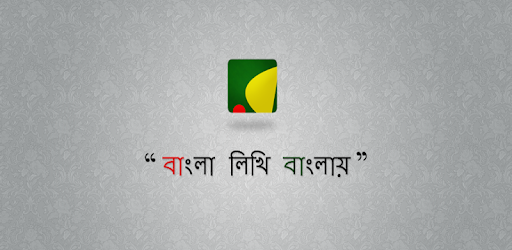 In-Depth Details about Ridmik Keyboard APK All Version 
Ridmik Keyboard APK for Android is a Bengali keyboard offered by Ridmik Labs. It provides a reliable phonetic keyboard in the extraordinary Probhat layout.
The keyboard also allows you to add an English section, enabling you to choose from diverse keyboard layouts. You can further customize the keyboard by choosing from several color schemes, font sizes, and vibration settings.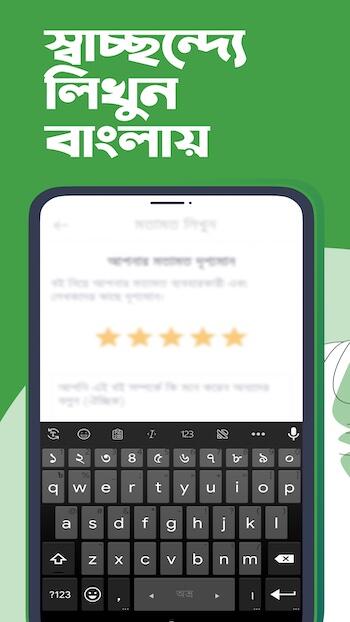 Overall, Ridmik Keyboard is an excellent keyboard option for those who wish to write in Bengali. The keyboard is reliable, easy to use, and provides a wide range of customization options.
Why Download Ridmik Keyboard? 
Phone keyboards have numerous limitations. They have limited language support, lack emoji support, and are often challenging to use.
Ridmik Keyboard overcomes all of these limitations. It provides a phonetic Bengali keyboard that is easy to use. The keyboard also supports emoji input and offers diverse techniques to personalize your write-ups.
If you wish to write in Bengali on your phone, Ridmik Keyboard is the best keyboard option available. It will make typing Bengali on your phone a breeze.
How to Use Ridmik Keyboard
Using Ridmik Keyboard is easy. Simply install the keyboard from the Google Play Store and follow the instructions. Once installed, you can select the keyboard from your phone's settings.
Once you have selected the keyboard, you can start typing in Bengali. The keyboard will automatically provide suggestions based on the words you have typed.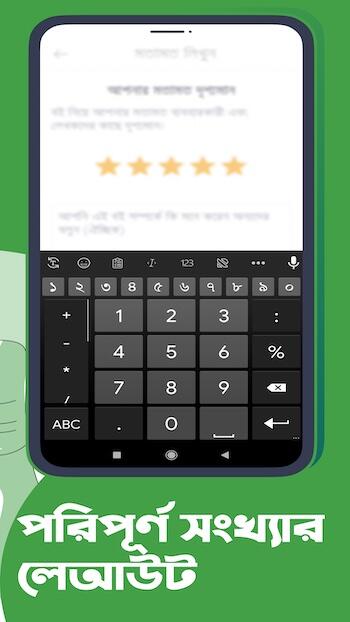 You can also use the keyboard to input emojis. To do so, simply tap on the emoji button and select the emoji you wish to use.
You can also integrate an optional English keyboard. This gives you more options, ensuring that you find the perfect keyboard layout for your needs.
Highly Accurate Prediction System
While a prediction system can be helpful, it becomes annoying when it is not accurate. The high level of inaccuracy can lead to a lot of frustration, and you might even stop using the keyboard altogether.
Ridmik Keyboard overcomes this problem by providing a highly accurate prediction system. The keyboard uses a variety of techniques to provide accurate predictions, including artificial intelligence.
This ensures you always have the right word suggestions when you need them. It also analyzes the word flows and suggests emojis based on the context of the conversation.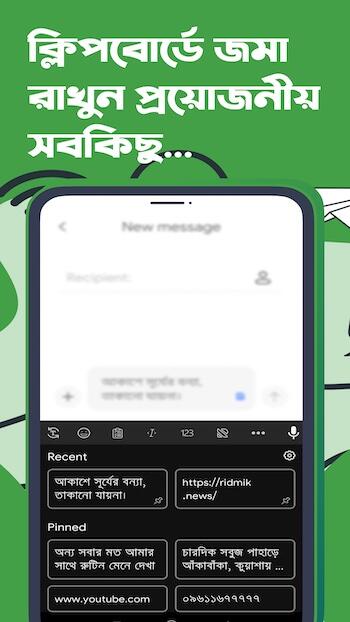 You can also add new words to the prediction system. This way, the keyboard will learn your word usage and provide better predictions in the future.
Unique Features of Ridmik Keyboard APK Download
Change Your Theme.

This application has several themes that allow you to change the look of your keyboard. You can find themes that match your style and personality. You can also create your theme by selecting the colors, fonts, and background images you want.

National and Probhat Layout.

This keyboard supports two layouts: national and Probhat. You can also set a default layout, allowing the keyboard to switch to the layout you prefer automatically.

Continuous Voice Input.

This keyboard supports continuous voice input. This allows you to dictate your text without pausing in between words. This is an excellent feature for those who wish to write long texts or for those who have difficulty typing.

An Intuitive Number Pad.

The number pad on this keyboard is easy to use and understand. You can quickly input numbers without having to fumble around with the keys.

Vibrant Color Schemes.

This keyboard offers a wide range of color schemes. You can find a color scheme that matches your style. You can also create your color scheme by selecting the colors you want.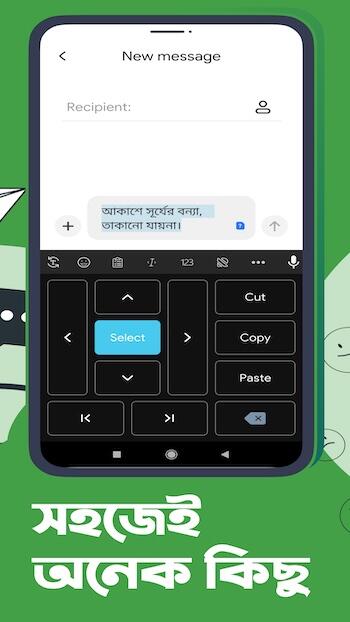 Customizable Keyboard Height.

This keyboard allows you to adjust the height of the keyboard to match your needs. You can make the keyboard taller or shorter, depending on your preference. You can also use a small or large number row in the fifth row.

Supports Chakma and Arabic Language.

This keyboard supports two additional languages: Chakma and Arabic. This allows you to type in these languages without having to install another keyboard.

Guaranteed Privacy.

This application does not collect/share personally identifiable data with third parties. Your data is safe with this keyboard.

Lots of Editing Options.

This keyboard provides a wide range of editing options. You can use the keyboard to edit your text, format your text, or even insert images. This way, you can create beautiful texts that are easy to read and understand.

Clipboard and Search Function.

This keyboard comes with a clipboard and search function. This allows you to quickly copy and paste texts. You can also use the search function to find the right emoji or sticker.
Easy/Straightforward Controls
This application is designed to be uncomplicated. The controls are facile to use. Even if you are not familiar with using a keyboard, you will be able to use this keyboard with ease.
The keyboard also supports one-handed mode. This allows you to type with one hand while holding your phone with the other hand.
Ridmik Keyboard APK Free Download
This keyboard is 100% free to download and use. There are no hidden fees or charges.
However, it will require several permissions from you. These permissions are necessary for the keyboard to function properly.
For example, the keyboard will need access to your microphone so that it can provide continuous voice input. It will also need access to your storage so that it can save your customizations.
Conclusion
Are you looking for a reliable Bengali keyboard? If so, the Ridmik Keyboard is the perfect keyboard for you. This keyboard has everything you need to type in Bengali. It also supports two additional languages: Chakma and Arabic.
Its intuitive design and easy-to-use controls make it the perfect keyboard for those not familiar with using a keyboard. The keyboard is also 100% free to use. Get the Ridmik Keyboard today to enjoy all these benefits!