CamScanner Premium APK 6.50.0.2309270000
Want to turn any document into a digital file? Download CamScanner Premium Apk so you can turn any photos into digital form easily. Snap, scan and edit your documents now!
Mobile apps have become an integral part of our lives as smart phones and tablets became more intelligent through the years. Going beyond being an instrument for calling and sending SMS, it has transcended its purpose. Programs have been developed to help people efficiently carry out their activities and increase productivity. Such is the case in the scanning mobile app, CamScanner.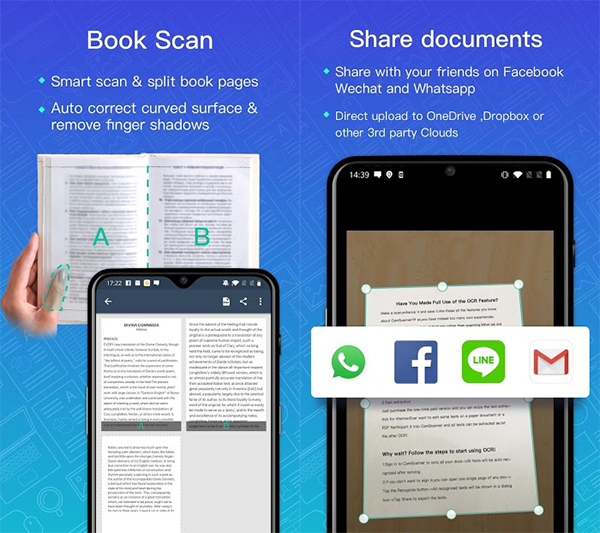 Almost everything is digital now. Requirements for school or work will inevitably prompt you to submit documents online, especially with the world's new normal. Additionally, there's no need to worry if you don't have a scanner with you. CamScanner is your one-stop scanning and document management app. Released by INTSIG Information Co., Ltd., it has risen as one of the top productivity apps on Android.
Using CamScanner Premium Apk
In just a few clicks, you can turn your mobile phone or tablet into a scanner. To use, just open the app and point your camera to the direction of your document. Operating it is similar to taking a photo. The difference is that it is built to recognize texts more than the regular camera can do. Make sure there is sufficient lighting and that you place the document on a flat surface for best results.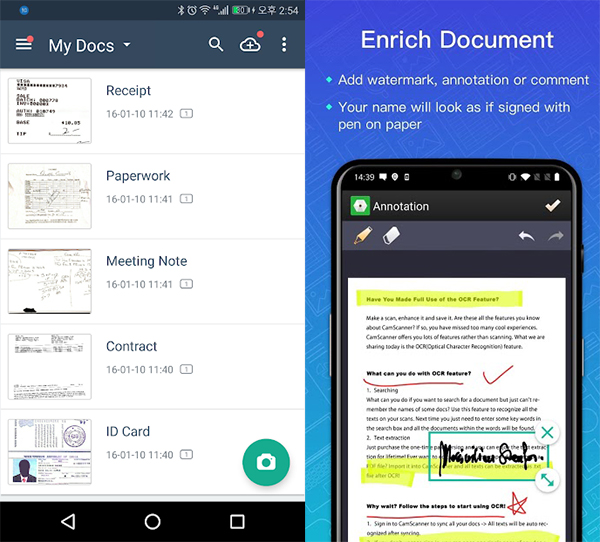 More so, there are so many other things you can do with the CamScanner. Send professionally scanned documents directly from your phone or tablet. Edit the content with the OCR features and export it to the file format desired. From there you can attach it to your email or share on any of your social media accounts. With this, you can get on with more important things!
Highlights of CamScanner Premium
In our world today, we use a wealth of apps which makes our lives easier. CamScanner is one of the best apps to have as it has the following features:
Digitalize any Document – Technology has come a long way since it was first created. Back then, we would type things manually on typewriters and use computers to manually type everything. But that has changed ever since smartphones were created. Now, we can take a picture of everything from notes to even blackboards. This makes things so much easier for scholars and workers.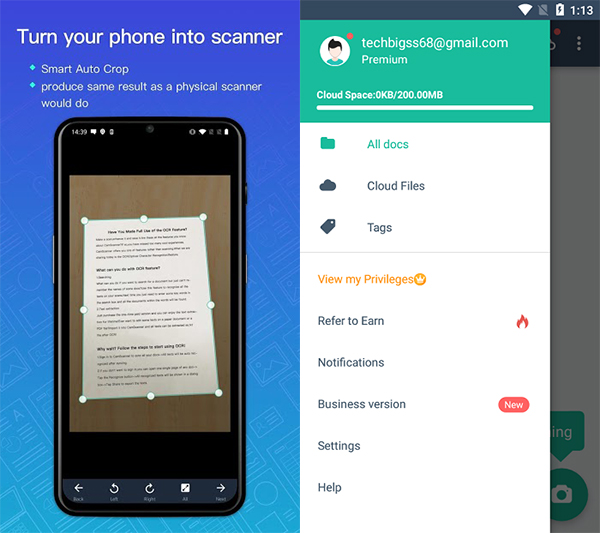 But to take things even a step further, you can now turn any photo into a digital document! This is a ground-breaking technology that was pioneered by apps such as CamScanner. Here, you can literally capture any text as photo, upload it and convert it into a word or a PDF document. You can also turn any photos into digital versions for a more professional result! This is the sort of technology that makes this app so unique.
Choose the Quality – Not only can this ap turn anything into a digital document, it also optimizes it. Here, the app instantly recognizes what type of documenting you're trying to convert. Then, it utilizes features such as smart cropping and auto enhancing to ensure that the converted document is in high quality. You can convert different types of photos into digital documents such as IDs, notes, drawings, and many more. Most documents can be recognized by the app these days!
Extract Texts from Images – Probably the most common form of document that you'll convert are texts images. CamScanner has a feature called OCR or Optical Character Recognition which is a feature that recognizes texts in any document. It extracts these texts perfectly into editable documents so you can easily add or delete them. This is a useful feature as you don't have to manually type or encode them as we'd usually do back then. This is a feature that's available with the premium version.
AirPrint and Fax Documents – To make things even more convenient, this app is capable of printing documents with nearby printers via AirPrint. You can also fax any document to over 30 countries! This is a great feature that takes this app to the next level.
Advanced Editing – The app also has a built-in editing tools that you can use. Make annotations and edit as you wish inside the app. You can also add customized watermarks to mark your documents in the app. Now, you don't need to use a third-party document editor just to do these things. Everything you need is inside the app!
Secure and share – CamScanner also makes sure that you can secure any document by setting a passcode to them. You are also able to set a password to any document you send via link to ensure their safety.
Premium Features – With a premium account, you can do so much more with CamScanner. Here, you can download a lot of documents at a time, share secured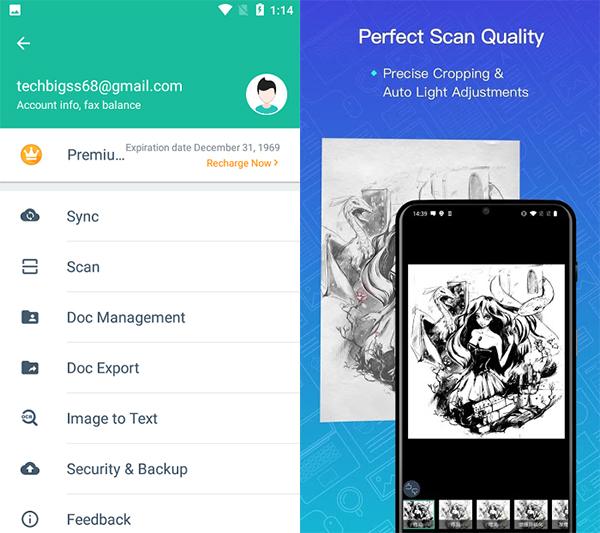 documents, add extra 40 collaborators, add 10GB of space, ID mode scan, remove ads and many more. You can also have features such as e-signature, collage of two separate documents, book mode scan and many more. Scan a lot of documents now such as bills, invoices, blackboards, notebooks, credential, certificates and many more.
Minimalistic Interface
CamScanner has a functional interface that lets you focus on the task at hand. It has simple buttons that are intuitive for a smooth control of the app. Its optimized to capturing of documents in high resolution is truly impressive. The young and adults alike are sure to appreciate the app for the efficiency and convenience it brings.
Available on Android
A famous app to improve productivity, it has gained an astounding 100 million downloads on Google Play. It has solidified its position among the mobile apps and is part of the esteemed Editors' Choice in the platform.
CamScanner Premium APK Free Download
On the side of a modified version, you get the following:
CamScanner apk premium unlocked
Without watermark
Full version
100% free
Note: Use Vpn for Online Features if CamScanner is not available in Your Country.
Take advantage of the full features of the app with the CamScanner Premium APK Latest Version download. Get premium access without the subscription fees.