WhatsApp Aero APK v9.52
Download WhatsApp Aero APK – Latest version – Free for Android if you want to use a more complete version of WhatsApp without limits and with additional features!
| | |
| --- | --- |
| Name | WhatsApp Aero |
| Updated | |
| Compatible with | Android 5.0+ |
| Last version | v9.52 |
| Size | 47 MB |
| Category | Communication |
| Developer | WhatsApp Aero |
| Price | Free |
Society has advanced so much that the we can't now don't even have to worry about connecting with other people at other corners of the world. Now, thanks to the advancement of technology, we can now connect with just about anyone anywhere just as long as there's internet connection. Aside from that, we now have these amazing apps that helps us do a lot of features.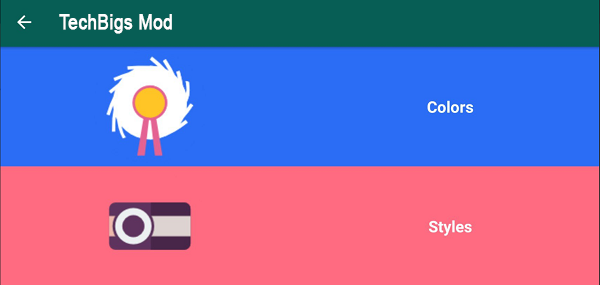 Nowadays, we have tons of instant messaging apps that allows us to connect with our friends and loved ones abroad. There are apps such as Facebook Messenger, Line, Viber, WeChat and WhatsApp. But even though these apps are powerful, they don't allow full customization. They are still limited in terms of themes, controls and other useful features. This is why developers are always on the lookout for apps that serve a practical use. WhatsApp Aero is a app that allows you to get unrestricted access to all the features of WhatsApp. Read on to learn more!
See more similar Whatsapp apps you can try: FMWhatsapp APK and JTWhatsapp
What is WhatsApp Aero?
Instant messaging apps have risen in popularity over the recent years. Thanks to social media sites such as Facebook, Instagram and more, we've been seeing more and more of these apps being released. These are necessary apps because they allow us to communicate with anyone all over the world regardless of their location. These apps do that and more!
The most popular instant messaging apps today are Facebook Messenger, WeChat, Line, Viber, Kakaotalk and WhatsApp. But even with these powerful apps, it doesn't let users fully customize it to their full potential. This is why there are apps such as WhatsApp Aero that exists to solve these problems. This app features all the functionalities of WhatsApp but with more features! This app allows you to use the full potential of instant messages. In here, you can change the theme, hide any media from the gallery, disable forward messages, select who can call you, hide ticks, change font styles, set up auto-reply, send images and videos, set app password, schedule messages, add Instagram style stories to your status and more!
Aside from all that, the app is capable of basic functions like chats and calls. And unlike other WhatsApp apps, this one doesn't require you to uninstall the original app. This means that this app can work as a secondary one along with the original one. You no longer have to worry about WhatsApp blocking out some features. In here, you can also fully customize your home screen thanks to the 14 different styles available. Aside from that, there are more than 3000 themes in this app! Talk about a truly stunning app. Now you don't need to use a third-party app or root your phone just to use these features. Read on to learn more.
Features of WhatsApp Aero
WhatsApp Aero is truly a remarkable instant messaging app as it allows users to fully customize the look of the app. Aside from that, they get to use some pretty cool features that aren't present elsewhere. Here are they:
Basic functions – The app allows you to use it just like you would any other instant messaging app! This means that it has a chat, call, send media and more functions. It's basically just like WhatsApp but with added functionalities that people wish were on the real app. But the developers have personally created this wonderful app to compensate for the lack of functionalities of other apps. Because of this, this app can serve as your instant messaging app if you don't want to use the popular ones.
Share Images and Videos – The original WhatsApp allowed users to send media files such as images and videos. However, there was a huge handicap as they imposed a limit to the number of images you can send at once and the size of the video files you send. But in WhatsApp Aero, the limits have been lifted – higher than what it was. In here, you can share up to 10 images in one message. Aside from that, you can also share videos which has a size of up to 100MB. This lets you use the app for so much more than just your regular instant messaging app.
Titanium Backup – Although instant messaging apps such as Facebook Messenger is powerful, they have limitations. They don't have a backup feature as with WhatsApp Aero. In this app, it features something called a titanium backup wherein it automatically backups the user's data! This is a wonderful feature to have since most of our data nowadays can be found on the internet. Our chat histories, contacts, media files and more are on the care of our apps. One wrong move and it could be deleted permanently.
Set App Password – Another great feature that this app features are that it allows users to set a password to the app. This is great if you don't want anyone snooping around your messages and files! It could be a real lifesaver if you just want to protect this app.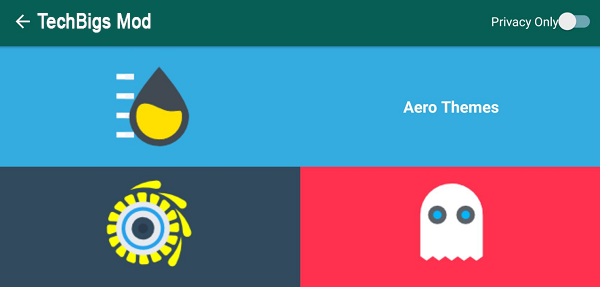 Hide Media – Aside from that, you can also hide media in this app. This app can serve as your file saver for different media such as pictures, videos, gifs, files and more! This is where you can hide those if you don't want it to fall into the wrong hands.
Change Themes – Perhaps the one functionality that will wow almost anyone is the ability to change the theme in this app! In the original app, users weren't allowed to change the theme. But in here, there are over 3000 themes to choose from! You can literally change your theme everyday if you want to.
Change Fonts – Aside from that, you can even change your fonts to make it more exciting! This will allow users to show off their personalities and go wild.
Anti-Delete – In here, you can also set anti-delete so you will never accidentally delete any of your statuses and messages! Now you get to keep them forever if you want to.
Hide Ticks – Have you ever wanted your privacy so much that you wish you can hide blue ticks? Now you can with WhatsApp Aero! Aside from that, it also allows you to hide single tick and double ticks. Now, you don't have to worry about what your contact is thinking since they don't know if you've seen their message or not.
Customize the Conversation Screen – Aside from that, you can even customize the conversation screen to make it livelier.
Emoji Variants – In here, there are so many emojis that you can use! You can also add Facebook emoji to your conversation!
WhatsApp Aero APK – Latest version
WhatsApp Aero is an awesome app that allows you to fully customize the app to your likings! Download the latest version now.