Vocal Remover APK 1.3.2
Download Vocal Remover APK latest version and transform your music into karaoke with incredible ease. It is easy to use & saves all processed songs into audio files.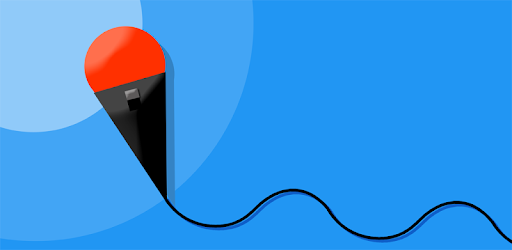 About Vocal Remover APK Download
Vocal Remover APK is an app to remove vocals from songs making them karaoke tracks. It is designed for Android 4.4+ devices and is beginner-friendly.
The app has an uncomplicated interface. You can upload the song from your device storage, and the app will automatically process it. The processed song is saved as an audio file on your device. You can share this file with your friends or play it at your convenience.
Even better, this is only 2MB, and you can be sure it doesn't hog your resources. You can use it to process lots of songs without battery drainage issues.
Why You Need Vocal Remover APK Android
Karaoke is an excellent way to have fun with friends. It is also a great party starter. However, without the right tools, karaoke can be frustrating.
First, most people don't know how to remove vocals from songs. This app takes care of that and provides you with ready-made karaoke tracks.
Second, you need a way to play the karaoke tracks without having to connect your phone to a TV or other display. The app saves the tracks as audio files, and you can play them on any device with a media player.
Finally, the app is facile to use. You don't need advanced or special expertise to operate it. The interface is straightforward, and the app does most of the work automatically.
In-Built Media Player
Vocal Remover APK for Android has an in-built media player. You can use it to play the processed songs without having to leave the app. The player is basic but does the job well.
It has standard controls such as play, pause, stop, and skip. You can also create a playlist of your favorite karaoke tracks and play them back-to-back.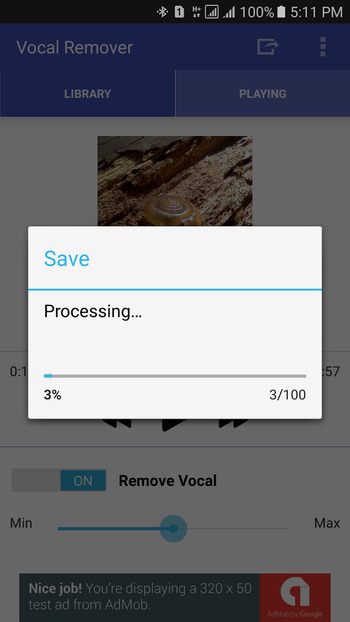 The player has a minimalistic interface and doesn't have any fancy features. However, it is stable and works without any hitches.
Adjustable Save File Bitrate Features
If you want to save storage space, you can lower the bitrate of the saved files. The options range from 96 kbps to 320 kbps.
The lower the bitrate, the smaller the file size. However, the quality of the audio also deteriorates. So, it is a trade-off you have to make depending on your needs. Nevertheless, this flexibility is quite handy, and you are unlikely to find it in other apps.
Other Unique Features of Vocal Remover APK
Real-Time Vocal Remover. The app removes the vocals from the original track and plays only the instrumental part. This way, you can enjoy karaoke without downloading separate tracks for each song. All you need is to turn on the Remove Vocal feature when playing the song.
Customizable Vocal Remover. You can manually adjust the sensitivity of the vocal remover. If you are not satisfied with the results, you can tweak it until you get the desired output. The "Effect Strength" slider lets you do this with ease.
Playback Control. You can control the playback speed of the track. This is helpful when you want to practice a particular song or learn the lyrics. It helps you to slow down the track without affecting the pitch.
File Manager. The app has an in-built file manager. You can use it to manage all the processed files conveniently in one place. The file manager lets you delete, share, and play the files with ease.
A Straightforward User Interface. This application features a clutter-free user interface for guaranteed ease of use. It does not have any complex features that might overwhelm you. This way, you can concentrate on video conversion without a hassle.
Build a Rich Library of Karaoke Tracks.
With Vocal Remover APK, you can create an extensive library of karaoke tracks from your favorite songs. You can access them anytime, anywhere, without internet connection.
You can also organize the tracks into playlists for easy playback. This way, you can create the perfect mood for any occasion. It is the surest way to have fun with friends and family.
Ad-Supported
The app features a few adverts. Nevertheless, they are not a deal-breaker, and you can continue using the app without any issues.
They usually appear at the bottom of the screen and don't interfere with the content. Regardless, Vocal Remover APK is a great app for karaoke lovers.
Vocal Remover PAK
The Vocal Remover PAK is a modified version that removes all the ads. It improves the user experience by providing an uninterrupted karaoke experience.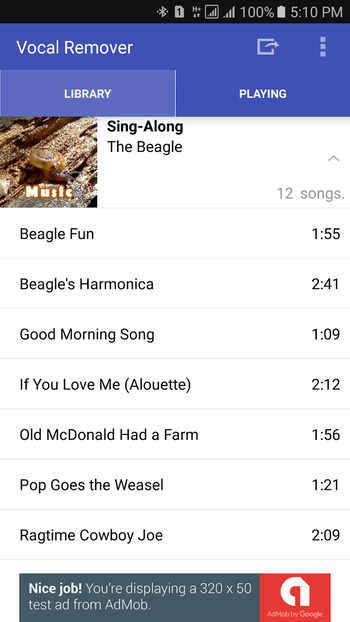 You can convert batches of files and enjoy karaoke without any breaks. The fast processing and high-quality output make it the perfect karaoke app.
Conclusion
Are you a fan of karaoke? Do you want to enjoy your favorite songs without the vocals? If so, Vocal Remover APK is the perfect app for you.
It is free to use and has many features to enhance your karaoke experience. You can also save storage space by adjusting the bitrate of the processed files. The file manager lets you manage all your karaoke tracks conveniently in one place.
The app is ad-supported but comes with a version that removes all the ads. Overall, Vocal Remover APK is an excellent choice for karaoke lovers.