Viu Premium APK 2.2.0
Download VIU APK 2023 Latest Version free for Android and get entertained anytime and anywhere easily. This application will throw your digital TV connection out of business.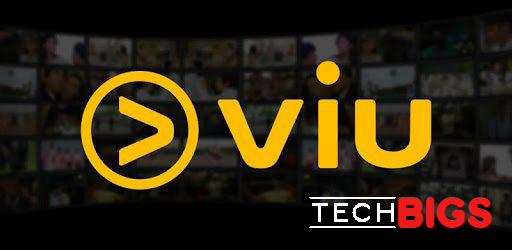 If you're unable to catch up with your favorite in Asian entertainment media, then maybe VIU can help. This amazing application has everything you'll ever need to keep yourself entertained. Video streaming from all around the world can be within the palms of your hands.
The application itself is already super easy-to-use, you'll easily find yourself as hooked in no time. Apart from that, the flawless flow will lure you into sticking to it forever.
As long as you aren't using an old, busted device, there should be no issue with HQ streaming. Although, you should remember, too much television (and mobile) is bad for your eyes and brain. Take a break every once-in-while to keep your health good.
So, after all of this, why not download VIU for Android now?
Watch and download your favorite media
Streaming couldn't be any easier now. If you're familiar with other famous streaming services, such as Netflix, Amazon Prime, etc…then you'll get the exact idea of how VIU works.
There's always something for its' users to enjoy, regardless of the location. No matter where you're from or live, it you'll find the right program to suit your tastes.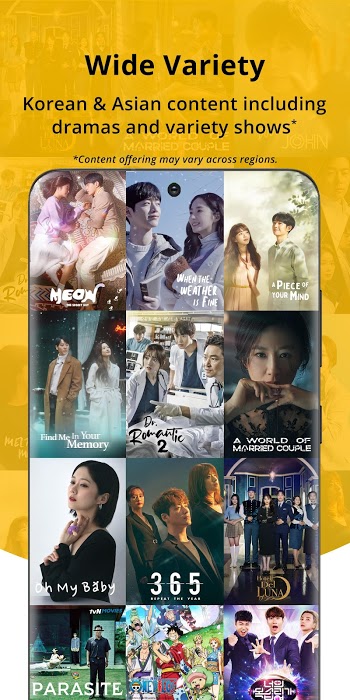 This tool is also designed to give you endless entertainment in multiple languages. Even if you're from a country with a wide diversity of languages, you may still end up watching in your local language.
Enjoy high-quality content across Asian media. Apart from that, there is always an option to toggle between HD or SD and turning subtitles on or off.
You'll get regular Asian regional TV shows available. Based on your location, you might be able to watch loads more of your local television broadcasts straight onto your mobile device.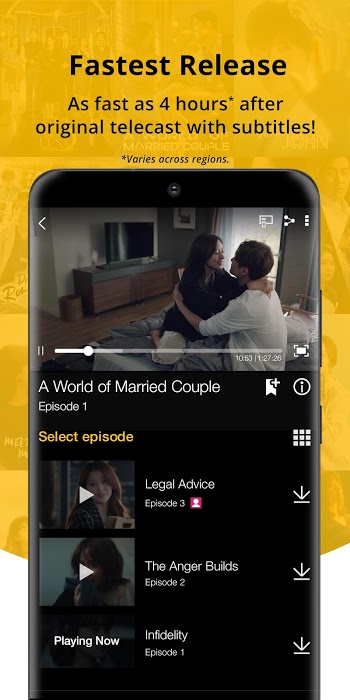 Go offline by downloading videos to watch later. This is similar to YouTube, or music streaming services. You'll be able to watch your preferred streams using VIU. Unfortunately, other media players won't be able to stream for you.
You can also bookmark to watch your shows later. Now, you'll never lose track of where you were on your favorite episodes. Also, your watch history can be viewed too.
Multi-screen synchronization lets you synchronize between your mobile and Tablets. It's become so much easier to enjoy your movies and shows on basically any device.
The List Still Goes On!
Additional features offered by the VIU application are:
Based on your history and location, you'll get excellent recommendations.
There is a wide variety of genres available. Watch from horror to comedy, it's all up to you.
Regular additions of new media that will surely keep your interest alive.
The sky is the limit. Watch content from all over the world, irrespective to your own country. Anywhere you go, you'll always have the same pieces of eye-candy available.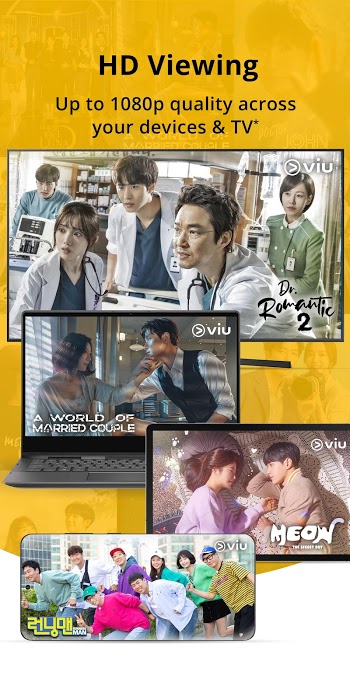 Amazing User Experience
It's virtually impossible to not understand on how to use this app. Simple controls and excellent flow results in an amazing user experience.
Apart from that, makes this app looks and runs smooth, making your use even more appealing.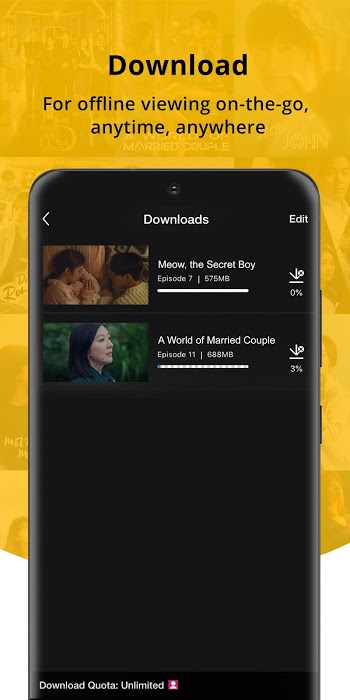 The simplified interface ensures that no features remain hidden. While watching the video, control quality settings, subtitles, and volume without closing your program.
Viu APK Download for Free
There are a lot of version features, which you can enjoy through VIU APK latest version.
Conclusion
Enjoy hassle-free content online for free with the help of the VIU APK free download.