Akinator APK 8.5.26
Akinator the Genie Game is a wondrous experience that will leave user shocked. This psychic genie can predict any person that you might think of.
Be aware, user. This genie has magical powers that will amaze even the most skeptical of people. No matter what secrets lie deep within your mind, they will be uncovered by the power of this man of mysteries. How does he do it? The only way to find out is to download AKinator for Android and ask him yourself.
Ask Him Anything
Akinator isn't just a genie who knows of all the people in the world. In fact, this magical genie has the power to predict almost anything that comes to mind. Therefore, you can select between various subjects to test his powers. If you think you can outsmart this man, just give it a try.
Here are the different themes associated with Akinator. But trust us, there is a 99% chance that he will always predict what's on your mind.
Characters: Akinator's main attraction is his knowledge of the people of the world. And, this isn't just limited to real-life characters. This genie can even predict fictional and animated characters. In just a few short questions, the algorithm of this man's mind will magically surmise the exact character (person, monster, or whatever) that has been within your thoughts.
Surprisingly, he can even predict if you are thinking of a best friend, family member, or even YOURSELF!
Objects: Objects are not out of his reach either. Think of an element, a tool, or even a household object. Akinator the Genie knows it all. He is a man of science, history, psychology, and many more! Nothing gets passed him. Try to outsmart him with similar tools, but we guarantee this won't work.
Movies and TV Shows
Animals: Similar to any character in the world, the genie is also familiar with the animal kingdom. Regardless of if these animals are extinct, existing, and even fictional. His powers go way beyond this current dimension. He just might be a 5th dimensional being with an omnipotent ability.
The Akinator Loophole
There is one way for Akinator to not know about the theme you are thinking of. And that is – if you, yourself are unsure of your theme's details and information. The Genie Game cannot over predict his challengers. Meaning, if you do not the information of a specific character, animal, etc…Akinator will not be able to outsmart you.
This means, lying is definitely out of the question. You cannot attempt to trick the psychic. Instead, honesty is the only way to play. For instance, if you have a character who is a movie star, you cannot tell Akinator that this person has never been in a movie.
Reward Akinator the Genie
The more predictions that this genie gets correct, the more coins will be collected. These coins can be used towards more customization options.
Much like the Genie from Aladdin, Akinator doesn't just restrict himself to one outfit. There are a variety of different accessories and clothing options to dress him in. There are many notable and iconic clothing options, such as an Elvis Presely outfit, sombrero, knights outfit, and more. Give this man a bit of style, he's earned all of these coins for himself.
Additionally, there are Aki Awards. These are various colored championship belts that can be rewarded based on the objectives completed by the genie. These will range from the most standard of belts, to an all-time prestigious championship title. Furthermore, these are the following Aki Awards, organized from lowest to highest, based on their value:
Standard: These are rewarded through basic predictions.
Bronze: Not too difficult, but less-known predictions that have been given time.
Silver: If Aki can determine your lesser known prediction in just a few tries, he deserves this award.
Gold: Keep testing Aki. The gold is only for genies who can prove themselves against more challenging thoughts and questions.
Platinum: Give him some time to determine what these super-difficult themes are.
Black: If Aki can predict something that is seemingly impossible with no challenge, he deserves the black!
Check Out the Hall of Fame
Players from all over the world compete to test this genie. Therefore, it would make sense to have a fair ranking system in place for all to witness. From here, you can check either the last placed rankings, or the overall top rankings of all time. However, if you are new to the game, there's no need to worry. Because, the leaderboard's Hall of Fame is constantly updated and reset after a preset time. Even if you are new to the Akinator Genie Game, there's always a chance for you to rank high. So, don't miss your opportunity and check the times periodically.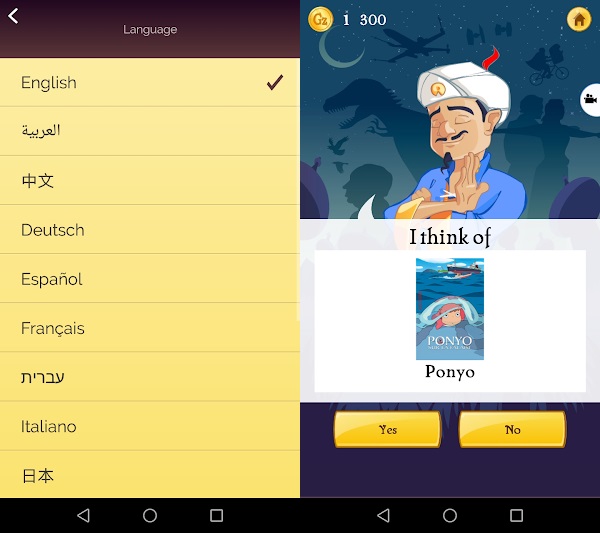 But that's not all, there are also Super Awards that are given to players with the best predictions for Aki. The best of the best will be displayed in the Last Super Awards screen.
Note: The Hall of Fame, Last Super Awards, Aki Awards, and Customization can all be accessed from the main screen.
VIP Access
For those who have invested an account with Akinator the Genie, can they truly experience wonders. VIP grants unlimited questions without ads, as well as saved answers to be used for the future. Sign up for an account with the genie and experience this for yourself.
Akinator APK Free Download
You can get the AKinator APK latest version for your Android and access VIP features for yourself. What's more, they will come accessible to you for free!
So, don't stay here twiddling your thumbs. This magical man of mysteries welcomes all who approach him. Download Akinator APK for Android and ask away…