Vision 11 APK v1.1
Vision 11 APK download latest version offers intense gaming action. It allows you to create a team and participate in real-like tournaments.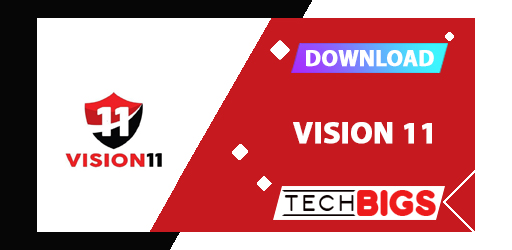 | | |
| --- | --- |
| Name | Vision 11 |
| Updated | |
| Compatible with | Android 5.0 + |
| Last version | v1.1 |
| Size | 16 MB |
| Category | Entertainment |
| Developer | Vision11 INC |
| Price | Free |
Vision 11 App APK Download Description
Vision 11 is a game app that allows you to play dynamic games while winning real awards. It has diverse challenges that you can play with your friends or relatives.
Additionally, this app is highly flexible. You play games on your smartphone, laptop, or even a tablet. It has amazing rewards that will keep you yearning for the next challenge. The more challenges you participate in, the higher your chances of rising to the top of the global leader board.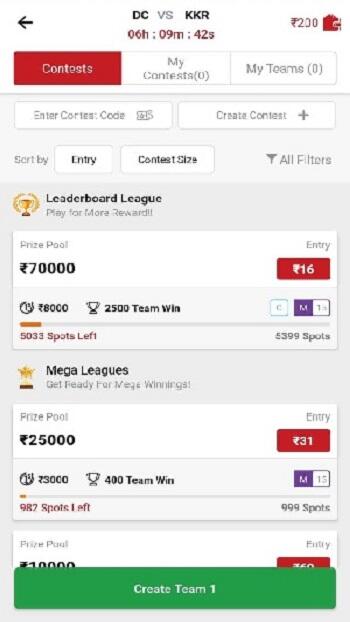 Unlike the Vision 11 old version APK download, the new version incorporates other games. You will enjoy fantasy football and NBA too! This makes the app a one-stop app for game lovers.
How Vision 11 APK Works
The app offers games such as cricket, NBA, and football. You can create different teams in each game. Participate in tournaments and get a chance to win amazing awards. You can also be part of different leagues in line with your interest.
The Vision 11 APK download for Android has diverse challenges, offering you wide options. The app runs well on smart devices to give you the ultimate gaming experience. It is easy to use and highly interactive for everyone.
The application enables you to display your skills. It allows you to handpick your players, giving you the chance to select the best players and create an unbeatable team. You will gain points based on the performance of each member of your team.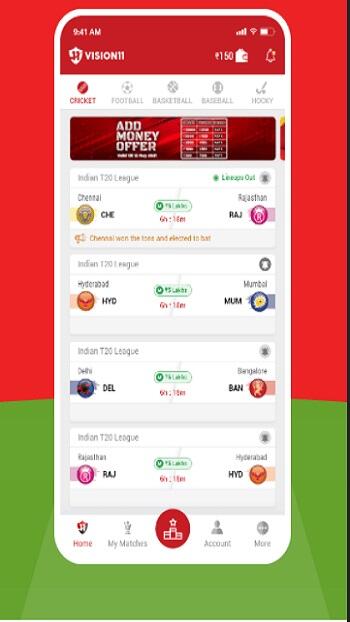 When you download the app, you should follow these steps to enjoy the gameplay:
Vision 11 APK Login. The first step is to log in and register your details. You will then get a chance to play different games.
Choose a Match. Once you access the dashboard, you should select a game. Several variations are available, ranging from one-off games to tournaments in different games.
Create a Team. The next step is to create a team and choose members. You will follow the laid-down player ratio as per the standards of your respective game. In the cricket game, you will choose a maximum of 7 players.
Play and Win Awards! The final step is to play the game and win awards. You will get a chance to be ranked globally depending on your performance in the challenge.
You will not need technical skills or special training before you enjoy the app. All the challenges are meant for fun and casual gameplay.
Unique Features of Vision 11 APK
Automatic Leaderboards. The app includes automatic leaderboards. This is a feature that ranks you based on your performance and capabilities. It will keep pushing you to do better in every game.


Real Rewards. The app also has real rewards for all your efforts. They are cashback, vouchers, and more. You can use them to avail of exclusive offers or get discounts on different products and services.
Play with Friends. Invite your friends or relatives to participate in the challenge with you. You can form teams and play different games together. As such, it becomes a social event, building camaraderie and unity. What's more, you can take part in tournaments together.
Safe Application. The app supports almost all devices and operating systems. It also protects your data while playing the games since it works offline too.
Unique Fantasy Players. This is one of its main features that distinguish Vision 11 APK download from other apps. It allows you to create unique fantasy players for each game. This is how you can keep improving your chances of winning.
Sign Up Bonus. Players get up to Rs 100 reward on signing up. In addition, they get a chance to win vouchers and other giveaways. You can also earn through referrals (Rs 100 for every referral)! All these opportunities give you a chance to enjoy the games while earning real money or prizes.
Easy Withdrawal Methods. When you get to a minimum threshold of Rs 200, you can get paid through Paytm and bank deposits. This way, you can see the real value of the time you invest in the gameplay.
20% Limited Profit Share. When your friends sign up with you as a referral, you will get a 20% increase on your winning balance. This is the same whenever they deposit or win contests!
Engage in Realistic Tournaments
If you are looking for a game that offers you a real-like gaming experience, Vision 11 is your best bet. The new version has many exciting features that will keep you on your toes all the time.
For instance, it opens doors for a variety of tournaments and real cash rewards for winners. As such, you can compete with other global teams to win amazing prizes.
You will get to participate in all levels of the game. This includes league games, fantasy football, and other challenges. You can join different leagues depending on your preferences. For example, you could go to quarter-finals, semi-finals, or even grand-final games. This realistic gaming experience is a differentiator for this app.
Vision 11 APK Free Download
You can download this application free of charge from your favorite third-party website. However, you must enable the option of downloading from unknown sources beforehand. Once you download it, you can easily install the app and start using it.
Even better, you can get the Vision 11 APK download. This modified version offers more winning opportunities compared to the original one. For example, it includes unlimited rewards for all members.
Conclusion
Vision 11 APK helps you develop your skills, enjoy casual gameplay, and win real money. You can participate in tournaments to compete with other regional teams globally!
All you need is to register and start playing. Have fun while improving your knowledge and skills!