Unruly Heroes APK 1.1
Go on an adventure as you slay mystical monsters in Unruly Heroes APK! Follow the story and get absorbed in a stunning gameplay and visuals now and win rewards!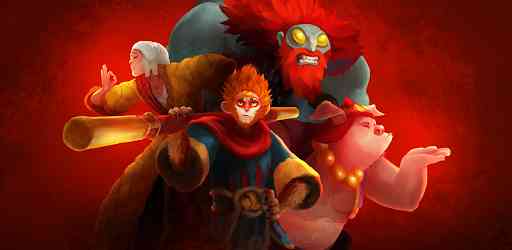 Have you always loved adventure platformer games ever since you've played Mario as a kid? We can't blame you as this genre is one of the most popular ones and the most fun too. Here, you'll go through a series of adventures and that you'll perform daring moves to kill enemies. In Unruly Heroes, you'll experience an entirely new platformer filled with mystical creatures, fun dialogues and a gripping adventure.
Unruly Heroes is a game published by Perfect Game Speed and it's one of the most unique ones out there. This is a game inspired by China's first mythological novel which is called Journey to the West. Here, you'll fight against plenty of mythological creatures and you can use exciting powers and martial arts. There are also 4 playable characters that you can master! Enjoy an endless adventure today.
Novel-Based Adventure Game
There are so many platformer games today thanks to the massive success of early games such as Mario, Sonic and many more. Now, it's a popular genre seeing thousands of releases each year! But if you want something different than what you're used to, why not enjoy something with historic cues and a mythological background? In Unruly Heroes, you get to play an incredible platformer that's based on China's Journey to the West. Here, you get a fantastic and innovative experience unlike any other.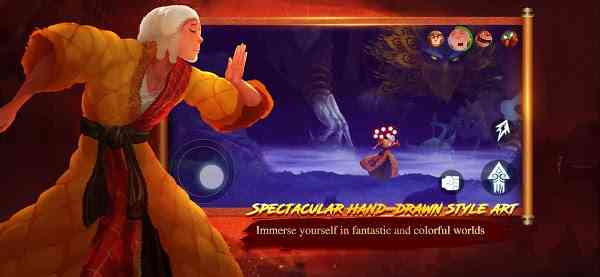 Have fun with the classic story of bringing peace to the world by defeating evil. Here, you'll need to bring back the Buddhist scripture that's used to hold balance in the world. Defeat countless monsters now by using different martial arts, parkour actions and use special attacks. Discover beautiful lands with different platforms riddled with challenges. Here, you can run, jump and interact with different things.
Here, you can play as the master and his 3 disciples. So, you can experience different types of martial arts and special powers. With a unique blend of classic and modern gameplay, this game is addictive! Enjoy the hand-drawn animations as well.
Highlights of Unruly Heroes
Are you read to experience a different platformer from the rest? In Unruly Heroes, you get to fight with monsters and gain powers!
Save the World – In almost every adventure platformer game, there seems to be the classic saving the world story. Some games do it right but most of the time, it becomes annoying. But in the case of Unruly Heroes, they've successfully created a unique one based on a historical novel from China. Here, you'll need to restore balance to the world by fighting the evil monsters that suddenly gained their wicked instincts back.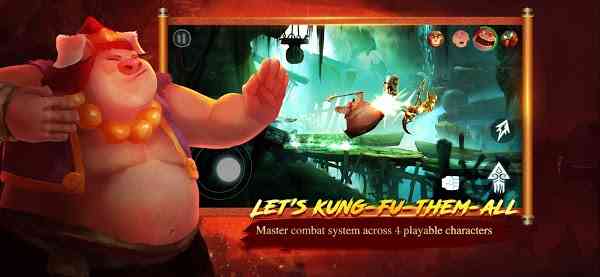 Here, you must complete the scripture that's scattered in different places. To do this, you must first journey through different locations filled with wild beast and traps! You must then make your way through these challenging levels by fighting enemies and using your skills. It's the classic adventure game that has incredible graphics and fun physics! Fight against enemies now and unleash the power within!
Go through different locations – In this game, you'll be able to go through different locations such as a cave, the mountains, the temples, and more! Enjoy outstanding scenes and locations that the game holds. In this one, you can interact with a lot of things in the game that you'll enjoy such as traps and more. There are also many coins that are scattered that you can pick up!
4 Playable characters – In this fun adventure game, you can play 4 characters! This includes the master and his 3 disciples. The game features characters which are Sanzang, Kihong, Sandmonk and Wukong. Each of these characters have unique skills and traits! For instance, you can get double-jump in certain characters and wonderful powers as well.
But most importantly, you can switch with any character anytime in the game. In this game, you must learn all of their skills and unique traits to better use them. Doing so will allow you to use the right character for the situation so you can easily surpass it.
Moves and special powers – Here in this game, each character comes equipped with their own skills. There will be special combo moves and innate traits that you can use in the game to fight enemies! Learn all their skills now to be able to utilize them well in combat. There are a lot of fun skills that allow you to double jump, glide and more!
Beautiful hand-drawn graphics – When it comes to graphics, Unruly Heroes has one of the best ones since the art style is hand-drawn. Enjoy epic fight scenes and locations now.
Unruly Heroes APK
Enjoy a truly spectacular adventure now in Unruly Heroes. Play 4 characters and defeat terrifying monsters!