Hungry Shark World APK 5.4.0
Download Hungry Shark World APK Latest Version free for Android. Control a shark with an infinite appetite. Devour anything that you can sink your teeth to.
What would be the greatest threat to the ocean? These specific sharks would definitely take the first place medal for that category. Hungry Shark World is the awaited sequel to Hungry Shark Evolution. Swim through the ocean and eat any unsuspecting prey within your sight.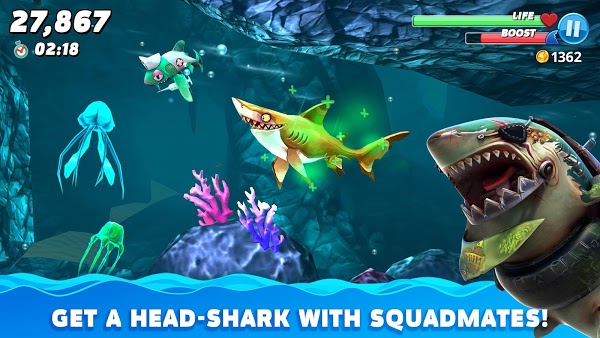 Enjoy the fun Arcade game for people of all ages. Play alone, or with friends and other users from around the seven seas. Either way, regardless of how you decide play, dive right into the experience and have an amazing time!
Hungry Shark World Features
There are many aspects that will satisfy your hunger for action. Hungry Shark World for Android has its fair share of benefits and upgrades from its preceding game. You can read through the all and understand what's in store for you…
Play as One of 33 Shark Species: The most iconic of these dominant sea predators, to some you may not even know about – there are tons of variety to choose from. As such, these rulers of the ocean come in 8 different tiers of sizes. Pick whatever fits your style for the moment.
Experience the Open World Gameplay: Travel through various ends of the ocean and the open sea! Tons of memorable and well-known parts of the ocean are free for you to explore and hunt any unsuspecting prey.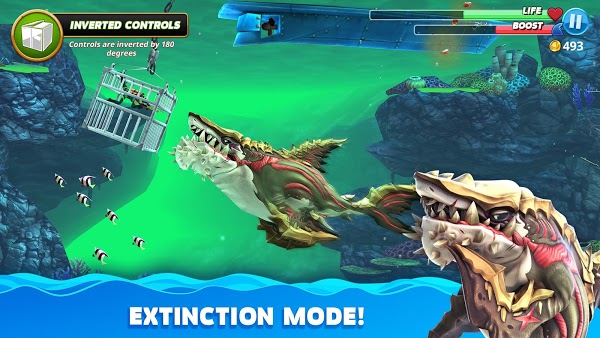 Fine 3D Graphics: Go on a feeding frenzy and experience the full satisfaction through crisp 3D graphics. Hungry Shark World is also available on PS4. Thus, this version has graphics comparable to the console versions.
Survival of the Fittest Gameplay: This is an eat or be eaten type of world. As such, you'll need to continuously prey on the weak, or you'll left as fish food, yourself. Do you think you have it takes to survive and remain the top of the food chain?
Improve Your Sharks: In addition to the gameplay, there is also a leveling system in place for your sea demons. That's not all, there is a plethora of nasty gear to equip onto your shark as well. Customize these predators with high-tech or hilarious accessories to improve their hunt.
Multiple Cosmetic Skins: Speaking of customization, there are many different skins to give your shark its own personality. Aside from the visual side, they also offer increases in stats!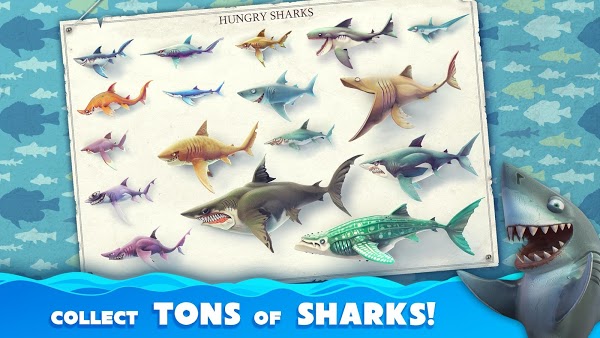 Eat Through Various Missions & Bosses: Now, you can sink your teeth into more than 20 different missions that challenge your skills. Furthermore, there are also bosses that may bpose a threat to your feast.
Use Pets to Assist Your Journey: There is a handful of different pet animals that can give you boosts as well. These can range from baby sharks, to something as advanced as an eagle.
Hungry Shark World APK
Hungry Shark has a subscription plan available. This package grants you a school's worth of extra content to enjoy. However, you may be able to avoid the pay wall by downloading the Hungry Shark World APK latest version available for Android.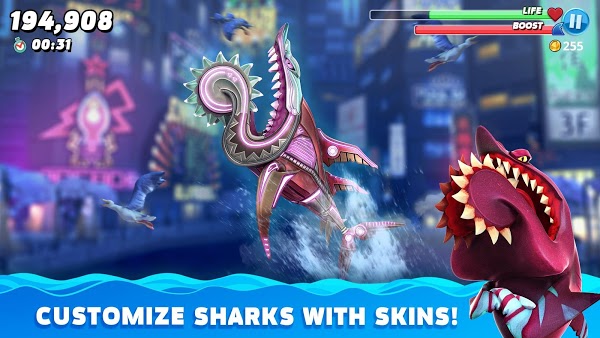 Access to the Hungry Shark World VIP Subscription free.
Also, Hungry Shark World .
Best of all, you'll even have access to play Hungry Shark World APK all sharks unlocked from the very beginning.
Conclusion
There you have it. An addicting feeding frenzy of the ocean's apex predator, packaged into a game. Enjoy either the original or modified APK now!