Truck Simulator USA APK 9.8.7
Are you curious what it's like to drive trucks? Take your curiosity as you play Truck Simulator USA! Drive different trucks across USA and earn plenty of rewards too!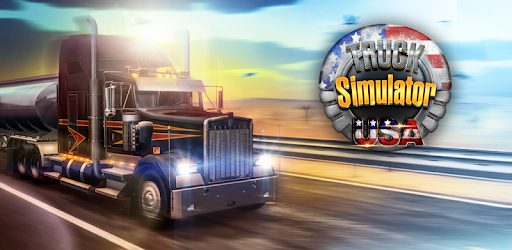 Trucks are everywhere not just in the USA but in almost every part of the world. These vehicles are essential as they deliver mostly goods, petroleum, furniture, and even cars to different parts of the country. If you've been wanting to drive a truck for a while now, don't hesitate to download Truck Simulator USA now!
More than ten million people have already enjoyed the fun and relaxing gameplay of this simulation game. The trucks are designed to perfection complete with all the tiny little details that makes them unique. Show your driving skills in the road as you prepare to haul for a long time. Go across the border in Canada and Mexico to complete missions! With a realistic trucking experience, you'll never get this elsewhere!
Experience Trucking Now
Think driving a truck is easy? We see them everywhere but we never thought about the hazards these drivers face every day. They drive for hours on end and they deliver essentials to different states with only their trucks. If you think that this is a fun experience, then we invite you to try Truck Simulator USA now!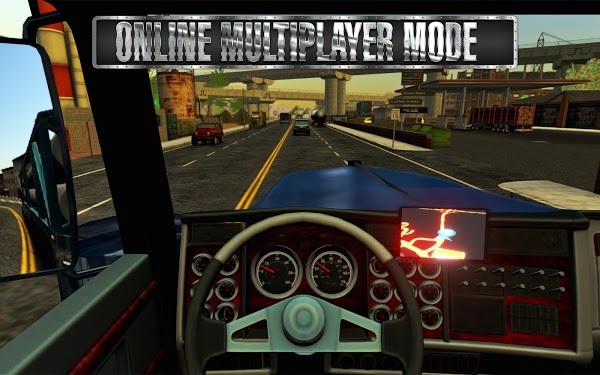 This simulation game was created to let Android players feel how it is to drive a huge vehicle. In Truck Simulator USA, there are many different trucks and in different American brands. There are also different climate situations such as snow, mountain, city, desert and more. Experience a realistic driving simulation that features many trucks. Go across the border in Canada and Mexico and enjoy the realistic feel of the trucks. From the interior to the exterior – you can enjoy a brand-new experience today! There are also plenty of trailers to transport. Everything you'll ever need is right here in this game.
Truck Simulator USA Features
You've driven cars from slow to supercars. But have you ever experienced driving a truck? Yes, they may not be as flashy as supercars, but they have a unique way of driving to it. If you're ready to do it, here are the features of Truck Simulator USA.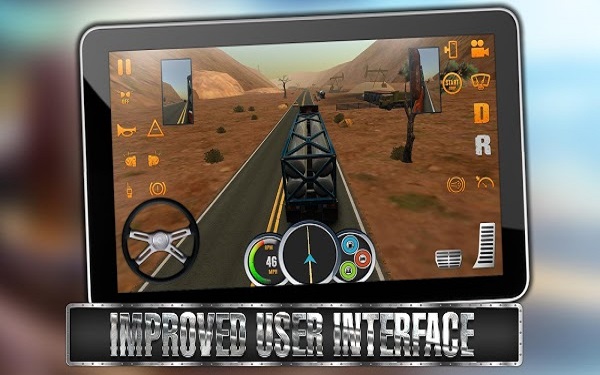 Drive different trucks and brands – Up for a different driving experience today? We dare you to try Truck Simulator USA now! This game simulates exactly what it's like to drive a huge vehicle such as trucks. In the game, you're able to drive different types and brands of trucks. These include Freightliner Cascadia, International LoneStar, Kenworth K-100, Freightliner Coronado, Peterbilt, Volvo, Western Star and many more. Drive these amazing trucks with their own capabilities and specs. The more you drive, the more you can collect! Own a lot of trucks when you finish missions.
Go across different places and borders – There are a lot of roads in the USA. They stretch from coast to coast and you can gain a lot of mileage as you play the game. In this game, you can even drive past the borders of Mexico and Canada! Enjoy a long driving experience as you follow the traffic lights and rules. Break the barriers and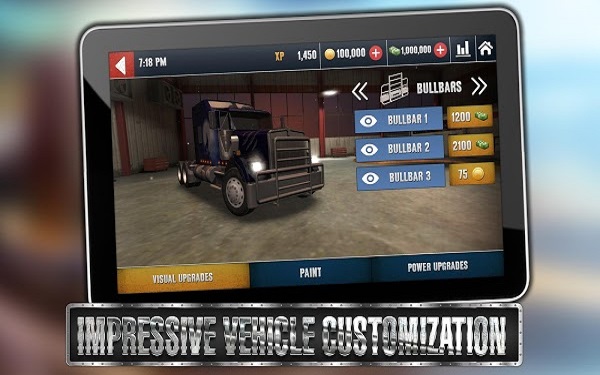 Realistic interior, engine and exterior – Do you appreciate the interior and designs of vehicles? If so, then you'll love the details that they created in Truck Simulator USA. Every single truck was faithfully recreated from its original counterpart to give players the best experience ever. Aside from that it has realistic engine sounds to go with it as well. Expect only the best driving experience from now on as you go trucking!
Expert controls – This simulator game has gone above and beyond what normal car games have to offer. This is because it features manual transmission with a clutch and h-shifter. You also have different buttons for the horn, turn signals, hazard, different camera views, light switches, wipers, fuel and many more. The developers anticipated what players would want on a truck simulator game and delivered it in a great way.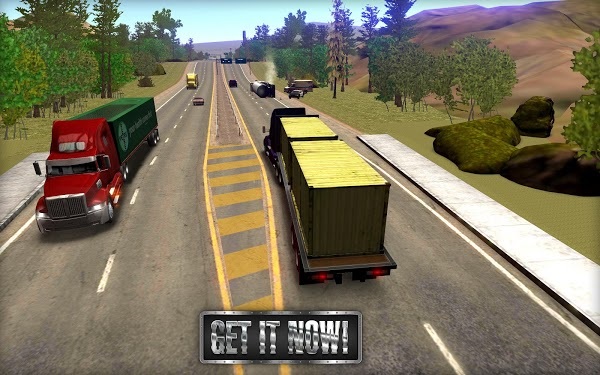 Different modes to play – There are also a Multiplayer and Career Mode here. In the career mode, you will drive around different cities in different trucks. Fulfill missions to earn rewards! But if you want to have a contest with your friends or random people online, try the Multiplayer mode instead.
Realistic weather situations – There are also different locations in Truck Simulator USA. From the busy streets of the city to the desert to the snow – there's a lot of situations you need to overcome.
Download Truck Simulator USA APK – Latest version
Want a great truck driving experience today? Download Truck Simulator USA and drive different types of trucks in different terrains!