Love Sick APK 1.109.0
Download Love Sick APK Latest Version free for Android. Experience the visual novel with various interactions in a stylish fashion!
If you are a fan of interactive story games and all of the more fashionable aspects of life, then this is the game for you. Introducing, Love Sick for Android. This story will have a memorable cast of different characters intertwining their lives with you. Follow the female-oriented leading characters and enjoy an amazingly entertaining interactive story that anyone can easily get into.
Explore Your Options
Create Your Style: There are many different outfits and trends that you can experiment with to develop your own individual and unique style. Wow not only yourself, but others and awaken the inner fashion star within yourself.
Finding Your Match: There are three different choices you'll have in order to find love. Which of these will you decide upon? You can pick between the powerful, yet still soft billionaire looking for love. Experience the bloodthirsty bad vampire girl, or the arrogant and self-centered prince. Regardless of your choice, there is no wrong answer to go about this story. Match up with whoever you see fit and continue on to enjoy the game.
Quick-Thinking Choices: There is a ton of pressure riding on your decisions in this interactive story. Every decision you make will have repercussion and affect the future. Therefore, it's best to stay on your toes and calmly asses every situation. Likewise, you'll be tested quite often, where you'll need to make on the spot decisions that could determine the entire course of your gameplay.
What's Your Preference: As far as the future relationships go, like we've noted – there are no wrong decisions. But, you'll need to make sure your choice is the one you are certain of. Either way, you're the one who needs to make all of the decisions for yourself. Who is your true love? Think and then pick who is the perfect option.
Original Story: This game presents an original story with various characters and events that will keep anyone busy. Everything is yours to control.
There are other aspects to Love Stick that are sure to keep anyone occupied. But, in order for that to happen, you will need to download the Lock Sick game for Android first. So, if you already have an interest in the areas we touched upon, go ahead and install now.
Different Love Sick Stories
First, you are thrown into the most prestigious university available in the world. However, there's something off about this specific university. Maybe it's the fact that there are vampires and human accept each other's company. The Royal Ball is coming soon, where will your date be? This is the time to experiment with various girls from around the world, as they fight for the position available.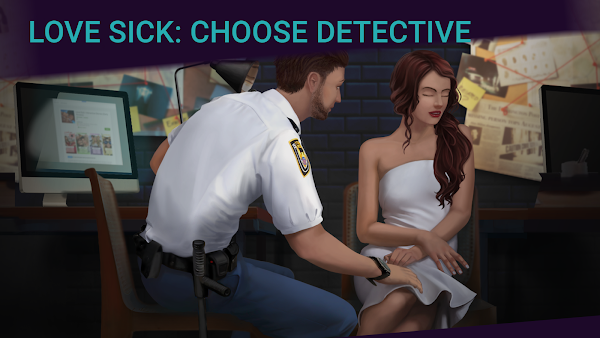 The Royal family has been murdered through the powers of a very dangerous woman. Once this has happened, nothing has even been the same. There are many peasants, but you will set your eyes on the perfect woman and turn her into a true princess.
Finally, a highly renowned and high-profile playboy billionaire should be getting soon. This should be known as the event of the year, if not of the entire generation. And now the press wants to get all over this story. But, there is still something shady behind the sense with this man's fiancé. As an undercover spies goes in to investigate this topic, what hidden mysteries is she destined to find? This is sure to be one of the biggest romantic experiences of anyone's entire lifetime.
Graphics
The visuals of the game are also pretty nice. The graphics are displayed in 2D art style that shows of character art and different aspects of the game. This is perfect for an interactive story game. You'll spend most of your time watching the different character designs and becoming accustomed to them all.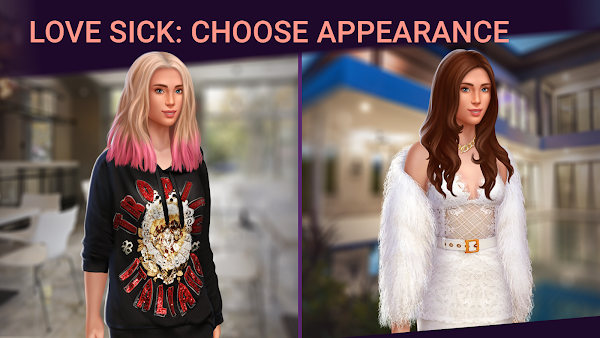 Players will be satisfied to experience how the game plays. There will also be a ton of different scenes throughout your interactivity. These moments will be fully designed, in order to show off the unique art style of Love Sick.
So, sit back and have fun interacting with this beautifully designed novel. Don't forget to take a moment to fully appreciate the visuals and graphics, which are also all in HD.
Love Sick APK Latest Version
Now, you can go ahead and download the Love Sick APK latest version free for Android. There isn't much to be added to the modified version of the AOK file. Although, that doesn't mean that this version is any less superior than the original. In fact, there are still other features and additions that will make you prefer the modification.
On that note, you will be able to save a lot of mobile data and storage when deciding to go this route. Why wouldn't you? This is a great game with a decent amount of content. The original adaption would consume just enough of your storage and data to feel the long turn effects. To maintain a healthy amount of consumption, just get this version offered.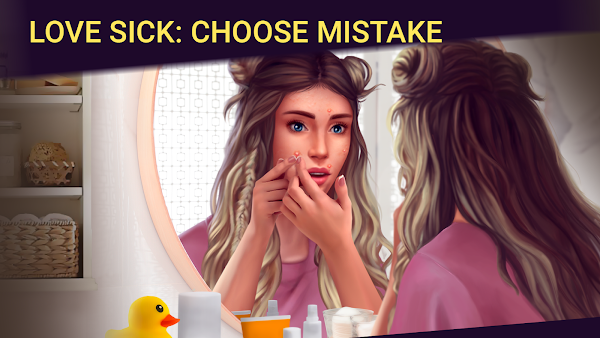 Not just that, but you'll also be able to download a ton of our other games and applications related to the Love Sick Interactive Stories APK for Android. Don't stop with just this interactive story; go ahead and find more like it and other stories in the apps section to keep you busy.
That being said, download and install the APK right now, and enjoy your window shopping of other apps. We are pretty confident that this won't be your only download on the website.