Traffic Rider APK 1.95
Download Traffic Rider APK – All bikes unlocked for Android to experience the adrenaline of driving through traffic without the risks of doing so!
If you're fond of motorbikes and racing, then you'll surely love this game. Traffic Rider APK for Android is a game that will keep you on the edge of your seat for hours. Weave through traffic? Check. Cool bikes? Check. Endless fun? Check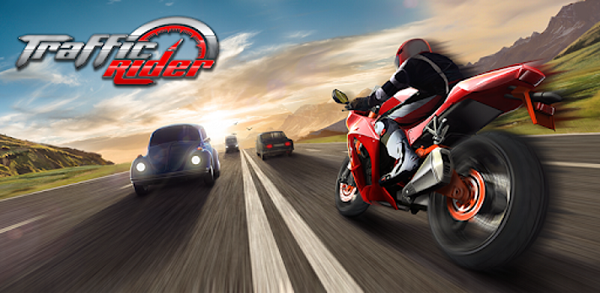 What separates this from other endless racing games? For one, it has stunning graphics, lots of customizations, realistic gameplay, and lots of challenging levels for you to conquer. Armed with only a motorbike and a highway to conquer, you're going to have a lot of fun. Excited to know more? Read on!
Start Racing!
After you've downloaded the game, you'll be greeted by a cool looking menu displaying your motorcycle. The menu is simple enough to configure as it's self-explanatory.
It's got everything you'll ever need to customize your vehicle, see the different challenges that awaits you and get rewards. The menu is also where you can change your bikes and customize them according to your liking.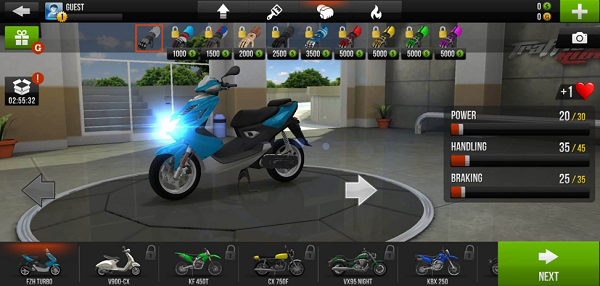 Set It to Your Own Liking
Another great thing about Traffic Rider is its customization beyond the bikes. Yes, in this game, you can actually change the music, sound FX, graphics and the language. The game supports over 19 languages worldwide! Just head over to the settings and you'll be greeted with friendly customizations that'll suit your needs.
Aside from that, the bikes themselves can be customized down to the last detail! You can change their paint color, decal stickers and gloves. What more could you possibly ask for? Oh, and did we mention that the game has 29 bikes to choose from? You can unlock more as you earn more cash from playing. A win-win situation, right?
As for the controls, you'll have full customizations of them too! You'll be offered several options to steer your bike. You can choose from these:
Tilt
Buttons
Handlebar
Gamepad
You an also select if you want the throttle set in manual or automatic just like in real life! And if for some reason you want to detach your brakes, you can do that too. In addition, you can also choose to invert the controls if you so choose and control the device sensitivity to your liking.
Challenging Game Modes
Traffic Rider offers more than just an endless race. It has different modes for you to experience and enjoy as well. There's an endless mode, Time Trial (one way or two way) and Free Ride. Finally, Career mode is the main mode and it has over 70 daunting mission for you to complete! Challenge yourself into completing those to earn rewards and unlock more vehicles!
Top Tips for Traffic Rider
Racing may seem like an easy game, but because Traffic Rider is different from others, you might need some few pointers. These will not necessarily make you the best driver out there, but it will improve your game albeit little by little. If you're excited to take your racing game up a notch, here are our top tips for Traffic Rider:
Ride Fast – Yes, we know this is a bit of common sense but hear us out. In Traffic Rider, when you race past 100km/hour, you can get bonus score/extra time by overtaking (near miss) cars. Moreover, you'll get higher rewards when you overtake on a two-way street as the danger of collision is much greater. But that's not all! Go crazy with your wheelies and perform daring stunts to get much more rewards. The sky is the limit so as much as possible, don't use your brakes!
Review Your Stats – After finishing each stage, you can view your stats as it will be displayed on your screen. You'll see the total distance you've traveled, close overtakes, high speed and opposite direction. You'll also know if you've successfully completed the mission or not as well as your total earnings. Use this knowledge and try your luck again by going to the same stage. Try to beat your previous record!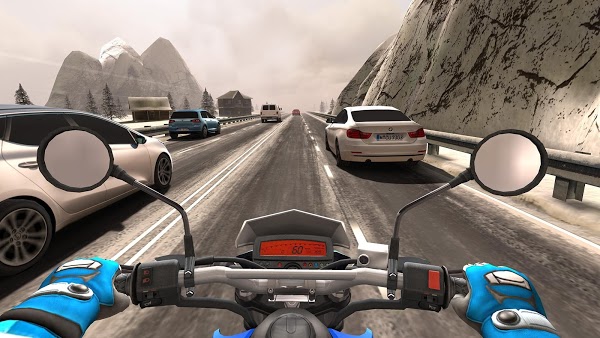 Try the middle – In Traffic Rider, your quick reaction should be just as good as your driving skills. But what if two vehicles block your path side by side? You'll have to time to steer left or right so what do you do? Try going in the middle! Yes, it's super risky but it's worth doing rather than just crashing into the vehicles and losing your rewards. Not to mention you'll be given more rewards for near-misses like these. That's why you need to practice maneuvering in the middle to save you from crashing and earn big rewards!
Focus on the Objectives – In this game, you'll not just be racing. As you progress, each stage becomes more difficult than the last one. You'll also be met with different objectives. Try to focus on them as much as possible. They're located at the top of your screen. Sometimes you'll have to overtake a certain number of cars in a given amount of time. Those are the kinds of objectives you'll have so pay attention to them.
Play Endless Mode Frequently – As you go up to higher levels, you'll be met with much more difficulty. Your previous motorcycle may not be enough to handle the heat. That's why it's necessary to unlock faster and newer bikes as much as possible. But you can only do this with enough cash. So, how can you earn these aside from the rewards you get from Career Mode? By playing Endless Mode of course! This mode doesn't have a time limit but it can get pretty hard as time goes by. But as you're playing this mode, you'll get to practice your skills and earn some cash while doing it. Pretty sweet, right?
Traffic Rider APK 2021
If you want have Menu, No clips, then just download the Traffic Rider apk now!