Tough Man APK 1.31
Download Tough Man APK Latest Version free for Android. Work out and train your scrawny man to a giant monstrosity.
Do you want to become the greatest bodybuilder of all time? This is definitely the game for you.
You'll start off as a tiny and flimsy little man. A weak and pathetic man with nothing going for him. Anyone could easily snap you like a toothpick. You are in severe need of a body transformation. No problem, that's what all of these different weights are here for.
How to Play
The controls of the game are unbelievably simple and accessible for any users. In fact, all that is needed to play the game is one finger. You can complete entire workouts many times over, with just the use of a single hand. Furthermore, anyone can easily pick up and play the game.
To start, you'll need to hold your finger onto the screen to begin your workout. Watch out for the gauge on the top. You'll need to stop the pointer when it hits the yellow or green portions of the gauge. In order to stop the gauge, you'll need to let go of the screen.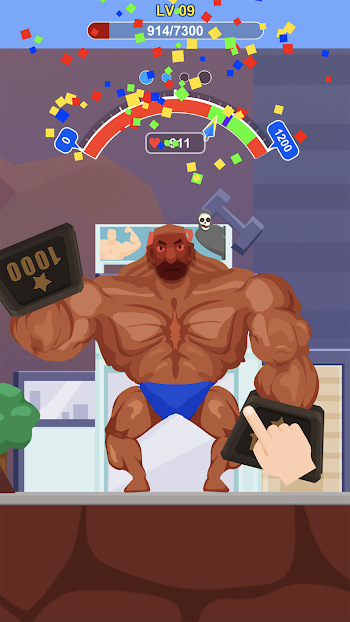 If you stop the gauge in the red, you'll make the minimum amount of effort. Next, the green portion is the second level of progression. The last and final level is blue. That being said, the blue portion is also the smallest increment on the gauge.
Depending on how much progress you want to make, you'll need to work harder and work on your timing. Leveling up will award you with more gold and increase in body mass.
You'll see a huge transformation in your body. Starting from a tiny man and transitioning into something much better. You'll become a giant hulking beast!
Features
Here are a few features of the game. These additions make the gameplay experience so much more enjoyable and outstanding. Check them out here:
The design and graphics of the game is amazing. The 2D graphics are cartoony and enjoyable for all who play. Not only this, but the sounds and art style are funny too. Your character will grunt like crazy while working out. And once each level is completed, he will explode with energy; you'll experience a hilarious moment of true passion towards working out.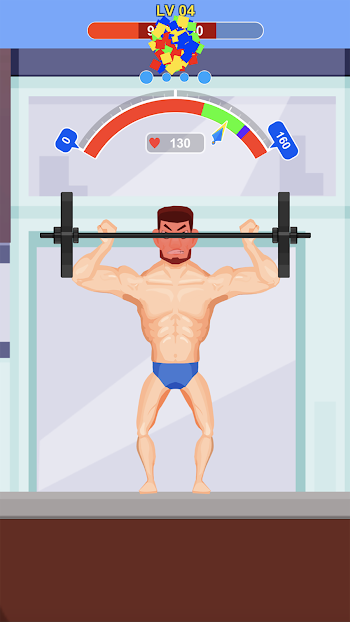 There are endless levels to continue training yourself. Once you've hit your peak, it's never enough. In fact, it's only the beginning of your training. You can continuously go through levels to work yourself to the absolute limits. Eventually, you'll become a giant monstrosity who can lift even mountains above his head.
The game has full phone support on all devices, regardless of the specs. Any phone, weak or strong can most likely play without any issues or drops in the overall quality.
The download is 100% free. There aren't any micro-transactions or any additional fess to continue your gameplay. Experience all of the Tough Man game without worrying about spending a single penny.
Tough Man APK Free Download
Download the modified version of the game to get a head start and quickly level yourself to the max. That's right, you'll be able to push yourself to the absolute limits without worrying about grinding.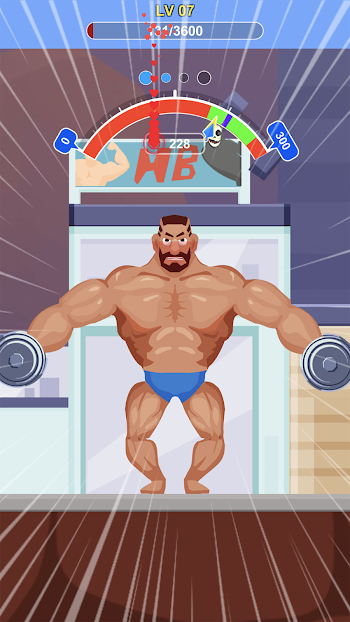 With the you can have the following:
With unlimited money, you'll be able to purchase all weights without having to worry about grinding for more cash. With that, you can quickly build up your scrawny little punk into the ultimate muscle machine.
So, get the Tough Man APK latest version download for Android now!