The Trail APK
Download The Trail APK – latest version – for Android and go on a journey of discovering the New World. This is an experience you'll never get even from history books and movies!
We live in a world where most essential things and places have already been discovered. Of course, it's a good thing as it signifies progress. However, it also leaves us with not much else to unearth. That's one of the reasons you'll have to download the game The Trail APK.
Yes, we have access to some great history documentaries or historical fiction shows and movies. However, they don't come close to getting the euphoric feeling of discovering a new place when you go on the journey, even virtually.
If you want that kind of adventure, we've got good news for you. Take advantage of the free download of The Trail APK and go back in time to explore the New World.
It's a Complete Adventure!
Don't forget that The Trail is also an adventure game other than being a simulation. It's important to point that out because the journey you'll go through is one of the foundations of this mobile game.
The Trail is not just limited to exploring and walking through a wilderness trail. However, it's worth noting that the game boasts more than 20 map locations. Each is composed of several camps and towns where you can rest and do adventure activities such as trading and crafting.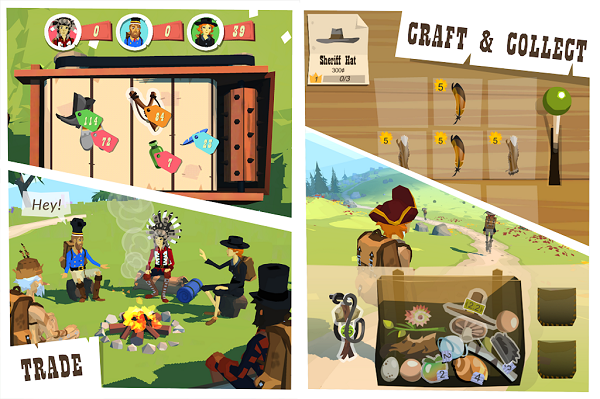 A major part of the adventure is completing quests and missions that usually rewards you with crafting recipes. This will allow you to use the things you collect to make tools and clothing essential for your journey. Note that crafted items are also more valuable when trading.
Quests and Meeting Animals
The quests and missions are grouped into four categories namely Hunter, Lumberjack, Explorer, and Trader. The objectives will depend on your chosen category. For example, when you choose a mission under Explorer some of the goals would be completing a certain distance traveled and eating to regain stamina.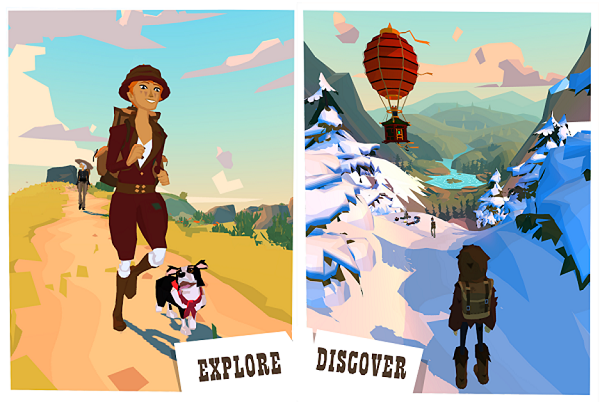 You can also interact with the animals you see along the trail and they serve distinct purposes. For example, raccoons have a bad rep here because they will steal the items you might want to gather. When that happens, quickly swipe up on their tail to catch them and get back what they stole.
Scenic Environment with Vibrant Colors
You'll spend most of your time walking, but it won't get boring. One of the reasons is the very bright and refreshing colors chosen for the graphics in this game. This is very important because the main theme of the game is discovering a new world and enjoying scenic views.
The Trail's animation is also remarkable, especially when you notice the animals and other adventurers walking the trail with you.
The responsive animation is very important because you're always moving in this game. However, if you encounter some issues in this aspect, try lowering the graphics quality in the settings menu.
Balanced Game Progression and Simple Controls
As mentioned, The Trail's full map is very intricate. The same can be said about the game's pacing.
The leveling up and unlocking crafting recipes, locations, and other gameplay elements don't happen too quickly. They also don't happen too slow that you'll lose interest over time. It's balanced and will keep you motivated to reach the main goal, which, at first, is to arrive in Eden Falls.
It's also a great decision on the part of the developers to not include too many controls while you're walking from one camp to another. All you have to do is swipe your finger on the screen to accomplish a task. This way, you'll not get too distracted and you can enjoy the scenery and spot the items you have to put in your bag.
Best Tips to Enjoy Your Adventure in the New World
When you're just starting with this game, you might get too absorbed to just walk around. This could lead to missing out on the other important activities and completing your objectives. With that, check out these game tips to make the best out of your adventure in The Trail.
To walk is wiser: You can adjust your speed from walking to sprinting by simply swiping up on your character. Sprinting is faster, but it quickly consumes your stamina represented by the green hearts on the top left corner of the screen. You might also favor walking most of the time because it allows you to clearly see the collectible items in your surroundings.
Collect important items: You can gather anything you see on the road. However, you might not want to get too much of the same item, especially if you've just started your walk and you're far from the next camp.
Your bag has capacity limitations and when it's overflowing, your items will fall to the road for others to collect. It is then important to prioritize collecting the items you need for quests and missions.
Keep crafting and trading: You would want to keep crafting and trading once you're resting at a camp or town. Both these actions will free up space in your bag and have other benefits like earning money when you trade stuff.
Crafting tools like an ax that allows you to chop trees that provides logs – a common requirement for valuable items such as a Wooden Carving. You can also craft shoes and headgears like bandanas. These provide comfort to any traveler, thus, putting them on makes you save more stamina. Making pants or skirts will give you more pockets where you store items, too.
Keep an eye on your stamina: You have such a long adventure ahead once you start playing The Trail. Your stamina is what keeps you up and running, literally. When you run out of stamina, you'll collapse on the road.
Other adventurers have two options: they can either pass by or they stop and steal your items. Dark, right? So always remember to keep your stamina up. Collect food like apples and eat them when you have to. Just open your bag, press on the food you want to consume for several seconds until a menu pops up. Then, choose the icon with a spoon and fork. Remember, you can eat while resting and even while you're walking.
The Trail APK
Like in real life, traveling with the best gears is a major advantage. You'll notice in the game that collecting money is not an easy task. Lucky for you, there's a free download of The Trail APK that gives you unlimited hoof. Go ahead and discover the New World without any limitation!