The Soul Stone War APK 1.3.7
Download The Soul Stone War APK – latest version – for Android and experience an adventure filled only with your imagination and your choices!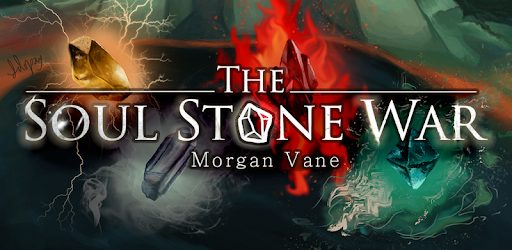 We've always been enchanted by fantasy words. Whether through books or movie adaptations, it's truly a magnificent world to see unfold. Fantasy-driven stories are becoming more and more popular these days with Game of Thrones in the spotlight.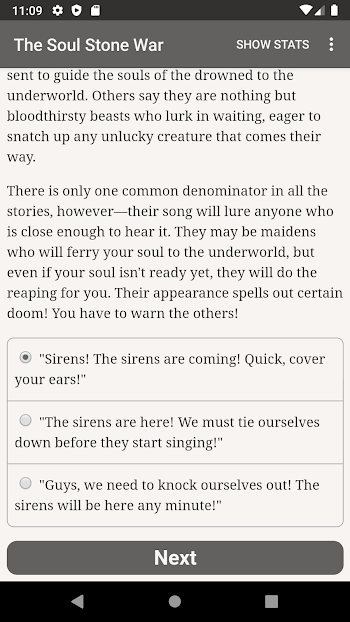 For some reason, we want to be in those types of world. We long to be in them. However, there's only a limit to what an ordinary man can do. Not for long though! Meet The Soul Stone War – an epic text-based adventure of a lifetime. In this game, your imagination is the only limit! So, strap your bags if you're ready to partake on an epic one! Read on!
An Adventure Like No Other
Are you tired of high-graphics and non-stop action games available at every tap? There seems to be hundreds of these being pumped out every week worldwide and we'll see no shortage of these games soon. And while these are all entertaining, some people can get tired of them fast.
Some people, like book lovers are looking for games to fill their souls. They aren't looking for the latest shooter game with high-tech features and millions of fans worldwide. No, they're just in for a good game. A game that will end their craving for something soul-satisfying.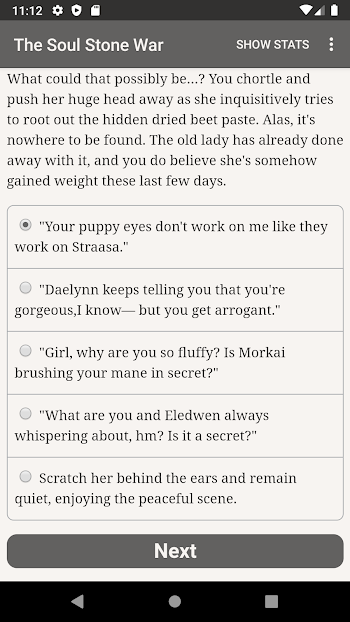 Meet The Soul Stone War. In this game, you're a person that's trying to escape your past. But no matter how fast you run, you can't seem to outrun your destiny. In this epic adventure of a game, it's not just your life that's in danger. There are ancient artifacts that are awoken from their millennia-old sleep. Whoever gets a hold of them, will control the way your world unfolds. Are you up to the task?
The Soul Stone War is an epic 487,000-word interactive fantasy game created by Morgan Vane. Like any role-playing interactive game, your choices decide the turn of events. Meaning, you control the outcome of your story – whether good or bad. To add to the mystery, this game is without any graphics or sound which is something unlike any other game in the market today.
There are a lot to learn in this epic journey. Your adventure will be powered solely by the words and your vivid imagination. However, don't underestimate this game, it's even more thrilling than any other adventure-based game out there. Think of The Soul Stone War as an interactive book more than just a text-based game. And you're sure to enjoy every word you'll read!
The Soul Stone War Features
Normal people may be disappointed by the lack of graphics and sound. But that's because they're normal. This game targets fantasy novel-lovers, adventure-seekers and basically anyone looking for a new game to play. This game is unlike any other so its features are going to look different. That said, here are the features of The Soul Stone War:
Choose your gender – This game gives you complete control on how your story's going to turn out. So, it makes no sense not to give you the control on what your character's gender is! In The Soul Stone War, you can play as a male, female or a non-binary! What's a non-binary you ask? They simply refer to those who identify as straight, gay or bisexual. In today's world, this game offers a gender-neutral option in today's gender-sensitive society.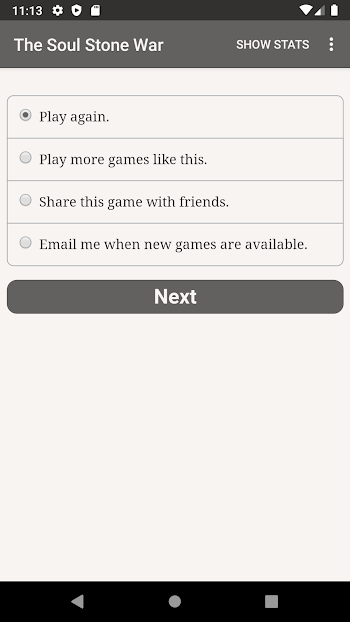 Soul Stones – In this game, you'll have the ability to be chosen by an all-powerful artifact. They are called Soul Stones and they are usually in the form of 8 different weapons and 6 gemstones. It's up to your choices what soul stone will be attracted with you. But whatever you get, you'll sure be in for an adventure of a lifetime! These artifacts will be with you through your epic adventure and you will be the one to take care of it.
3 Different backgrounds – In this game, you're given the option to choose from 3 different backgrounds. Each of them is unique and provide unique content for your roleplaying needs. They will surely satisfy your needs for an epic adventure so be sure to choose wisely.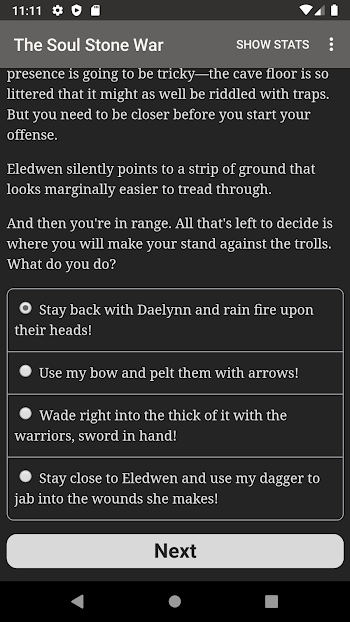 Colorful cast of characters – In The Soul Stone War, you'll get a chance to meet a colorful cast of characters. Each one is unique. They include a half-dragon woman, a prickly warrior, gentle noble with a mysterious past, and the antagonist. Create long-lasting friendships and fall in love with them! You can even create a polyamorous relationship to satisfy your needs! You're completely in control on how you want your world to turn out. You just need to be honest with your choices!
Action-packed adventure - Even though Soul Stone War doesn't have fancy controls or colorful graphics like other popular games, this one provides just as much entertainment. In fact, if you just play your part right, this could be an even better game than anything you've ever played before! And who says there aren't any action scenes in here? There are plenty of combat and fierce battles in the game where your magical powers and combat skills will be put to the test. Can you become the stone wielder and become the hero of your own story?
Choices-driven story – People love being in control. Even though books give a lot of satisfaction, sometimes readers disagree with the actions of characters. However, in this game you're the one in charge of your own story! Your choices will affect everything around you including you. Just make sure to stay true to what the choices you pick because you can never replay it! Immerse yourself in a fantasy world full of magic, sacrifice, and adventure for the ages. After playing it, you can replay the game again but this time, choosing other options! Are you up for the adventure of a lifetime?
The Soul Stone War APK
The Soul Stone War requires you to pay for it in order to download. If you don't want to pay, download the free version of The Soul Stone War now and become the ultimate Stone Wielder!