Technocare Tricks APK 1.0 (Free Unlock)
Have you ever forgotten your phone's security locks? If yes, you know the hassle that comes with it. The Technocare Tricks APK latest version helps you bypass the locks!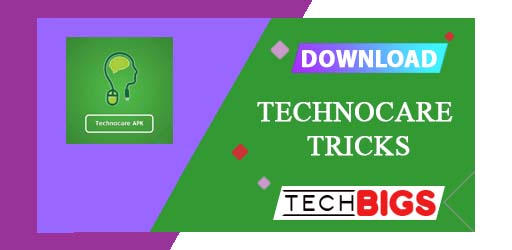 | | |
| --- | --- |
| Name | Technocare Tricks |
| Updated | |
| Compatible with | Android 5.0+ |
| Last version | 1.0 |
| Size | 28 MB |
| Category | Tools |
| Developer | Technocare Tricks |
| Price | Free |
In-Depth Analysis of Technocare Tricks APK Download
Technocare Tricks App APK is an application that comes to your aid when you lose your security locks. In most cases, such a scenario will end up with a technician, where you will spend a lot of money.
However, using this application is straightforward and requires only a few minutes! You will unlock your phone/device without exposing it to unnecessary security risks.
Even better, Technocare Tricks bypass APK has a simple user interface. As such, you don't have to be a professional technician to use it.
Get the Technocare Tricks APK download for Android now! The application is compatible with Android 2.3 and above and is only 30 MB.
How to Use Technocare Tricks FRP Bypass APK
This application uses a simple rationale, making it ideal for anyone regardless of their technical know-how. The app works by by-passing the Factory Reset Protection (FRP) on your Android device. Once you bypass the FRP, you can easily access your phone.
It lets you create another of your Google Account without necessarily unlocking your phone. As such, you can access all your applications and data on the phone.
The best part is that your photos or videos will be safe. You protect these files through a password/code message, which you will enter once you start the app.
But why is a Google Account necessary in all this?
Well, whenever you want to reset your phone, you will always be prompted to enter your Gmail address and password. If you have forgotten the details, you will not access your device.
In such a case, the Technocare Tricks FRP APK download will help you get around it by creating a new Google Account and using it to log into your device.
In addition to that, you can also use the same procedure if you have a device with a broken screen. If your phone's touch is not working, this application will bypass it for you! You simply need to give the password/code message and enter it on your desktop or laptop.
Other Uses of Technocare Tricks APK Android Host
Besides the FRP bypass, you can use this application to unlock old Gmail accounts and recover your messages. This way, you will not have to worry about losing vital messages and business records.
The APK also bypasses Bluetooth pairing allowing you to connect your phone with any gadget or computer without entering the security locks.
Even better, you can play around with the app for more functionality. If you're wondering whether the app can resolve your problem, you should join the Technocare Tricks APK GSM Forum. The platforms discuss all the possibilities when using the application.
Key Features of Technocare Tricks
User-Friendly UI.

 This application is simple to use. Unlike other bypasses, you don't have to be a technician to use it. The app uses a PIN/password which you set when starting the application.

Global Presence. 

This application has no geo-restrictions. As such, it can be used by anyone, anywhere in the world. It is accessible to everyone who has an Android smartphone and a Gmail account.
All-in-one Solution. 

Technocare Tricks FRP bypass APK handles all your security problems with just one application! This includes Factory Reset Protection Bypass, Bluetooth/WiFi pairing Unlock, and other Gmail issues.

Ad-Free.

 The app is 100% free of charge. It has no ads or hidden charges, meaning you can get it for free and enjoy its functionality without limitations.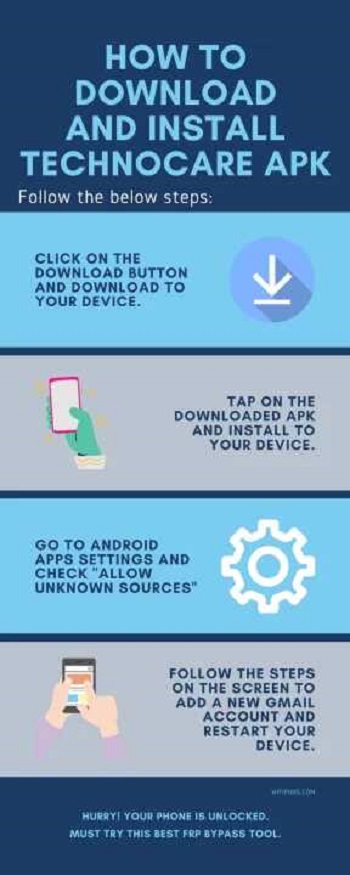 No Account Registration Needed.

 This application does not require you to create an account. This makes it convenient for you since you don't have to worry about losing your personal information.

No Limitations!

 There are no limitations on how many times you update the device or reset the phone. All anyone is required to do is enter a PIN/password when they start the application.

High Compatibility.

 This application is compatible with all Android versions. However, it works best with Samsung devices. It has custom ROM, Google Account settings, and Bootloader unlocking for optimal performance.
Technocare Tricks APK Free Download
Several third-party websites offer this application. But, if you are unsure about their credibility, it is best to get the APK directly from the official website. Here's how to download it for free:
Enable "Unknown Sources "on the device. This will allow app installation from third-party sources. Launch Settings and navigate to Security. Find 'Unknown Sources' and select the option 'Ok' to confirm it.

Download the .apk file of the application to your phone using a reliable source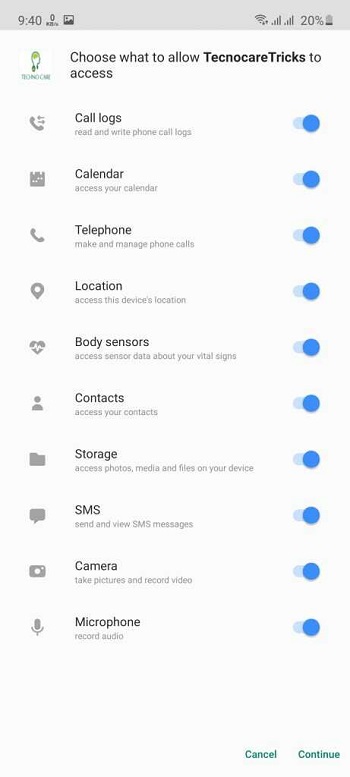 Install the application by tapping the downloaded APK file Follow all on-screen instructions.
Once you follow these simple steps, you will be able to download the application and enjoy its features without limitations or hassles.
Conclusion
Technocare Tricks APK is a helpful application that you can use to bypass FRP security on Android devices. If you have forgotten your PIN or password, this app will help you recover your data.
You can use it to unlock your mobile device and recover messages from the past. Even better, the mobile application is simple to use. It doesn't matter whether you are a technician or not; the user interface is very clear.