Tap Tap Breaking APK 1.77
Download Tap Tap Breaking APK for Android and try to break all the hardest things in the world! Can you do it and become the world's best?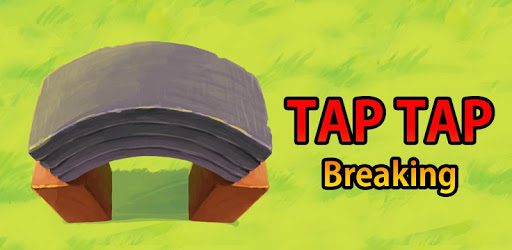 Simulation games are one of the best games around today. They are popular, easy to play and so much fun! This is especially true when simulation games focus on a single topic and try to make it as fun as possible. Imagine having a game where you can smash everything with just your hand. Isn't that ridiculously amazing?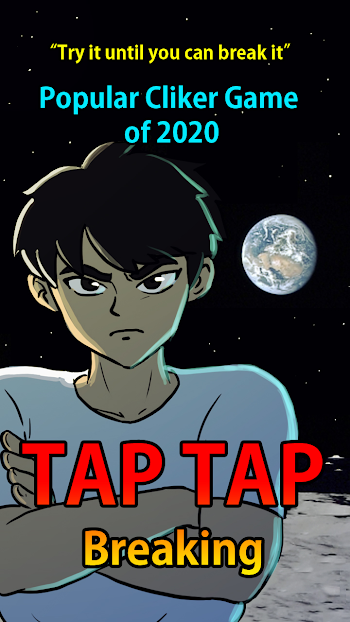 Ridiculous as it may, that's exactly what the game Tap Tap Breaking is all about! In this awesome game, you will just need to tap everything. If you're familiar with the karate chop, this game utilizes that and turns it into something so ridiculously fun. If you're curious, read on!
What is Tap Tap Breaking?
If you've always been amazed by karate, then you'll love this game! Tap Tap Breaking is a game that allows you to show off your karate skills. This game was developed by ODAAT Studio and it has more than 1 million downloads in Google Play Store.
If you've always been amazed by the karate chop, be prepared to experience the amazement first-hand! In Tap Tap Breaking, you will attempt to break different types of things! Starting from the most common and easy ones such as wood and bricks to absurd ones such as diamonds, the moon and the sun – this game is pure entertainment! The graphics will remind you of anime shows where the characters are as expressive as ever. The sceneries and the things you'll break is also well-animated. Overall, the game allows you to show off your strengths! Show off your talents and upgrade your strength. Only you can pull off these amazing feats! Are you ready?
Features of Tap Tap Breaking
Tap Tap Breaking is an amazing simulation game where it allows you to karate chop different kinds of thing! From blocks of wood to the sun itself, this game is pure entertainment! Here are its features: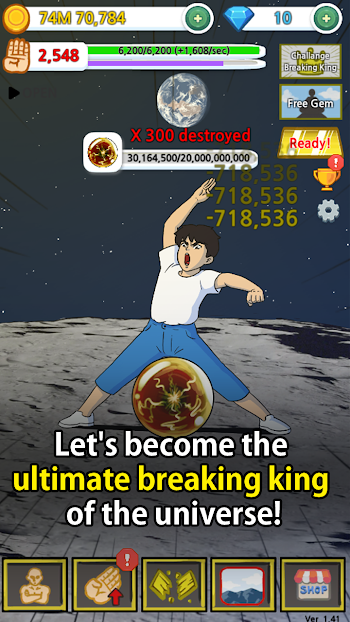 Unique gameplay – When it comes to simulation games, there are plenty of things that these games focus on but they mostly offer a unique topic. Tap Tap Breaking is another ridiculous but fun game. In this one, you'll need to break things using just your hand! There are plenty of things you can break in this game. There are not just the common things such as blocks of woods, there are more things in the universe and beyond that. Prepare to break some seemingly unbreakable things today!
Simple controls – Since this is a simulation game about breaking things, the controls are easy. The controls are so easy that you just need tap the screen repeatedly to break different thing! You don't need to do anything else in this game. That's how easy and simple this game is in terms of controls.
High-quality graphics – In Tap Tap Breaking, the graphics are similar to anime shows. In this game, you'll notice that the character is similar to anime characters you've come to love. Then, the things are well-designed as well. Combine these with the epic sound effects and you're in for a pretty good time!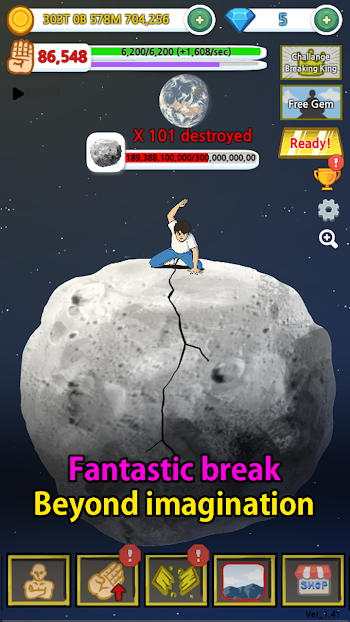 Game modes – In Tap Tap Breaking, there are 3 game modes. The default one is the training mode where you can practice your karate chops. Then, there's the challenge mode where you need to complete different stages. As you progress, the difficulty increases which will challenge you a lot. Then the Golden Bar is a time trial where you need to finish cutting things within the time limit!
Plenty of things to break – In this game, you won't just break the common things such as wood or bricks. There are plenty of things to break from diamonds, meteors, skulls and more!
Tap Tap Breaking APK
Tap Tap Breaking is an awesome simulation game that allows you to break things without limits! Download the unlimited money now and enjoy!