SnapTik APK 4.13
Are you having a hard time saving and downloading TikTok videos on your phone? Worry no more as SnapTik is here! Download viral TikTok videos instantly for free!
TikTok has become so huge in the past years that it became one of the major social media platforms today. There are over a billion TikTok users today all over the world so it's safe to say that they are dominating everything. Plenty of celebrities, politicians, sports persons and many more are joining the platform each day. As a result, there are plenty of trending videos that you can download. If you're looking for a way to download these videos easily, use SnapTik.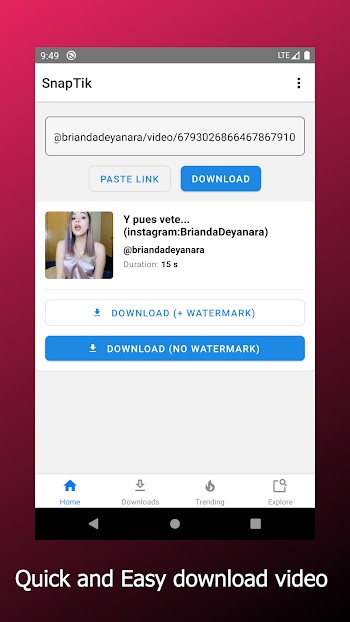 This app is simply brilliant as it allows users to download any TikTok video they want! Nowadays, plenty of people are going crazy over this platform and they want trending videos every so often. That's why there are a lot of people uploading viral TikTok videos to sites such as Facebook, Instagram and more. But for this to happen, you'd need a reliable TikTok video downloader such as SnapTik!
Download TikTok Videos Freely
Do you have a TikTok account? If you're here, there's a high chance that you have a TikTok account and you're looking for a way to download TikTok videos easily. The easiest and safest way to do this is through the TikTok app itself. But the problem is that there are certain videos that has specifically blocks people from downloading them. In these cases, you'd need a TikTok video downloader such as SnapTik.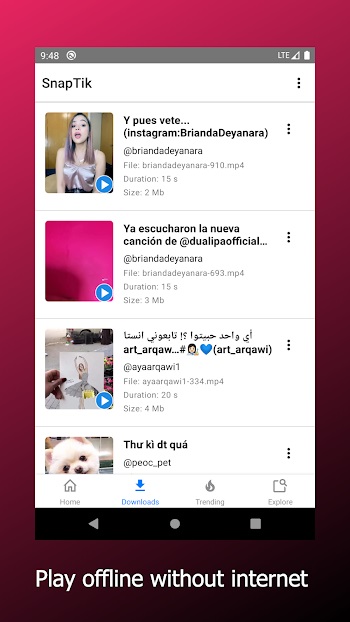 More than a million people have already downloaded this app in Google Play Store and have seen its magic. Most notably, it allows users to download any TikTok video without watermark! It also has a built-in video player so you can see your downloaded videos instantly. Aside from that, you can view videos offline and for free! Do you have anything more to say? This app already covers everything you need and more. Read down below for more of our review.
7 Reasons to Get This App
TikTok is as popular as Facebook, Instagram and Twitter nowadays. Because of that, a lot of interesting videos are popping up left and right. From celebrities doing challenges to normal people becoming celebrities overnight – there are a lot of things to watch. So, if you want to save those videos for whatever use, here are 7 reasons you need to get this app instantly!
Reason #1: You can download any TikTok Video – There are approximately 1 million videos being watched every day in TikTok. But the actual numbers may be higher since the app receives more sign ups each day! Because of this, you can spend a day in the app and you still won't be able to watch every single video uploaded there. Not to mention, you can also upload your own videos and gain a massive following. But if you want to just save videos on your device, you can easily do it using SnapTik. This app lets you save any video you can find in TikTok. No need to use other apps!
Reason #2: No watermark! – Another great thing about this app is that it lets you download videos without the annoying watermark! Get rid of the watermark so you can save and re-upload a cleaner video. This lets you do so much more. This makes your videos look more professional in case you want to do a reaction video or a TikTok compilation video. There are so many things to love about this app!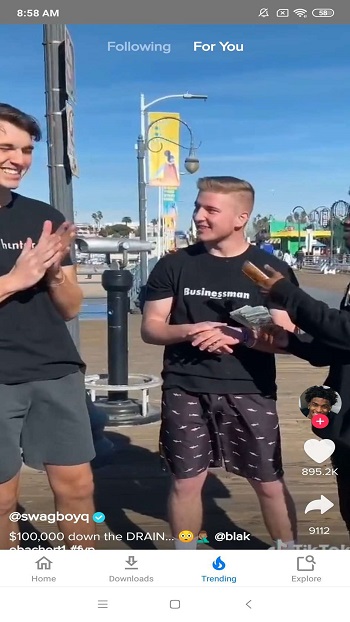 Reason #3: It has a built-in media player – The app also has a built-in video player which lets you play video you downloaded even offline. This lets you preview the videos to see if they were downloaded right.
Reason #4: Lightweight and easy to use – The app is incredibly lightweight as well as it's only 8.7 MB in size. It's also very easy to use. You just need to copy the link of any TikTok video and paste it on SnapTik to download it. That's it, no need for complex instructions.
Reason #5: No login required – You also don't need to provide any sensitive information such as your name, birthday, password, email or anything! In short, you don't have to signup and login to use the app. This lets you protect your privacy even more.
Reason #6: Download in the background and review them – You can also download videos even when you close the app! Instantly review them in the built-in album as well.
Reason #7: Supports many TikTok videos and for free! – You can download TikTok videos from TikTok Global, TikTok Lite, TikTok China and more! Best of all, this app is free!
Download SnapTik APK
Get SnapTik now and download any TikTok video you want. Download the latest version to get no ads.