Satria Heroes APK 1.13
Download Satria Heroes APK Latest Version free for Android now. Enjoy the fighting games, based off of the popular Satria Garuda BIMA-X series.
The popular television series of Satria Garuda BIMA-X has brought a satisfying and fun fighting game for all of its fans to enjoy. Introducing, Satria Heroes for Android mobile devices. Fight with a fun roster of different characters from the popular series and watch them duke it out.
Gameplay & Controls
As far as the gameplay aspect of Satria Heroes, this wouldn't be considered competitive. This is even more enforced with the fact that the game is completely offline. So, the main point of this fighting experience, is to enjoy your favorite characters, as you fight through waves of enemies in an Arcade style of gaming.
The controls are overly simple, giving even more confirmation that this game could never be too competitive. There is simply a Punch button, Kick button, and EX button. These make the game so easy to get into that even a toddler can pick up and begin fighting with the same experience as a veteran.
What we mean is, Satria Heroes is definitely a game for fans to just enjoy the IP and original characters. Definitely not a game for people looking for a relevant and competitive fighting game.
Graphics
You may ask yourself, "How are the graphics in Satria Heroes?" So, from what you've seen from the screenshots, the 3D visuals are just about decent. Everything isn't hyper-realistic, which isn't necessarily bad or good. But, usually games based on live action that have been developed to mobile don't have graphics that hold up.
Satria Heroes APK Free Download - Frozen Enemy
On top of everything, you can also choose your preferred version of the game to download. You can choose a basic APK, or go with additional features and upgrades with the SATRIA HEROES APK download for your Android.
Depending on which version you choose, it doesn't necessarily matter. Although, we would still recommend the APK, in order to skip a lot of the jargon in the game and jump head start into the action.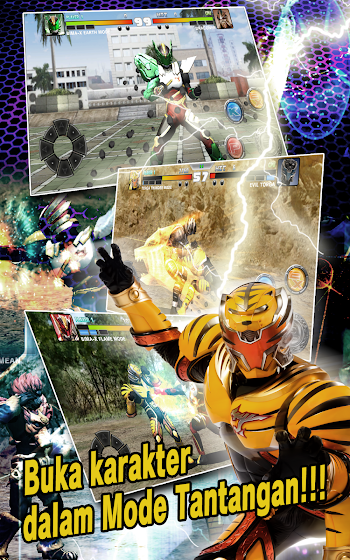 With the following additions available to you, there is no need for a grind within your gameplay. In fact, all of the content will become fully available from the start. And now, you can get straight to the awesome Satria Garuda BIMA-X action!
In addition, just like most of the other APK files on our site, you can save data and a lot of your own device space. With that in mind, you can add much more content onto your Android device, even after downloading and installing Satria Heroes BIMA-X.