Robbery Bob APK 1.21.11
Download Robbery Bob Apk Latest Version Free for Android and play all the levels that await you. Install this game to feel like a thief.
Lets Get Stealing with Robbery Bob
Robbery Bob is an action game that was developed by Level Eight AB. This is a famous game with everyone looking like a thief. This game has different levels, with the difficulty level increasing as the game progresses and as you make difficult decisions.    Playing this game will require the use of your instincts because you'll have to leave the scene without getting caught. Different gadgets and advancements are made available so that you can craft a smart plan. 
Robbery Bob boasts of colorful graphics and easy management. This is a dynamic runner essence game with the main character being a thief.   Bob is a skilled burglar who gets surprised by a mysterious man on his way to redemption in jail. However, this was not an act of goodness or charity because Bob was forced to steal again  Download this game if you love role-playing games and enjoy the beautiful graphics and gaming experience.  
Sound and Graphics
One of the features that make this game interesting is its sound and graphics. Robbery Bob has a funny sound effect and bright graphics. The graphics of this game is also vivid, and this goes further to ensure that players enjoy playing it.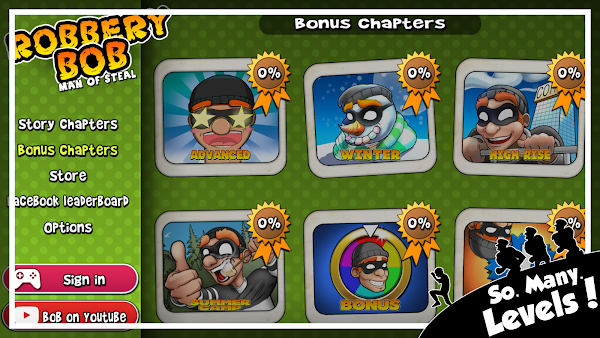 It is important to note that ads might pop up while you play this game. A top-down view is featured, and this makes it easy to locate safe rooms.  
Interesting Gameplay
Robbery Bob has funny and interesting gameplay. Learning how to sneak around like a real thief is needed to play Robbery Bob like a pro.   A notorious thief will take you through the game in the beginning and show you all you need to know. This will include the rules of the game to help you cross to the next level.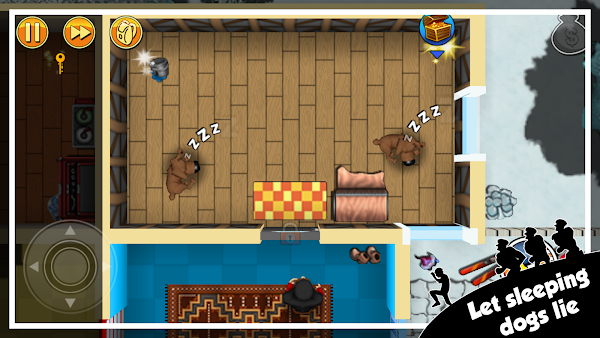 You'll be tasked with sneaking into someone's office, home, or secret underground lab. Your assignment will be to steal relevant loot once you are in. This should be done smartly, and you should try to avoid do-gooder between you and your clean getaway.   For a pro like Bob, stealing is the easiest thing to do; therefore, he'll steal any valuable within his reach.   This game has easy to handle and simple control. The speed button is on the right, and this allows Bob to sprint. A virtual joystick is on the left to control movement. Other tools are provided to distract residents.  
Improving Bob Abilities
Equipping and upgrading Bob can be done with different tools so that he can complete his tasks easier and faster. The main window of the game has a store that contains all the features you will need to upgrade. These features include his stamina, ability to sneak into buildings, grabbing ability, and his speed. 
Tools like the invisibility potion, the rotten donut, and the different costumes can be used to equip Bob. 
Robbery Bob Apk Free Download
The modified version has improved features compared to the normal version. Download the modified version of Robbery Bob to enjoy these amazing features, which include: 
(Increase when spent)
Download the latest version of Robbery Bob and show your ability to sneak into houses without getting caught. Equip Bob with different tools, and improve his speed, ability to grab things, stamina, and ability to sneak into buildings.