Red WhatsApp APK 14.37
If you have a need for an instant messaging that's full of features, Red WhatsApp APK is for you. The extra functions that you can find here will be useful.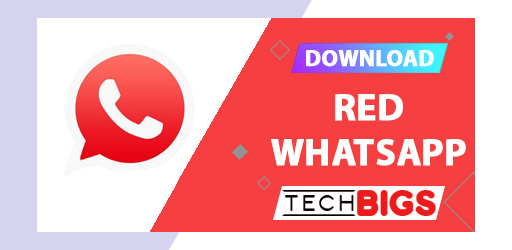 | | |
| --- | --- |
| Name | Red WhatsApp |
| Updated | |
| Compatible with | Android 5+ |
| Last version | 14.37 |
| Size | 55 MB |
| Category | Communication |
| Developer | Abu3rab |
| Price | Free |
Download WhatsApp Red APK – Messaging App
Messaging apps have popped up one after another with the advent of the internet. These apps are what allows us to contact people easily through the internet.
Most of these apps are free with the most popular ones being Messenger, Telegram and WhatsApp. But if you want a more defined experience, you can switch to WhatsApp Red.
This app is based on the original WhatsApp but with unlocked features plus added ones. Basically, it's an enhanced version of the original without the imposing limitations.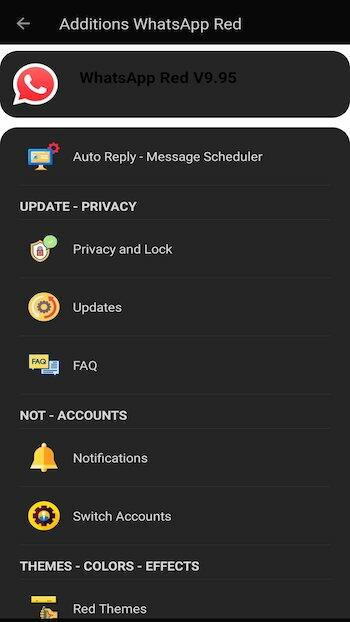 In the app you can do many things including set up auto reply, change the theme, copy caption, 5-minute status, and more. We've created this guide for everyone looking to switch to the best messaging app right now.
WhatsApp Red vs. WhatsApp
Instant messaging apps are the norm since they make communication easier. The requirement is for two users to install the same app and create accounts. Then, they can communicate through the internet for free.
These messaging apps allow chats, video chats and sending of files. Among the most popular instant messaging app today is WhatsApp with billions of users worldwide.
But its popularity is on a downward trajectory thanks to competitors and its limitations. Thus, WhatsApp Red solves all of this with an improved version of the original. It improves upon its limitations and adds many unique features. This is to the point that you no longer have any need to have the original.
So, even if you're used to the UI of the original, you won't miss it altogether since this app is based on that. It just has enhanced features and no more limitations. It's safe to say that you can achieve more with this app.
Benefits of Using WhatsApp Red
When you want to find out what exactly you can get from WhatsApp Red, you can check out this section. We've listed down all the benefits of using the app:
Personalized themes – One of the biggest drawbacks in the original WhatsApp is the lack of customization. The developers want to have uniformity in their app's look hence the lack of customized themes.
But with WhatsApp Red, this is all solved as users can easily change the theme. Whether they select from created ones or upload their own, it's their choice.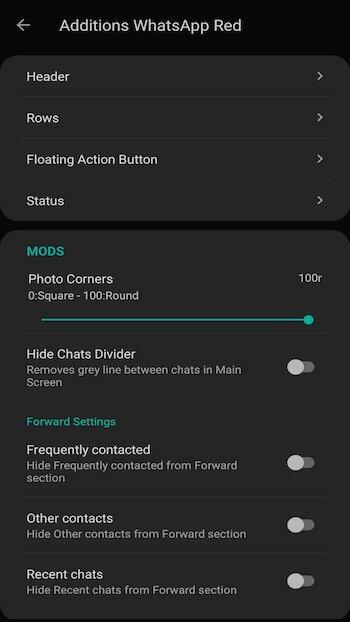 Auto reply – Are you annoyed by having to manually send many messages and replying to each one? If you're like most people, then this feature will come in handy.
Auto reply lets you automatically reply to any message with a pre-written response. You can also select the delay in seconds, receiver, and specific times.
Contact features – Having the ability to customize your contacts is possible with WhatsApp Red. The app has the function to hide your contact's name, block their calls and reply to their messages automatically.
Control your notifications – Users can also select different options in the notifications. There are options to enable or disable viewed story toast, profile pic toast, position of toast, and more.
Messaging features – We all dread the fact that people will know when we read a message. This is infringing on our privacies but there's no option to turn this off in the original app.
Luckily, there's a feature in WhatsApp Red that lets you disable the read receipt. Plus, you can enable the anti-delete function, so they won't be able to delete their messages.
Status Functions – Contacts who delete their status are the worst. But with the anti-status feature, you will still be able to view their story even if they deleted it. Plus, you have the option to select which friends of yours can view your status.
Moreover, you can set the font color, size, and text of your status. Users can freely customize everything before posting.
Privacy functions – WhatsApp Red is equipped with a protection that you can enable using a password or pattern. There's no need to download a third-party app that does this.
This is so only you can access your most important conversations even when you lend your phone to someone else. But the downside is you need to input your password whenever you open the app.
Increased limits – WhatsApp has set many limitations which turned off many consumers. But WhatsApp Red has turned that around as it prolonged many limitations.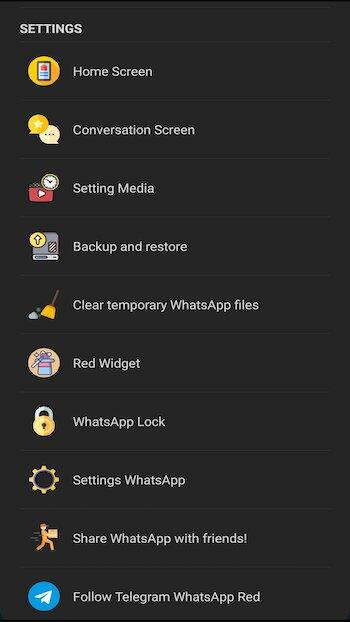 Now, you can post status of up to three minutes. You can also send videos of up to 700 MB, send audio and more. Whatever limitations you experienced in the original app, it's almost non-existent here.
Download WhatsApp Red APK – latest version
For users who want to experience the full features, download WhatsApp Red for free in this page.