BiP APK 3.92.74
There are so many instant messaging apps out there. But BiP features more! Get translated messages, customizations, themes, share photos and videos and more!
In terms of connectivity, we are spoiled as humans. We have so many apps to choose from such as WhatsApp, Facebook Messenger and so on. We can even chat on TikTok and other social media sites nowadays. But if you want total control over your communication, try BiP.
An app that has more than 10 million downloads, this offers more security and features. With its easy-to-use platform, abundance of unique features and the ability to translate languages – it's up there with the most popular instant messaging apps today. Once you use the app, you'll no longer use other ones. It has all the basic functions you can get such as phone calls, video chats, SMS and more. Plus, it offers customization of themes, changing icons, group chats, night mode, secret messages and more.
More Features and Security
If you have a smartphone, chances are you use one of the following: WhatsApp, Facebook Messenger, WeChat, Viber, LINE, or Telegram. Not to mention, the abundance of other social media sites such as Facebook, Twitter, Instagram and others. With so many choices like these, it can be hard to go with another instant messaging app.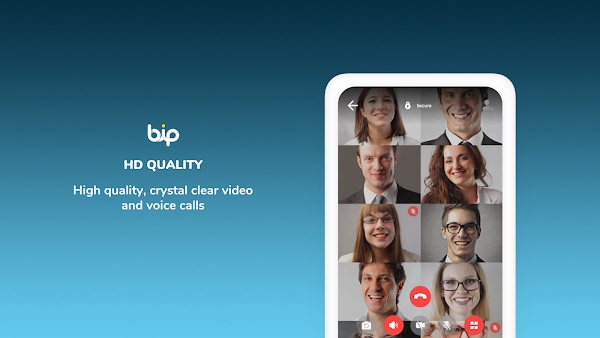 But you don't have to choose anymore thanks to BiP. This app alone changes the whole game. It's has everything you need and more! From SMS, phone calls and video calls to customization – it allows you to do many things. Want to send secret messages? You can do so in here! In this app, you can also translate over 106 languages easily.
What Makes BiP Stand Out?
What can't you do with a smartphone nowadays? It allows us to communicate and connect with almost every people on Earth. So, if you're ready to get a whole new instant messaging experience, read this.
Basic functions – When we're using an instant messaging app, we tend to use the most popular ones because we think they all offer the same things. In hindsight, that is true – but that's just the tip of the iceberg. If you want to do something more, BiP is your choice. Don't get us wrong, it can still do everything that other apps can do such as make video calls, send texts and more. But this one has more features that makes it so much more valuable to have.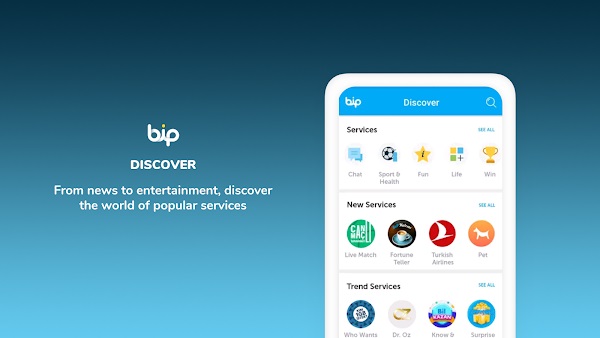 Free calls – Here, you can instantly connect via HD voice or video calls for free. Whether your friend is abroad or not, you can instantly reach out and be updated. There are no barriers when you use this app.
Translate languages – Speaking of barriers, you can also instantly translate languages in here. In fact, it's capable of translating 106 languages on the go. You can do it simply by sending a text in your local language to your contact and it will automatically be translated on your contact's phone. This allows for a more convenient and seamless communication. Not only does it eliminate language barriers, it also acts as an instant language translator. Say goodbye to Google Translate for now.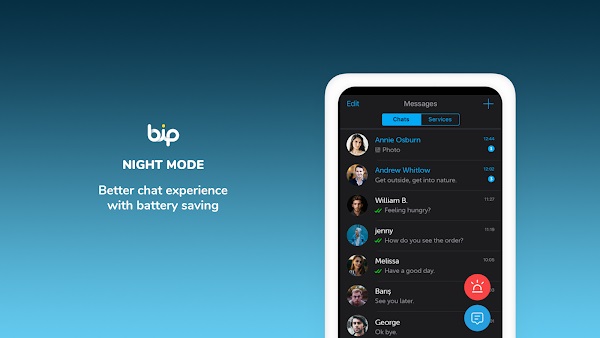 Endless customization – What most instant messaging apps lack is the lack of customization. Although a lot of them allow users to change some things, the most annoying thing is not being able to change the theme. Here, there are a bunch of features you can choose from such as Orange, Magenta, Night Blue, Night and Dark themes. These will allow you to optimize your phone's battery while giving you a more customized experience. Aside from that, you can add or remove features by changing icons in the app. This app allows so much customization that it's better than other upgraded instant messaging apps out there.
Secret messages – If you wish to have an intimate conversation with someone such as your wife, you can do so in the app. Here, you can hide your conversations so only you can access them. Plus, you can create group chats and follow people.
BiP APK
It's a big world out there. Get to know more people through BiP! Download the latest version and get exciting features for free!