Racing Star APK 0.7.9
Test your own skills on the road and see what you're made of. Download Racing Star APK to determine if you have what it takes to own the streets with your sick ride.
Racing fanatics, we have a game for you! Download Racing Star for Android to experience a high speed action packed racing experience. Not only that, but on mobile, you can play anytime and anywhere.
Why would you want to spend hours with your butt stuck on your seat on a console game? Instead, you can enjoy the game fully through mobile. On your way to work, on a bus, or anywhere you can spare a few minutes is okay. Just grab your Android device and get your cravings for speed relieved.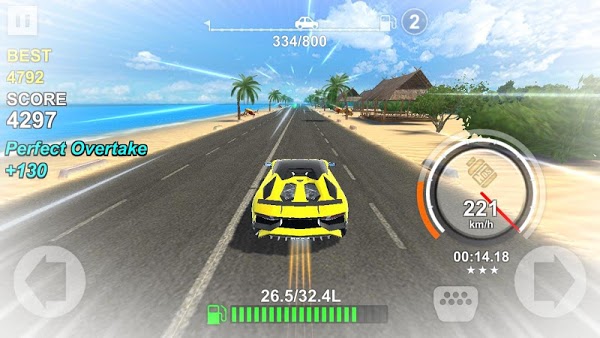 All the while, earn rewards and get the satisfaction of going through runs perfectly and without flaws. Do you think you are a true racing boy? Can you live up to the expectations of all the stars? Download Racing Stars for Android to truly find out.
Race Through Various Courses
Your main objective is to reach the goal. Obviously, this is the apparent mission to any racing game However, there is a twist. You'll need to collect the highlighted boxes within each run for a higher ranking and rewards. These rewards will grant you gold to spend in the long run.
As long as you keep a hefty supply of gild and gems, you'll have access to all of the best cars. Each car has a specific buy price, so watch out and spend your gold wisely. Other versions of the game will surely help with this issue, but that's not what we'll get to that in a moment.
Starting at the exact right time will give you a hyper boost! Now you'll have a head star ahead of your competition. With this, you are sure to secure a swift victory over any other competitors in your path.
Each run will score your performance. Regardless of how you finish or how polished your skills are, points are plentiful to earn. At first, you may get a small amount of points, nothing to write home about. But, eventually, you'll have all the experience and expertise to score high every time. Do you think you can manage a perfect run?
Graphics and Sounds
The graphics are pretty decent. When playing a racing game what would you expect? We're hoping the answer is realistic 3D graphics. We'll Racing Star doesn't really disappoint in that aspect. The game isn't super-real, but it's realistic enough to get the job done. Every vehicle is true to its model. In addition to this, the environments are visually pleasing and keep you immersed in the gameplay.
As far as sounds and music goes, everything is subpar. There's nothing to write home about, but also nothing to complain over. The music is very subtle and bittersweet. You can fully enjoy a peaceful and slow run through the beach, or an intense ride through the city. Regardless, you can always turn down the sounds for your own music playlist.
As a free mobile game, the game does its job and delivers the best experience in racing games.
As long as you're enjoying the game and having a blast while the scenes speed past like a blur, you'll be fully satisfied.
Download Game Racing Star APK
Now, let's discuss the version of the game. Here, you can experience the game the way it's supposed to be. With no distractions or tedious grinding. We know these games have you go through run after run to earn currency. But, what if you can skip the process and have unlimited currency from the star?
The Racing Star APK latest version gives you the following features:
Unlimited money. With this, you can buy any cars instantly, without any delays or tedious grinding.