Pusher 3D Mod APK 1.9.1
Do you enjoy casual games? If so, you might love this new one from Voodoo called Pusher 3D! The concept is familiar and you just need to push people!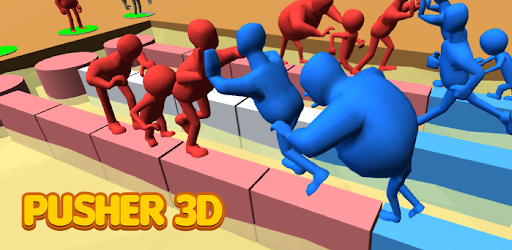 | | |
| --- | --- |
| Name | Pusher 3D |
| Updated | |
| Compatible with | Android 4.4+ |
| Last version | 1.9.1 |
| Size | 123.85 Mb |
| Category | Casual |
| Developer | VOODOO |
| Price | Free |
| Google Play Link | com.star2.pusher |
Have you ever participated in a tug of war? It's a game where two teams compete to get the other in their domain by pulling the rope. The team that crosses the line in the middle loses! It's a battle of strength and quick thinking as teams will need every ounce of their strength. Pusher 3D features a similar concept but with a unique gameplay in which you'll push the other team to the edge!
Here, the more people you put in the battlefield, the bigger and stronger they will be. Your men will refresh in different times depending on the levels and you can enjoy a fun gameplay! Here, you will need to outpower the other team to win. There are plenty of levels to complete and there are going to be more bridges as you go. Enjoy trying to compete against stronger opponents now by putting all your men!
Push People Off
Casual games are plenty because they're made to provide people the quick fun that they need. They aren't made for the long term but they can be enjoyed whenever you want without any commitments. Compared to heavy games, you can play these games as many or as few times as you want. They aren't as time-consuming and as heavy so you won't feel tired even after playing for hours. One of the newest casual games from Vodoo is called Pusher 3D and it's a fun one!
The concept of the game is familiar as it utilizes the concept of the game tug of war. If you're not familiar with this, essentially, there will be two teams on opposite sides of a long rope pulling them. The goal is for your opponents to cross over the line at the middle which signifies that you're stronger. It's a simple game that has existed for a long time and it continues to this day. But in this game, you won't need any ropes but you'll need to push the enemy into their base with the people you have!
Here, you can unlock different types of warriors and upgrade their levels. You must push the enemy off!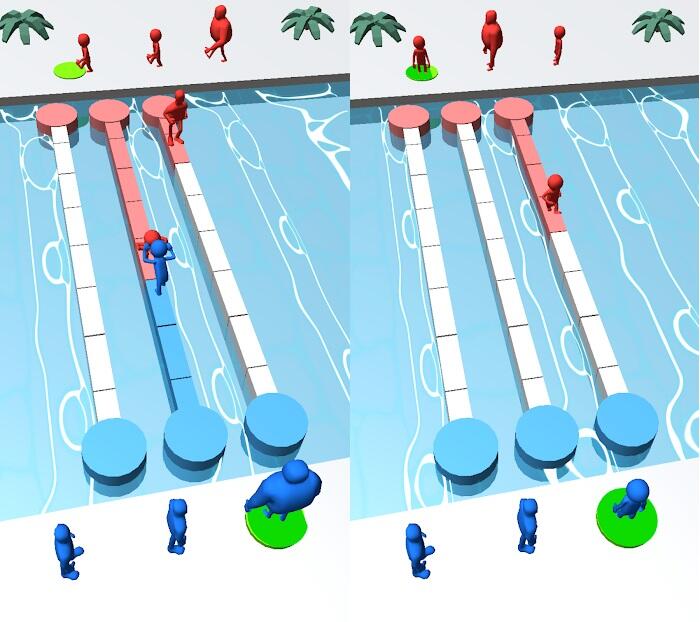 Do you love casual games? Enjoy Pusher 3D today and get to fight plenty of enemies today.
Push People – How many casual games have you played by this time? There are many casual games that have been made over the past years. In these games, you'll enjoy a fun time where you can go against plenty of enemies today in a variety of games. But in Pusher 3D, you'll enjoy a tug of war type of game where you will show off your strength against plenty of others. Here, you'll participate in plenty of levels where you can fight against plenty of enemies.
Here there are plenty of characters to unlock that you'll enjoy. There are people of all sizes and different powers. You can also upgrade them to face tougher enemies in future levels. Complete all the levels today to get insane rewards that you can utilize to buy more warriors. Enjoy a game with 3D graphics today and fight to the death.
Fight till the end – Like in the tug of war, here there's a goal that you need to complete in each level. You won't be using a rope but instead, your people will go against others by pushing them off. There are going to be lots of bridges and it goes up per level. Here, you must match the strength or overpower the opponent so they can cross the edge. But be careful as you may be overpowered by the enemies if you stretch your forces too thin.
Plenty of levels – There are many levels that you can unlock today in this game. Here, you'll enjoy plenty of levels as you'll face different opponents. At the start, there's only one bridge in the game. But as you progress, you'll notice that the number of bridges will go up as you will also face harder enemies. You must do everything you can to unlock many characters.
Unlock many characters – In Pusher 3D, you can get new characters as you complete more levels! These characters vary in sizes and power and you can use them to complete more levels. What's even more amazing is that you can upgrade your characters so that they will become stronger. There are corresponding costs to the upgrades but they can bring better yields in the long run.
3D graphics – Enjoy the 3D graphics today in this game as you can go up against many players.
Download Pusher 3D APK – latest version
Pusher 3D is an amazing game that lets you fight against plenty of opponents in a battle of strength.