Pura TV APK 3.4.9.1
Download Pura TV APK - Latest Version - free for Android. Get the IPTV streaming app for Android, 100% free, with all the extras. Enjoy amazing TV stations online!
| | |
| --- | --- |
| Name | Pura TV |
| Updated | |
| Compatible with | Android 5.0+ |
| Last version | 3.4.9.1 |
| Size | 8 MB |
| Category | Entertainment |
| Developer | Pura TV |
| Price | Free |
Download Pura TV for Android and enjoy hundreds of TV stations from all around the world on your smartphone. This app is absolutely free!
Bring your TV with you
Let's admit it, traditional TV is not as charming and interesting as it used to be, and it has been widely replaced by the endless power and complexity of the internet. While basic television is usually boring, full of ads and very limited, the internet offers us a huge variety of content that actually fits everyone's needs and has just the right thing for everybody. As a result, we are changing our habits. We no longer spend countless hours sitting in front of our TV, but instead we read our preferred blogs, watch our favorite YouTubers or listen to popular and interesting podcasts using our PCs tablets or smartphones wherever we are.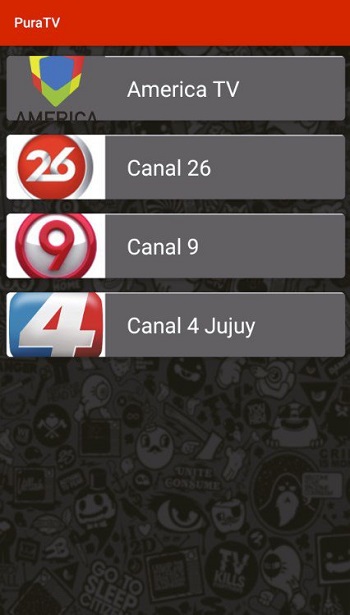 Internet is mobile, agile and flexible, and so are our lives, and ourselves. However, there are still interesting shows on TV that we still love to watch from time to time, but why should be do it just sitting in front of our TV? Can't we just do it from our smartphones, like everything else? Well, yes, now we can, thanks to apps like PuraTV!
What is PuraTV?
PuraTV app is one of the best IPTV applications you can find for Android. It features a huge variety of international TV stations for you to choose, play and watch on your smartphone wherever you are, for free!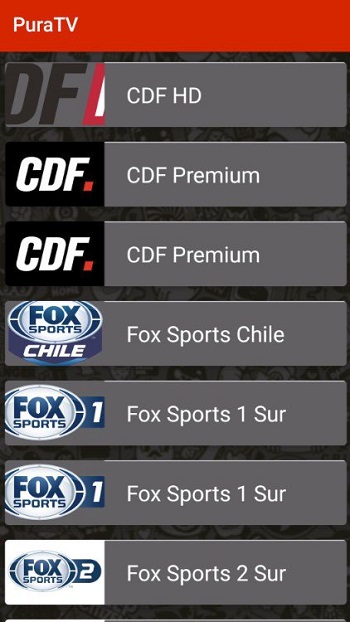 The only thing necessary is a reliable internet connection. Believe us, you will find so many stations on Pura TV that it will be difficult to just pick one! It doesn't matter if you are looking for movies, TV shows, sports, documentaries, reality shows or international news - you will no doubt find what you are looking for in this extraordinary app. And the best thing? It's entirely free. Yep, you read that right! All the stations you can imagine, and you won't have to pay a single penny for it.
IPTV is the new trend
PuraTV online can stream thousands of stations because it uses a technology called IPTV. Do you know what that is? Well, luckily we can explain it!
Essentially, IPTV is a new way to stream TV channels via internet by transforming their analogic signal into a digital stream of data that you can receive in any device like a smartphone, a tablet, or a PC. If you have anything that uses Android and has a screen, you can install this app and enjoy the best TV stations from all around the world, for free, with an excellent quality. As simple as simple
This is the magic of IPTV; technology is making possible for millions of people to keep an eye on their beloved football teams or news stations even if they are in a different country, thousands of miles away from their home. In a sense, IPTV brings the world together, and we love that!
Hundreds of TV Stations from all around the world
BBC, CNN, Fox News, Euronews, Al Jazeera, HBO, Televisión Española, France24, Canal 13, Chilevisión, Excélsior TV, ESPN... You name it, and PuraTV will provide for you! This is an app designed to bring you the best streams from all around the world, for free. And, since its developers are based in Chile, you will also find a wide range of Spanish speaking TV stations as well. This is great if you are a Latin American person who is living abroad, but it's also great if you are anybody else and want to learn some Spanish. Or maybe you just love watching some good old Colombian soap operas!
In any case, PuraTV full brings you the best English and Spanish TV stations worldwide, for you to choose what suits you best. And it's entirely free!
HD TV and an user-friendly interface
You'd think that an IPTV app will probably have low quality streaming full of pixels and glitches, right? Well, think again, because PuraTV has some of the best viewing experiences that you have ever witnessed. You will enjoy HD content from the best TV stations, including the most recent movies and really interesting live sporting events.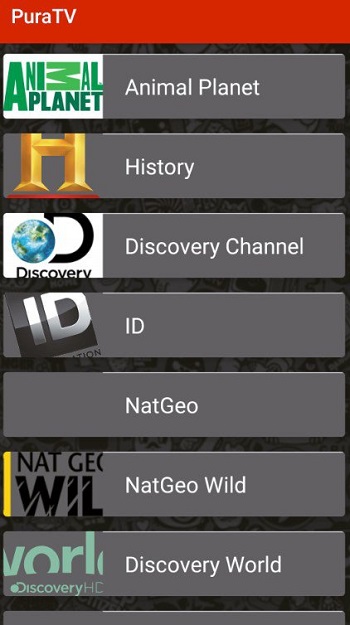 Just make sure your phone's battery is fully charged, in order to fully enjoy all the content this app has to offer! And don't worry, you won't have any trouble finding any television stations, because the user interface extremely user friendly and simple to understand and access. The application brings you pure joy with no drawbacks!
Download PuraTV APK - Latest version for Android
Click the following link to download PuraTV APK for Android, 100% free. Simply download the APK to your Android device, allow it to install files from unknown sources and start watching all the TV stations you will find in this app!