PowerDirector APK 12.7.1
Download PowerDirector APK – latest version for Android and edit any videos easily on top of many features! You don't have to be an expert to edit!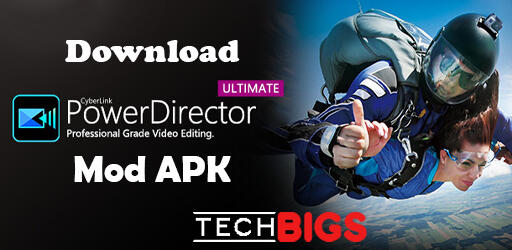 The demand for video editing programs and apps in the past years have skyrocketed. Thanks to the increasing popularity of memes, YouTube and most social media sites. Nowadays, people are always looking for convenient and easy video editing apps to cater their needs.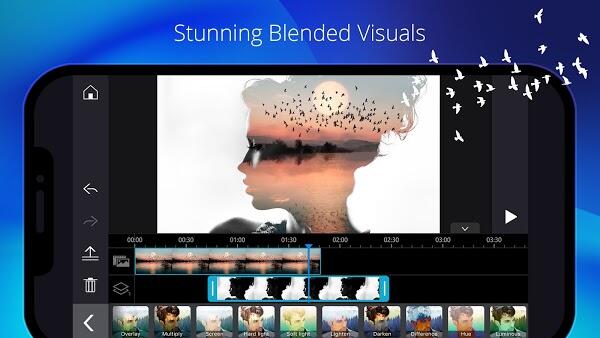 PowerDirector is a video editing app that has all you'll ever need. With over 50 million downloads on Google Play Store alone, this editing app is a popular one. In today's fast-paced world where the need for convenience and power is needed – PowerDirector stands above all. Curious about what this app is about and its features? Read on!
Similar apps: Vita APK and Alight Motion Pro
What is PowerDirector?
When it comes to video editing, you can do a lot more with software such as Sony Vegas and Adobe Premiere Pro. The only problem with these is that they can only be used from laptops or computers. In today's world where people are constantly on their phones than on computers, this isn't an option.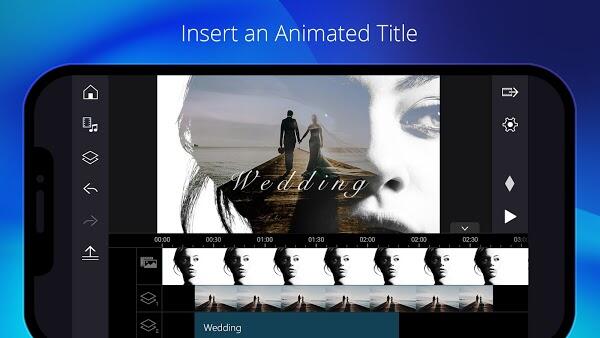 Meet PowerDirector, a video editing app that can compete with even software editing apps designed for computers. When you search for video editing apps in the market, you'll find plenty of common ones that can only do basic video editing. Some of them does the job done but for some, it isn't enough. For those feature-hungry people who are constantly on the go, a video editing app is just what they need.
But not any video editing app can handle their needs. PowerDirector APK on the other hand can handle basic editing and even most advanced techniques such as chroma key and layers. You can't find the top features that PowerDirector offers in other editing apps simple because they don't have the technology that this app has.
In this world where people are much more attentive to visuals than texts, a video editing app like PowerDirector will do you wonders. Whether you use it for your business or personal needs, this app doesn't disappoint. Sure, you'll have a harder time editing on your phone than on a laptop but that's a tradeoff that most people can make. And with a video editing app that as powerful as PowerDirector, you'll constantly want to use this.
Features of PowerDirector
What truly separates PowerDirector from mediocre video editing apps is the power-packed features. You'll rarely see these features on a video editing app simply because they can't handle it. But PowerDirector made sure that you'll have the complete experience as if you're editing straight from a laptop. With that said, here are the features of PowerDirector:
High-resolution videos – What separates PowerDirector over other basic video editing apps out there is the ability to edit and export videos in 4K resolution. Yes, this app is capable of just that! You don't have to sacrifice quality just to edit videos on your phone. That's just one of the proofs of the powerful capability of PowerDirector. But if you don't need 4K videos, you can also edit and export in 720p and Full HD 1080p quality. The flexibility on the quality of the video you can edit on gives you so much freedom.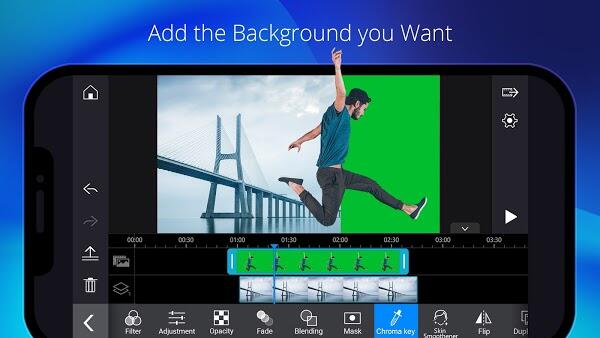 Epic transitions and video effects – This video editing app has all the necessary transitions and effects you'll ever need and more. It offers over 40 transitions to choose from as well as 30+ video effects to spice up your videos. It also has 290+ stickers to choose from to make your videos livelier. All in all, this makes your video editing experience even easier thanks to the number of transitions and effects available at your disposal. There are even glitch effects that will make your videos more modern.
Overlays – If you're familiar with Adobe products, you know that blending different clips together usually makes for an interesting output. In PowerDirector, you can overlay clips together to create a double exposure effect with multiple blending modes.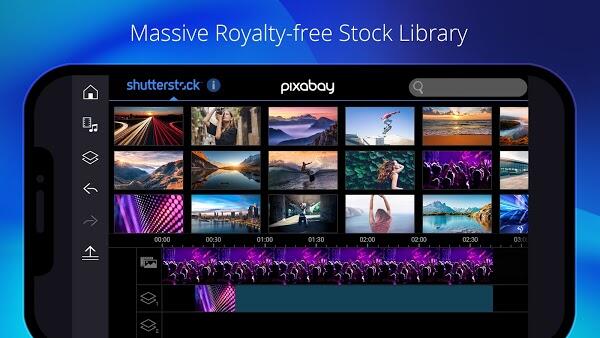 Chroma Key – If you'll use any other video editing app, you'll certainly won't see any chroma key feature. If you don't know what chroma key is, it's where you take any green screen and replace it with any background video or image you want. This is how most Hollywood movies make their impossible scenes like falling off a building or even tv news centers. This is certainly and advanced feature that only PowerDirector can offer.
Basic editing functions – In addition to the advanced features, PowerDirector has all the basic editing features you'll ever need. You can trim, split, rotate and re-arrange clips with ease in the timeline. You can also adjust the brightness and saturation of the clips in a matter of seconds. On top of that, you can also add texts and titles in the video themselves. Lastly, you can add voiceovers and background music to your videos within the app as well.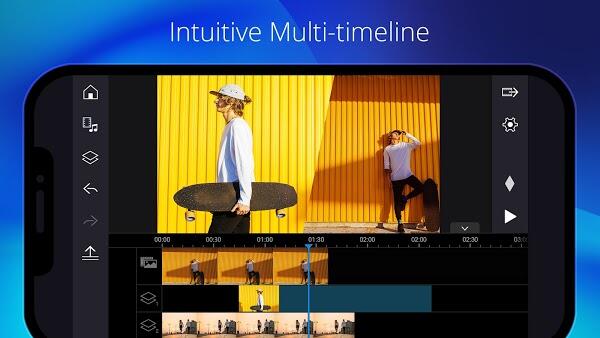 Photo editor – PowerDirector also allows you to edit pictures in the app itself. This means you no longer have to use third-party apps if you want to make last-minute adjustments to your images. You can flip, zoom, crop, and adjust the color of your photos to make it fit your theme.
Free templates – Aside from the transition, stickers and effects templates, you'll also have access to the following: 15+ title templates, 65+ color filters, and 100+ sound effect clips and background music tracks. This variety in templates allow you to create a truly unique masterpiece without downloading anything externally.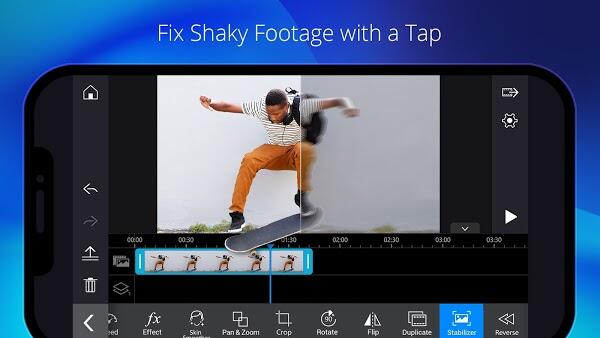 Upload directly to social media sites – Once you've finished editing your clips, you can also directly upload them to YouTube or Facebook to ease the process. This helps you eliminate the time it takes to render the video and upload them directly to these platforms. It also saves in data if you're using mobile data.
Easy controls – One of the greatest features of PowerDirector are the easy controls. You'll see an interface similar to most video editing software for computers in this app. And to do edit videos, you just tap the buttons that corresponds to the ones you'd like to do. It's that easy!
PowerDirector APK
PowerDirector is free to download but you'll have watermarks on your videos. To get rid of this as well as access some premium features, download the no watermark now!