Popcorn Time APK 3.6.10
Download Popcorn Time APK Latest Version free for Android. Enjoy watching torrent movies from your Android in the most-simple way ever possible.
| | |
| --- | --- |
| Name | Popcorn Time |
| Updated | |
| Compatible with | Android 5.0+ |
| Last version | 3.6.10 |
| Size | |
| Category | Entertainment |
| Developer | Time4popcorn |
| Price | Free |
As the name would suggest, this is definitely the time for some popcorn. Download Popcorn Time for Android and learn just how these different Torrent movies have been added onto your Android device. You can sit back and enjoy viewing the different videos made available through the application.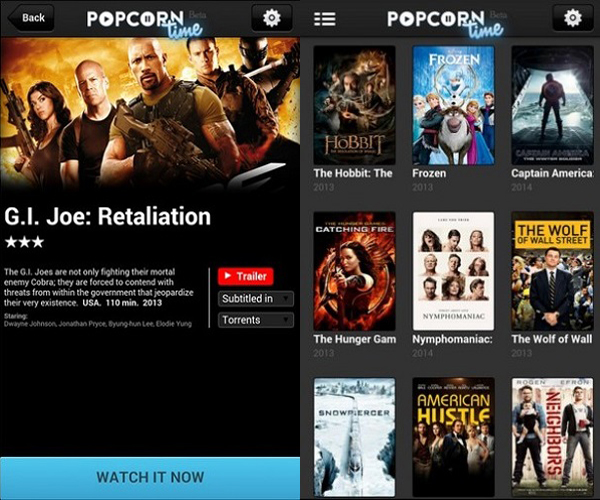 So, click on to journey into the world of various movies. Otherwise, you can continue to read and learn more about the app, before ultimately choosing to download it. Though, it's already a great idea to just install the app and start using it while reading along.
Basic Info
You might just ask yourself if it's legal to be able to allow different torrent files onto your device. Well, everything really depends on your own location. Depending on where you live, this may or may not be a good idea. So, think carefully and look over your location laws regarding downloading, distributing, and viewing torrent files of movies and videos. Use the app at your own risk.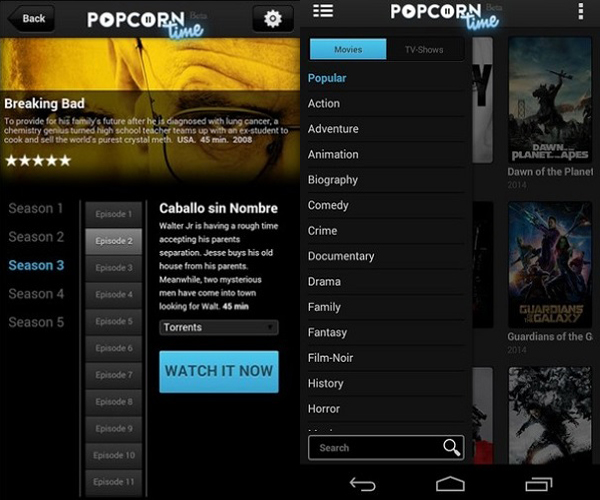 On that note, we recommend changing up your own IP. This can be done with a VPN application Where can you find one? You're in luck – it turns out that our website is home to dozens of different VPN application that can do just you need.
Since Popcorn Time has been developed by devoted and loving people. The app will have regular updates. The latest movies are always made available to users, due to YTS. They continue to prove more and more torrents to movies that would otherwise be difficult to find.
And, this also means some episodes of certain shows won't be made available when you want them. There are still a few limitations with video and audio codec. Unfortunately, this means you will need to settle with whatever is made available.
As far as languages go, all of the videos on the application will be in English. However, that doesn't mean that there won't be any subtitles. You can watch your favorite English speaking movies and get various language subtitles.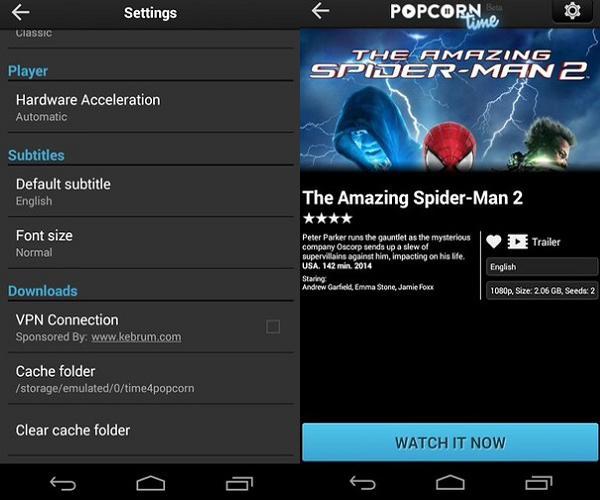 The entire team and contributors behind Popcorn Time have done their best to ensure everyone who uses the app won't come across any issues when attempting to use this application.
User Interface
The interface of Popcorn Time is just as easy as it is to watch torrents with this app. Everything on screen is made very easy to find and understand for the users. Even with such an expansive roster of movies and television shows, it's still easy to go search and locate specific individual videos.
Popcorn Time APK Free Download
Click on the Popcorn Time APK download Android link below to continue. The best thing about an APK file is the fact that you will be able to conserve a lot of your device's own mobile data and storage. You won't be wasting as much space on your phone or tablet as you would actually expect.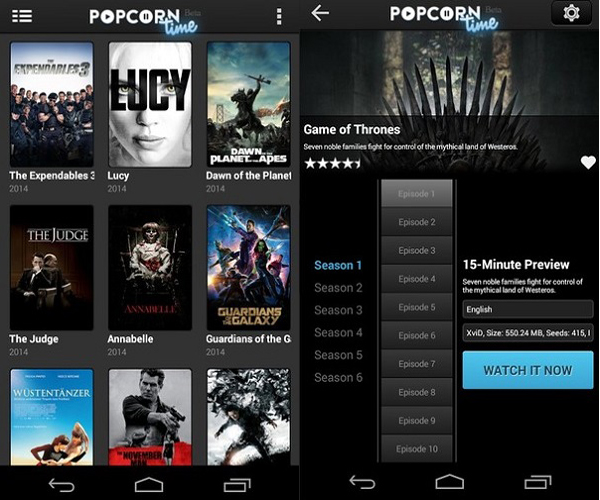 But wait, there's still more, the huge benefit of being able to save this much will relate back to the rest of your website's applications.
What we mean is – you will be able to enjoy even more applications for your Android mobile device, after saving this much of your space. The more room on your device, the greater apps will be made available to add into your library.
To this extent, you'll need to remember to allow Unknown Sources onto your device, otherwise none of these different apps will be able to download. Anyways, we also have the guide to adding APK files and more onto your Android device. So, there's no need for any worry regarding this area.
Conclusion
Anyways, go ahead and get Popcorn Tie APK without VPN download. You won't need to change up your own VPN in order to enjoy these videos. Just click on the download link to get yourself situated and started.
Afterwards, take a quick peek at all of the other applications that are suitable for you. You can get similar apps and more, here on our website.