Plunger Hero APK 1.9.3
There are many fun casual games to play. Download Plunger Hero now and fight against plenty of enemies using your plunger! Aim and shoot to win today.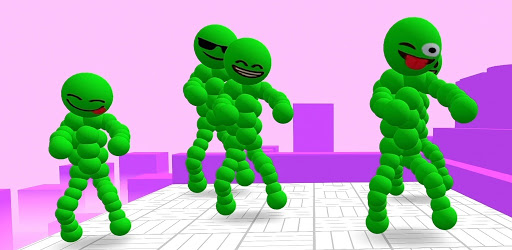 | | |
| --- | --- |
| Name | Plunger Hero |
| Updated | |
| Compatible with | Android 4.4+ |
| Last version | 1.9.3 |
| Size | 113.99 Mb |
| Category | Arcade |
| Developer | VOODOO |
| Price | Free |
| Google Play Link | com.aa.lockemsandman |
We use plungers in our regular lives especially in our comfort rooms. These handy tools can fix any clogged toilets and other areas today. There's also plenty of fun casual games that you can enjoy playing today which doesn't let you focus as hard. So, if you want to be a hero, you should play Plunger Hero and enjoy shooting your plunger in various enemies. The enemies are chained together and you can take them apart easily!
Published by VOODOO, this is a crazy game that takes plungers way too seriously. In this funny game, you'll use a bow equipped with plungers as the arrows to take down various enemies. The enemies are chunk of balls that you can tear apart using your plungers. Enjoy plenty of levels and plenty of fun today and get many rewards as you complete them. This is a fun 3D game to pass your time!
Plunge Them Out
There are many fun shooting games that are fun to play right now. If you're a fan of shooting games, then you must have played a lot of battle royale games by now. But sometimes, these can be a little too tedious to play especially since you'll need incredible focus and reflexes every time. If you don't want to play serious games, then it's time to download Plunger Hero. This is a fun and silly one that lets you enjoy plungers to the max!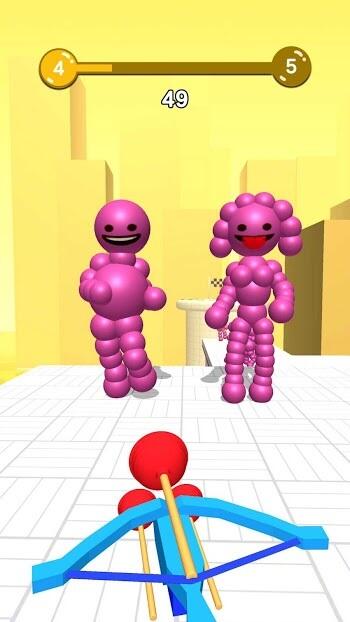 Instead of the usual bow and arrow, here you'll use plungers as weapons as they can stretch and take apart the enemies' limb by limb. The enemies here are clunk of balls that you can easily break by using your plunger in the different parts of their body. This is a fun game that lets you play a variety of challenging levels today with different enemies. You just need to aim perfectly and then shoot and watch as your plunger does all the world today! Enjoy a totally funny and enjoyable casual game in full 3D right now.
Plunger Hero Features
Plungers are mainly use for bathrooms. But did you know that they can be great weapons too? In Plunger Hero, you can test this out.
A Fun Game – There are a lot of casual games that you can enjoy right now. If you're into battle royale, then there's Fortnite, PUBG, and a variety of new ones as well. If you're into zombie shooting games, there are also plenty of choices right now that you can take. But if you want a casual one, preferably one that will make you laugh, you can download Plunger Hero today. This is a fun game that takes plungers to the extreme and uses it as a weapon!
In this funny casual game, you can equip yourself with a bow and a plunger as the arrow. The plunger stretches out as you shoot it into enemies and you can pull them out so you can break the enemy apart. Here, the enemies are hunks of balls that are glued together and you can break them apart using your weapon. Enjoy countless levels today and earn money to unlock many types of plungers. This is a full 3D game that lets you enjoy 3D environments.
Take Out Enemies Using a Plunger – In this fun casual game, you can take enemies out with a plunger for a weapon. Instead of an arrow, you'll shoot plungers that stretch out into the target so you can take them apart. The good thing is that the enemies here are made of balls and you can target different parts so they will break apart. Enjoy a fun game today that will make you crave for more! Unlock many types of plungers as well as you earn more money from completing levels.
Various Levels Available – There are various levels available in this game. Each one is distinct and they have certain number of enemies as well. Complete many of them today and earn many coins.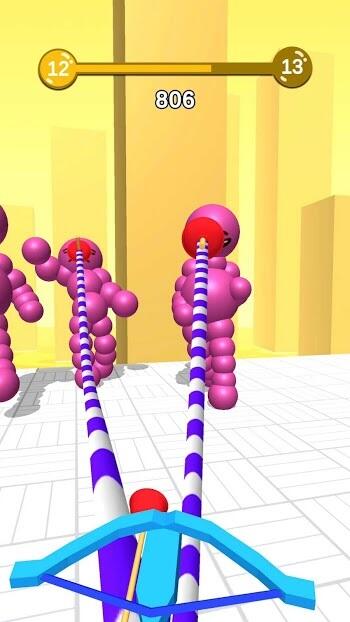 Full 3D Graphics and Controls – In this game, you can enjoy a full 3D one wehre you can aim around and enjoy a 3D environment. You can also aim here by tapping the screen and tapping them again.
Download Plunger Hero APK – Latest version
Enjoy a different type of casual game today with Plunger Hero. This is a fun shooting game that involves plungers!