Plants vs. Zombies™ 3 APK 20.0.265726
Download Plants vs Zombies APK – latest version – for Android to grow your plant squad and fight back against the incoming zombie hordes. Ready? Let's go!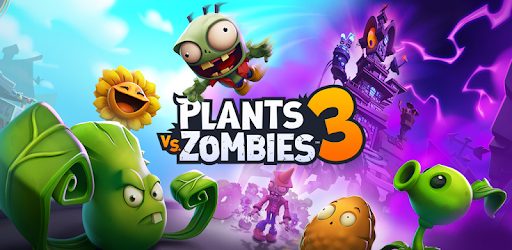 | | |
| --- | --- |
| Name | Plants vs. Zombies™ 3 |
| Updated | |
| Compatible with | Android 4.4W+ |
| Last version | 20.0.265726 |
| Size | 0 bytes |
| Category | Casual |
| Developer | ELECTRONIC ARTS |
| Price | Free |
| Google Play Link | com.ea.gp.pvz3 |
Ready to get involved in the battle of the century? Download Plants vs Zombies 3 APK to grow your squad of killer plants and destroy the incoming hordes of undead zombies!
You'll get to build up your town and upgrade your plants to dish out more damage to the zombie killers who are hungry for brains. The zombies want to take the town, and it's your mission to stop them from succeeding.
Grow your plants and fight the zombies to take back control of the town from the undead and level up your squad in the process to take on bigger and more destructive zombies – including terrifying bosses!
Plants vs Zombies APK is back
This was one of the original iPhone games that eventually moved over to Android and became a global sensation. Now the game is back for the third time and it looks better than ever! The graphics and gameplay have been upgraded to give you the most awesome Plants vs Zombies experience ever!
Grow your plants: You can choose from a wide variety of plants and level them up to make them more effective against the incoming zombie hordes. Try to get a varied team of killer plants so that you can effective take on different types of monsters and zombies.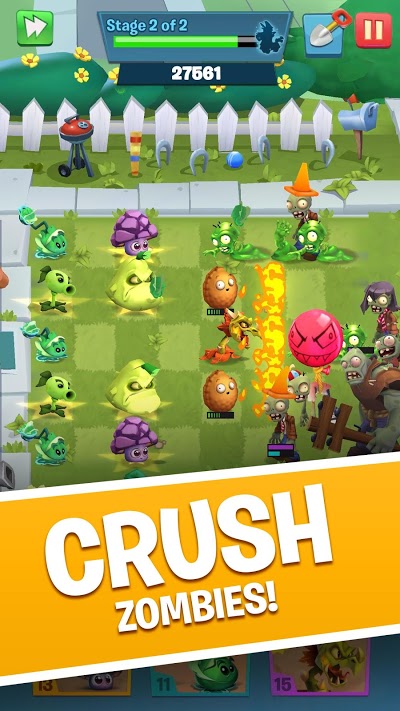 Fight new monsters: There are new faces in the zombie lineup. Fight zombies, monsters, and even massive bosses who are extremely challenging to destroy. Make sure your plants are up to the task before taking these bad guy on, or your town will be toast!
Upgrade your town: Once you're in control of the town, upgrade it so that you can make more money and upgrade your zombies more. You'll also be able to take less damage from the zombie with a more powerful town.
Complete online: fight with or against your friends in arena mode online. You can go head to head or compare your scores to see who the better fighter against the zombies is. This is the most complete online experience you'll ever have played in the Plants vs Zombies saga.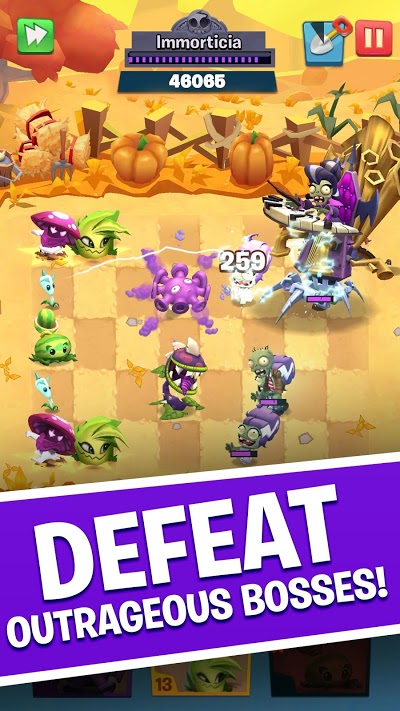 Familiar plants: You'll recognize the plants that you're using to fight the zombies. There is plenty of familiar stuff from the previous two games in the series, so you won't feel lost and confused when playing this new one.
Tips for Plants vs Zombies 3 APK
Even if you've played one of the previous games in the series before, you'll still want to have a couple of useful tips to make sure that you're getting the best possible experience in Plants vs Zombies 3 APK.
Know your plants: Reading up on your plants and knowing exactly how effective they are and what their range is will make sure you're not taken by surprise when using them. You should also consider where is the best spot to place your plants, as some will be better suited to being placed further back, while others should go to the front of your line to absorb damage.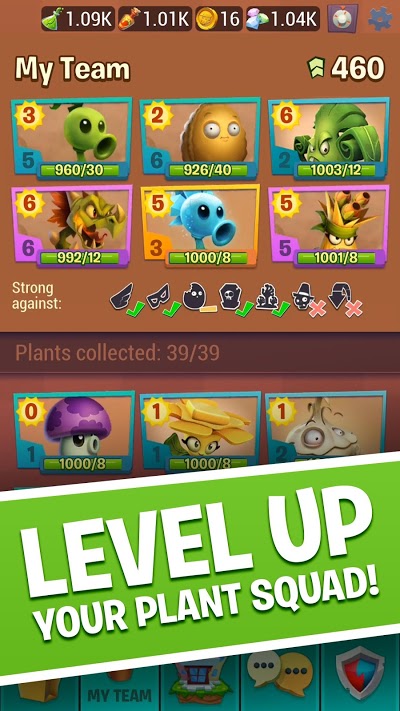 Protect your ranged plants: You can use melee plants to absorb damage and hold the enemy in place while your ranged plants clean them up. This is an effective strategy for ensuring you're not overwhelmed during large horde attacks.
Use row symmetry bonus: If you make your plants in symmetrical lines, then you'll get a bonus. There are many bonuses in the game to unlock, and this is by far one of the easiest ones to get.
Plants vs Zombies 3 APK
Ready to jump into the action and fight off the zombie invaders? Download Plants vs Zombies APK free for Android now to enjoy the game at your leisure! Don't let them take that town!