Pixel Gun 3D APK 23.7.2
Download Pixel Gun 3D APK – latest version –for Android to experience a cool survival pixel shooter game. Think you have what it takes?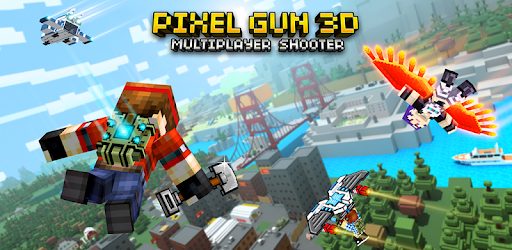 | | |
| --- | --- |
| Name | Pixel Gun 3D |
| Updated | |
| Compatible with | Android 4.1+ |
| Last version | 23.7.2 |
| Size | 83.80 Mb |
| Category | Action |
| Developer | Pixel Gun 3D |
| Price | Free |
| Google Play Link | com.pixel.gun3d |
When you think of battle royale games, you'd immediately think of Fortnite and PUBG. After all, these two are the most popular battle royale games right now. But what about in the mobile gaming industry? Are there battle royale games out there that can compete?
Meet Pixel Gun 3D APK. A cross between Minecraft and most battle royale games. This gives it a rather unique look than just plain copying other survival games out there. But is it worth your time? Let's find out!
Pixel Gun 3D Gameplay
Aside from the graphics, the gameplay is just like most battle royale games out there. A match consists of 100 players battling it out on an island after dropping off a plane. Then, it's down to you to collect resources and survive in this harsh environment. The only difference is that while other battle royale games are offering realistic gameplays, this appeals more to Minecraft lovers.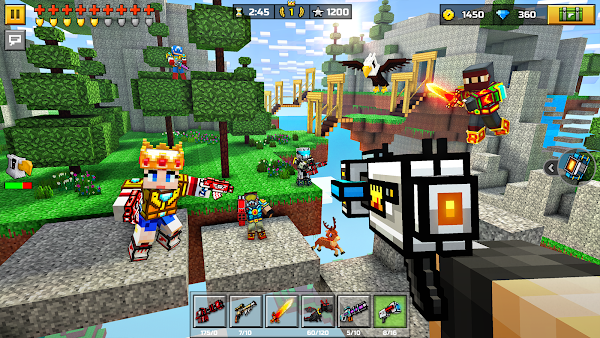 But if you're looking for a new way to play the mainstream battle royale genre, this game is actually your best bet! It's got interesting gameplay and other features that you can't get from other games. Also, there are tons of other things that this game has that you haven't seen before. Stick around to know more!
Features of Pixel Gun 3D
Even though this game revolves around the typical battle royale theme, there are tons of features this game offers and excels in. You can't just dismiss a game as copycat just because it has the same genre with the most popular ones. Having said that, here are the features of Pixel Gun 3D:
Controls – In this game, the controls are fairly easy and self-explanatory like most games. You have a virtual joystick touch button to control your player on the left side of the screen. Then, you get the buttons for firing, reloading, jumping, and emoticons. Pretty standard, right? Lastly, you can swipe the screen to the direction you want if you want to change the view.
Multitude of maps – In order to give a variety, Pixel Gun 3D offers over 30 maps for you to enjoy. This means that you won't get bored for a while as each map is meticulously designed and revolves around a central theme. Also, you'll feel like you're on Minecraft but at the same time Fortnite – which is a unique gaming experience. To give you an overview, some maps are called Space Arena, Sniper Forts, Nuclear City and more.
Different game modes – If you think this is just a simple battle royale game, you're wrong! This game also offers different modes aside from battle royale such as Deathmatch, Co-op Survival, Campaign and Zombie Apocalypse. Speaking of which the last mode is the only mode you can play offline! How cool is that?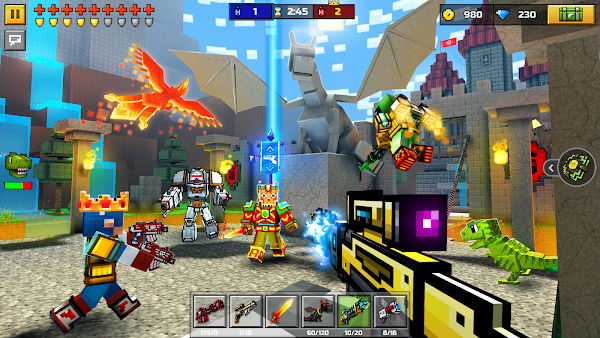 Cool items – This game excels in everything especially the weapons and the gadgets! Yes, there are gadgets such as jetpacks, energy shields and others. The weapons are also not to be missed as you get over 200 different weapons. This means that there are infinite ways for you to eliminate your enemy and come out victorious!
Costumes and pets – This game also allows you to have over 180 uniquely designed costumes! Dress as a pirate, a superhero or even a zombie to scare your opponents into oblivion! Aside from that, you can also own pets! You can get pets such as cats, dogs and even unicorns! Did we mention you can also have a T-Rex dinosaur?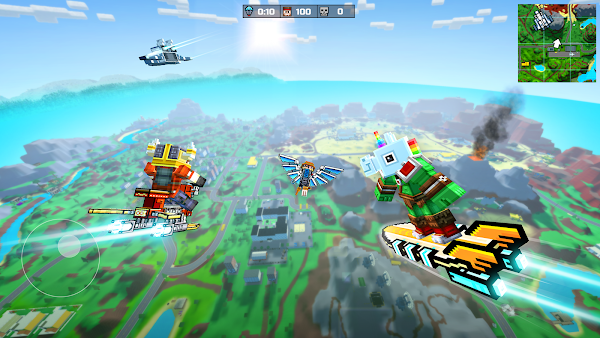 Stunning 3D Graphics – The graphics in this game isn't the same as its competitors such as Fortnite and PUBG. But that's because it strives to be different! It has an 8-bit pixel graphics but it's well-designed and has a modern touch to it. So, if you're thinking that this game is bad because of its graphics alone, then you're going to be wrong. In terms of its graphics, it looks like just a copycat of Minecraft. But it incorporated the battle royale genre to it which is unprecedented!
Tips for Playing Pixel Gun 3D
Battle Royale games have come a long way since the very first ones. And the premise is simple, to survive as long as you can and outwit 99 other players. However, even for veteran players that's a daunting task. So, we're here to give you some tips!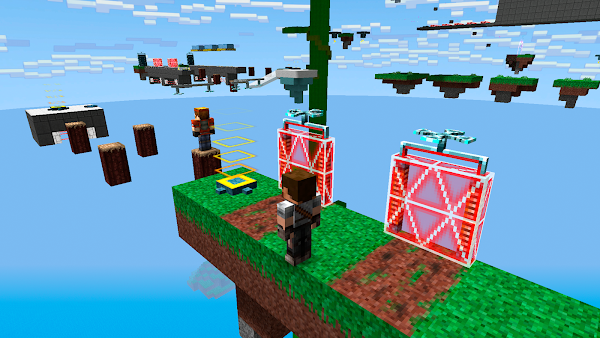 Get on level 2 – After you download the game, try to get to level 2 as fast as you can. This is because when you reach level 2, you are able to unlock the different modes of the game. In the arena mode, you'll kill waves of opponents continuously which can give you tons of rewards. This is the best way to earn money and progress in the game.
Get as much headshot as you can – As with most shooting games, headshots give a more significant points than other body parts. That's because this is one of the hardest parts to shoot at. And in Pixel Gun 3D, as you hit more and more headshots, you'll earn more points to unlock more rewards. As much as you can, try to aim for headshots as this significantly boosts your rewards.
Collect in-game currencies – Unlike most games, Pixel Gun 3D has 6 in-game currencies! Yes, that includes keys, coins, gems, tickets, ribbons and medals. All of these are used to purchase guns and other items in the shop. So as much as you can, try to complete challenges and score headshots to collect more of these. These are your money in the game, without them, you can't progress and buy things.
Know your weapons – In any shooting games including this one, it's important to know your weapon in order to use it effectively. There are a lot of weapons in this game and it's your job to know how they can be used effectively.
Pixel Gun 3D
If you don't want to be restricted in guns and other items, then download the unlimited ammo now and dominate the hill!