Pixel Car Racer APK 1.2.0
Download Pixel Car Racer APK - latest version - for Android and unlock all the coolest cars and addictive racing tracks.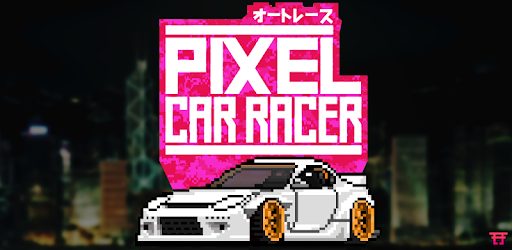 Pixel Car Racer is a unique Android game developed by Studio Furukawa. Taking retro-style pixel graphics of old and pairing them with modern gameplay mechanics, what you get is a fantastic and addictive racing game ideal for passing the time. Called a sandbox RPG experience, there is a lot more to this game than just racing - level up your driver, car, and build the garage of your dreams by racing to the top of the leaderboards.
The truth is, this is no ordinary Android racing game. Forget the cheesy graphics and boring game mechanics, Pixel Car Racer takes the genre to another level. There's huge attention to detail, including the different ways you can spec out your car, the driving mechanics, and even the track and story design. Plus, there's a huge range of different cars available, from super-fast Audis to classic Aston Martins.
The Best Features of Pixel Car Racer
Pixel Car Racer is a racing game with some deep RPG elements. That means you start out with a smaller, slower car, and it's up to you to unlock faster vehicles. This is done by completing a range of different Drag and Street game, which include races and chases. Sure, the levels start out simple enough, but over time you'll be placed up against more challenging opponents. Master the ways of Pixel Car Racer to get your hands on the goods!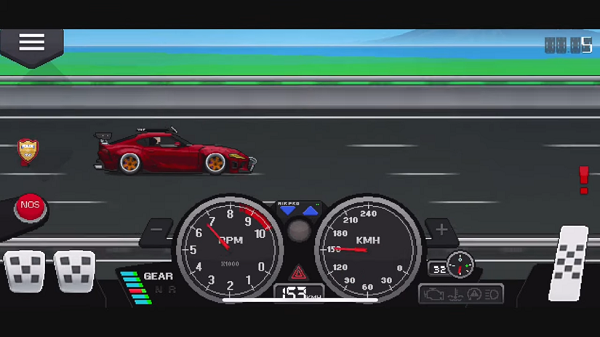 All the Cars in Pixel Car Racer
There are literally hundreds of cars in Pixel Car Racer, all delicately recreated in pixelated graphics. From an Audi R8 to an Aston Martin Vantage, the range of different vehicles is what makes this a great game for car lovers with an Android phone. Learning how to handle each car is part of the fun - some will require more grinding manual gear changes, whereas other automatic cars will handle that part for you. It's all personal preference!
Different game
No RPG car-driving experience would be fitting without plenty of different game to try. The two meat-and-bones of the game include the Drag and Street race, although the developers have promised many different limited-time events and other arriving shortly. Thanks to the active community online (on the likes of YouTube and other social media) there are lots of discoveries to be made and fun to be had.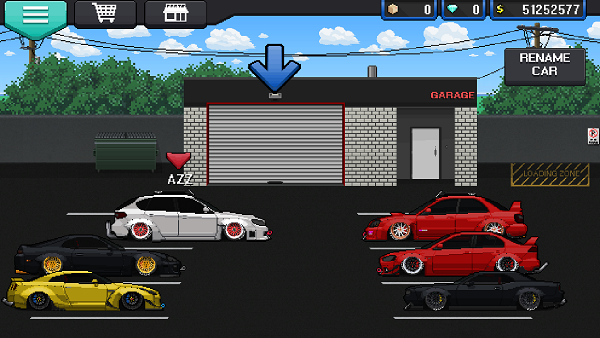 Unlock Everything in Pixel Car Racer
LIke all good mobile games, Pixel Car Racer has gacha elements. You'll need to unlock different crates to unlock new parts for your cars and to kit out your garage. These crates are earned (slowly) through playing the game, while you can also use real money to buy crates and unlock goodies. This could be new parts for your gearbox, a decoration for your garage, or a straight upgrade to your car.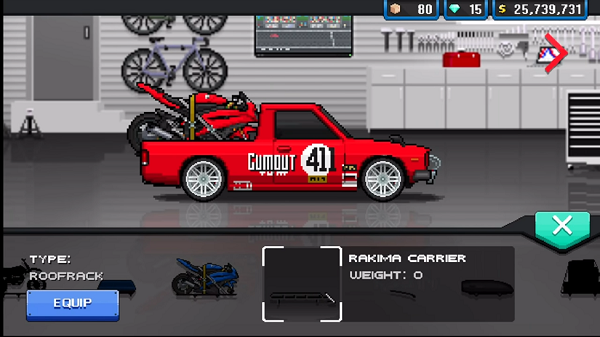 Making the World of Pixel Car Racer Your Own
There's no denying that Pixel Car Racer is a good-looking game. Each car has been faithfully rendered with great pixel art, with a supreme attention to detail. Look at the wheels, the exhaust, the windows - everything has been hand-crafted to look brilliant! Thanks to the in-game livery designer you can also make the cars your own with fun designs and unique styles. Plus, you can also use the RPG-style car tuning and Dyno Tuning to make the inside of the car unique, too! This leads to all sorts of fun and inspiring builds in the community.
Pixel Car Racer APK
Upgrade your cars and max out your garage when you get unlimited money from downloading the Pixel Car Racer APK for Android.