Pinch APK 1.21.0
Do you play multiplayer games a lot? Then you can use Pinch APK to voice chat with everyone, see who's online, who's playing and strategize online for free.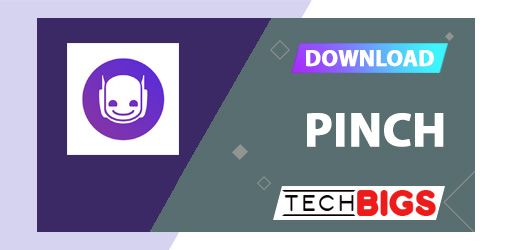 | | |
| --- | --- |
| Name | Pinch |
| Updated | |
| Compatible with | Android 5+ |
| Last version | 1.21.0 |
| Size | 60 MB |
| Category | Communication |
| Developer | GamerLink Inc. |
| Price | Free |
Download Pinch APK – Voice Chat for Gamers
A lot of mobile games today are multiplayer ones. This means that players will work with others in real-time to complete an objective.
A lot of popular genres have a multiplayer aspect such as battle royale, MOBA, horror and more. So, with the help of Pinch, you can add your friends and voice chat with them.
Although there are default voice chat functions for some multiplayer games, this works differently. This app works with any game as it functions just like a messaging app. The only difference is that it's designed for gaming so you can see who's online and currently playing.
Then, you can chat with them no matter if they're playing or not. This app is useful in many situations especially if a game doesn't support voice chat. In here, you can find many features so you can connect to your teammates while playing.
Why Use Pinch?
Communication is important in multiplayer games. Therefore, a lot of multiplayer games have an in-game voice chat function. But if your game doesn't support the voice chat function, then you can use Pinch instead. In fact, it's better than any game's default voice chat functions thanks to these features:
Create/join a party – The app lets you create a party or join one with your friends. This is like the group chat equivalent of Messenger or other messaging apps. This allows users within the party to add/remove members, voice chat with them and get notifications.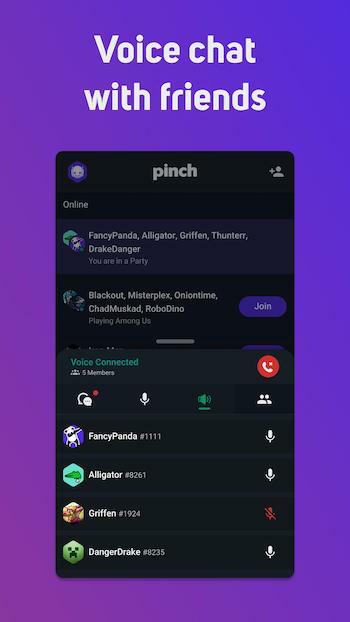 Call a friend – The main function of Pinch is to allow you to call your teammate. It was designed for mobile gaming especially in the case of multiplayer games without voice function. Since it works like a messaging app, it can let you talk to your members all at the same time. You can also choose to mute your phone or not.
Notifications – The great thing about this app is that it notifies you when someone in your group is online or playing. It integrates into your phone and reads what you're playing so that it displays the game into the app. Now, you can see what your friends are up to so you can give them a quick call or even join them.
Works with any game – Pinch was created for gamers, so it works with just about any game. It's more of a messaging app for mobile gaming so it can work in tandem to any games. Even when you're not playing a game, it can function as a standalone.
Access it while gaming – While it works as a standalone app, it can also work while in game. Users can access it on the side panel of their device with built in buttons. You can find buttons that will maximize Pinch, turn on your voice chat, adjust your volume and end the call.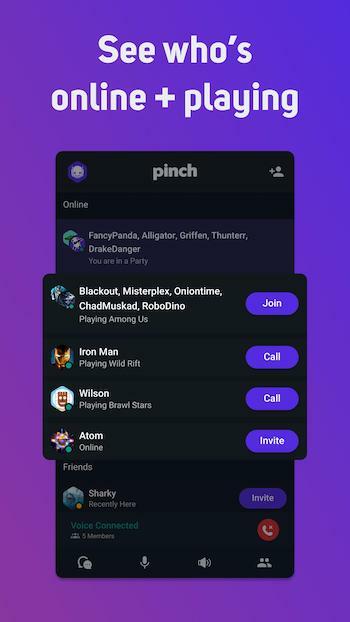 Settings – In the settings, you can find many functions like Overlay Settings which lets you use Pinch even while using another app/game. With this, you can select which apps you want the feature to work on. There's also the Notification Settings, Account Settings, Add Friends and Help.
How to Easily Use Pinch
Pinch is easy to use as it's just like any messaging app except for mobile gaming. Here's the step-by-step guide to using it:
Download the app and open it

Create an account with your email and password

Tap "Invite your Friends" but make sure that your friends have the app installed

You can also search for the name of your friends or their VK number

To call someone or join a call, go to the icon with people and select to mute or to talk
Pinch vs. Regular Messaging Apps
We've mentioned that Pinch is like messaging apps but for gaming. So you won't get confused with this, here are some similarities and differences:
Pinch lets you add people to your list like messaging apps

The app allows you to call and have a group call

Only Pinch allows you to use the app in-game unlike other messaging apps

Pinch and messaging apps require your friends to have the app installed to add them

Both have functions to call, mute and end call
Cool User Interface
The biggest difference of this app to messaging apps is the interface and theme. At first glance, it looks a lot like Discord with the robot logo, violet color, and the black theme. But it's different in that there's no feed and there are only four panels.
The app features a futuristic-looking panel with a black background which works well with games. Once you're in a game, the app can still be used as it will be displayed in a small vertical hub with an array of buttons.
Download Pinch APK – free app
If you're ready to dominate that multiplayer game, use Pinch now! This is an app that you can use to communicate with your teammates in-game.