PC Creator APK 6.5.0
Download PC Creator APK – latest version – Free for Android and create your dream PC right in this game for free! See what it's like before you finally buy your PC.
Simulation games have come a long way since they were first introduced. The first simulation games were The Sims series. But now, you'll see tons of simulation games being released left and right about different topics. And now, thanks to the advancement of technology, we're seeing more and more advanced PCs.
PC Creator is a simulation game developed by UltraAndre with over 5 million downloads in Google Play Store. In this game, you can create your dream PC for free! In this game, you will never run out of combinations for your dream build. Test out your dream PC in this game to see if it works perfectly. Aside from that, you can earn bitcoin in here to buy more equipment. Read on to learn more!
What is PC Creator?
Technology has been advancing ever since the first PC was created. Now, the majority of people have PC/laptop on their houses. This is becoming a need for most but for some, it's a hobby. There are a lot of PC enthusiasts out there that consider PC building as a pastime.
If you're one of them, PC Creator is the perfect game for you! PC Creator is a simulation game that allows you to build your dream PC! In here, you will learn a lot about how to build PC that works. In here, you'll work as a computer technician who will upgrade or create computer builds for people for a price!
This is a very good way to make money and you'll learn a lot of real-life lessons you can apply in real life through this game! In terms of graphics, PC Creator does a marvelous job at designing the components and all the finish products. Everything is created with the user in mind. Even if you didn't know a lot about components before, you'll learn it in here. But you don't need to worry because building a PC may not be as hard as you think. Most of all, you'll enjoy playing this game while learning a lot on the creation process. If you want to know more about this awesome game, read on below!
Features of PC Creator
PC Creator is not your ordinary simulation game. In this game, you'll be the one to build a PC! This means you'll be picking the right components and making sure that there's not bottlenecks that occurs. Here are the features:
Hardware- There are almost 200 plus hardware in a game to choose from. Most basics elements of it are CPU, mainboard, ram, graphics card, cooling fan and of course case covers which famous manufacturing brands such as Intel, Nvidia, AMD and other more are behind it. Nowadays, people tend to have a vigorousou stocks of rudimentary and modern components to build a computer based on their liking and need.
Easy building process – In PC Creator, even if you don't know a lot about the building process of computers, you can still play the game! The game simplifies every step of the building process so that even beginners can build PCs. All you need to do is to choose the right parts so that you can follow the specifications set by the customer. You don't need to bother with wires or designing anything, you just put them together and you're done! But what's really interesting in this game is that you can install software, overclock and run 3D benchmarks. You can even run a few games in it to make things even more exciting.
Graphics – In PC Creator, the graphics is top-notch. You can clearly see the details in each PC part that you'll get. Then, the PCs themselves are also realistic as you can run benchmarks, install macOS or Windows! Then you can also install games and see what it's like playing them in the PC that you built. That's how amazing the graphics of this game is. Everything is as realistic as it can be.
Play with friends – In PC Creator, you can also exchange hardware with your friends no matter where they are in the world! Aside from that, you can join in a technology battle every week between manufacturers. You can join your favorite brand so you can put items in the warehouse to support other members. Or you can exchange some components so you can build PCs for your customer! How cool is this game that you can collaborate with friends while playing?
Create PC as your job – In this game, you can accept jobs to create or upgrade the PCs of various customers! Depending on each customer, you may need to follow specifications set by them. This includes adding additional components or making sure that the CPU benchmark is met. It's up to you on how you'll do this but you need to make sure that you don't sell yourself short. This means that you need to budget your money so that you'll get higher payment than the ones you paid for the parts.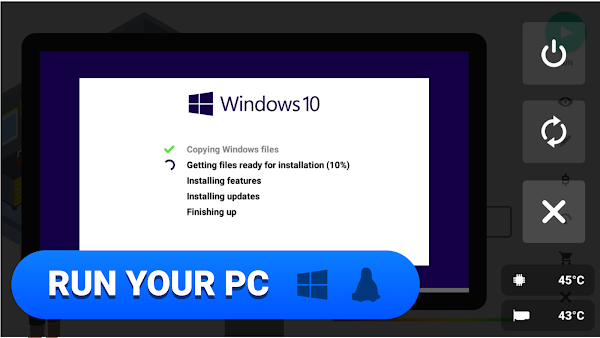 Easy controls – Since this is a simulation game, the controls are as simple as tapping the buttons. Everything you need is already in the screen; you just need to follow the instructions.
Tips for Playing PC Creator
At this point, you already know that PC Creator isn't your typical game. Here are some tips:
Pick some easy jobs – At the beginning, you must only prioritize the Diagnose and Fix jobs. This will allow you to make steady income as they will also allow you to familiarize yourself with the game mechanics. It's also in your best interest to keep some basic working components in your inventory for testing purposes. These should include the basics such as a power supply, CPU, RAM, and a CPU cooling fan.
PC Creator APK – Free shopping
PC Creator is an awesome game that lets you create PCs with ease! But the components cost money! If you want to instantly unlock all of them, just download!