Novelah APK 1.45
Download Novelah APK latest version and read as many novels as you wish. It offers different categories, including romance, science fiction, and hot boss.
Comprehensive Description of Novelah APK Download
Novelah is a dynamic book & reference app that offers free novels to reading enthusiasts. The app by Tom Yang has a wide collection of books in different categories, ensuring that every reader benefits from it.
Additionally, the app offers rich point rewards to readers. This way, you can unlock books and advance your reading. The user interface is simple, and you can be sure of 100% immersion throughout your reading escapades.
If you love exploring books in different niches, you should download Novelah APK for Android. The app is 26M and requires Android 4.2 and above for optimum functionality.
How Novelah APK Works
Novelah is an app that offers you a wide range of novels and eBooks. It has different categories including:
Romance Novels
Hot Boss Novels
Science Fiction Books
Urban-Feel Good Novels
Adventure Novels
Fairy Novels
The app also lets you keep track of your progress as you read. The latest update allows users to unlock exclusive novels, which is good news.
The Novelah app comes with a simple user interface that allows open and easy navigation between books and other content. It also has a bookmarking system that stores your favorite quotes.
The app offers you point rewards, which is good news for bookworms. You get points when you read books, share messages with other users and invite friends to join the community.
Earn From Your Books
Besides reading, this app offers a platform where authors can share their books. The author will earn an income from the book.
The app has a simple publishing process, which is fast and convenient. As such, you can be sure that being a contracted author will earn steady passive income.
Highly Intuitive Design
The Novelah APK has an intuitive design, so readers can easily navigate its pages without problems. It has a bookmarking system, allowing users to save their favorite quotes for future reference.
It also has a personalized dashboard where you can access messages, points, and profiles. This way, you can be sure of personalizing your experience.
Original Books Directly From Authors
Novelah provides a platform for creatives to share their content with millions of readers. You can publish your book on the app since it has easy-to-understand guidelines.
Once you have published your book, you get direct downloads and referral commissions. This way, you do not have to deal with middlemen, which is great.
When you publish your book, it will be available for reading on the app immediately. You can upload a preview of your work and share it with friends to gather feedback before publishing the final version.
An Easy Way to Earn Points
The app comes with a straightforward mechanism that allows users to earn points. All you have to do is read books, share quotes on social media, and invite friends to the platform.
You can also complete other tasks such as error correction, ideas/contribution, signing-in, and creation. You can then use these points to unlock books, share quotes, and do other tasks.
Get Personalized Recommendations
This application uses an AI system that creates personalized recommendations for readers. It studies your reading patterns & preferences and suggests books that match your taste. This way, you can be sure to find the best-rated novels for your reading experience.
Advanced Search Engine
The platform has an advanced search engine, enabling users to locate books, characters, or quotes without a hassle. You can use the feature to browse through different categories
Customize Your Reading Experience
You can personalize your reading experience by changing the theme, font size, and layout. You can also enable or disable night mode, which is a great feature to have in a book app.
The app comes with a material design that makes it easy for users to navigate its pages without any problems. It has an intuitive interface with point reward redemption options that are only one click away.
Novelah APK
The Novelah APK versions have unlimited money that you can use to unlock features on the app. You get access to books, quotes, characters, and other categories.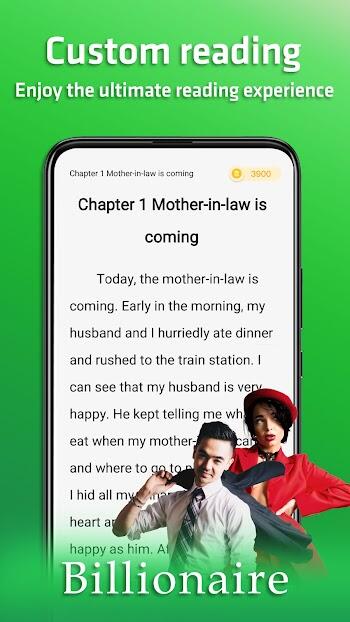 Additionally, the Novelah APK unlimited coins version has a free shopping feature that lets you buy points and items without limitations. You can now enjoy premium features on the platform with unlimited money.
Conclusion
Novelah is a feature-rich book app that every reader should have on their devices. It has a clean design, high-quality books, and a simple yet rewarding system of earning points.
In addition, the platform is great for authors who want to share original works with millions of readers from around the world. You can increase your book's visibility and enjoy good read rates by publishing useful content on Novelah.