NERF Epic Pranks APK 1.9.10
Download Nerf Epic Pranks APK - latest version - free for android to become the leading Nerf prankster, unlock all the Nerf blasters, and have fun with friends.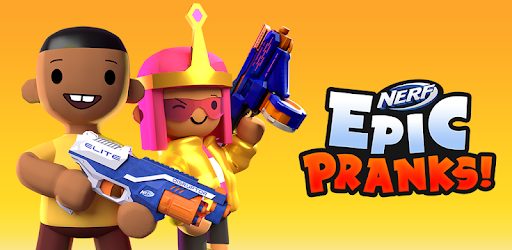 Nerf Epic Pranks is a brand new mobile game from HOMA Games, featuring a fun, character-based Nerf battle and prankster game for you and your friends. It's your job to try and tag everyone with your Nerf gun before you get caught, so grab hold of your awesome blaster and jump into this fun world of silly combat. There are all sorts of different blasters to collect, and you can personalize your character to stand out from the crowd. Work your way towards all the costumes and blasters in this well-developed little game.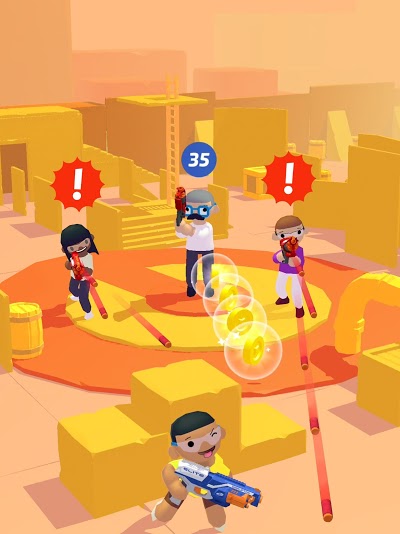 With positive reviews across the Play Store, Nerf Epic Prankster is a fun game with lots of great mechanics. As it's still quite new, the developers have said there are more updates coming to the game, with more blasters and costumes to work your way towards. Plus, there aren't too many adverts, and the graphics look great on mobile. It runs very smoothly and has good shooting controls, so there's a good reason to try out the game today and download Nerf Epic Prankster today.
Best Features of Nerf Epic Prankster
If you love Nerf, you'll love Nerf Epic Prankster. The game is still at an early stage of its lifecycle, but there's still a lot of fun to be had across lots of different environments. You can create an awesome character and wield a powerful and fun Nerf gun, with lots of iconic models to choose from. The game also has a great sense of progression as you unlock more and more to play with, as you battle it out against the computer and against real life opponents! With some puzzle elements included, it's almost like a stealth game sometimes...we'll go into that with more detail shortly!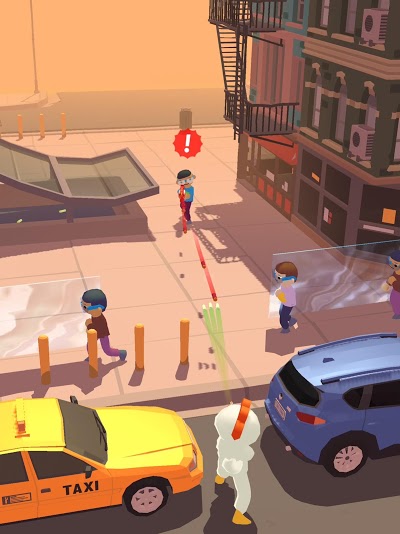 Funny Graphics and Gameplay
This is a really funny Nerf prankster game, and it has mechanics a bit like Untitled Goose Game, if you've seen that recently! You control a fun little character who is causing chaos in a variety of different settings. From shooting your family members in the back with Nerf darts, or while your Dad is trying to watch television, you need to make sure to shoot only when they can't see you! Stay hidden and out of sight to progress to the next level with full points. The graphics are great and run well on mobile Each level grants you upgrades, which we will go into as well.
Level Up Your Character and Blasters
One of the best features of Nerf Epic Prankster is the fact that you can level up your character and unlock lots of new things. You can get your hands on funny costumes, such as your hat, shoes, and much more. Ace missions with full points and work towards unlocking new blasters and dances to celebrate your victory at the end of every mission. Every blaster has unique shots and can be definitely useful for those trickier levels as you progress further through the game. Got what it takes to be an epic Nerf prankster?
Lots of Different Blasters to Play With
Do you love Nerf guns and building a fun collection of different guns to use? There are all sorts of funny blasters in this game, from the single-shot beast you start out with, to maybe the three-burst gun you unlock after completing some of the early stages. It's easy to unlock them, you just need to keep playing, At the start your opponents will not even try to hit you with nerf darts of their own, but over time, they'll start firing back. This is where fast reactions and good aim are needed to complete the levels with full points!
Fun Little Mini-Games To Earn More Prizes
While you do unlock the blasters just by playing the game, you can also take part in some fun little mini-games which can help you unlock even more. Take the spinning wheel of prizes, for example, which means you have to shoot your darts at just the right time to get the best rewards. These could be new outfits, a new blaster, or a new fun little dance to do at the end of the level to celebrate your Nerf prowess!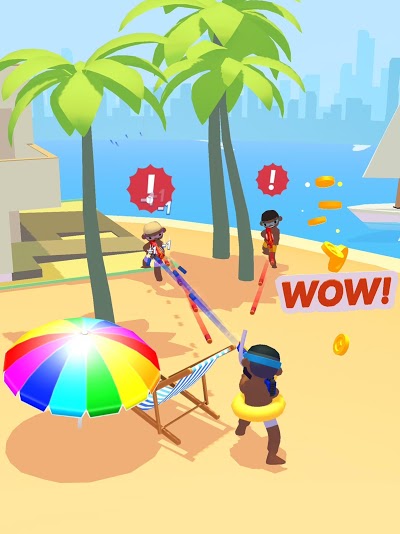 All Sorts of Different Environments
Although you might start out in your family home, as you start to become a better Nerf blaster you can move out of the house into the street and other fun locations. Your character moves around the map and sets up those perfect blaster shots. Like clearing out a funny saloon, as someone plays the piano and some others play poker. Can you hit them all with nerf darts before they see you? Most characters won't shoot back, but after a while, you'll find other Nerf dart blasters out there who want to try and take you down!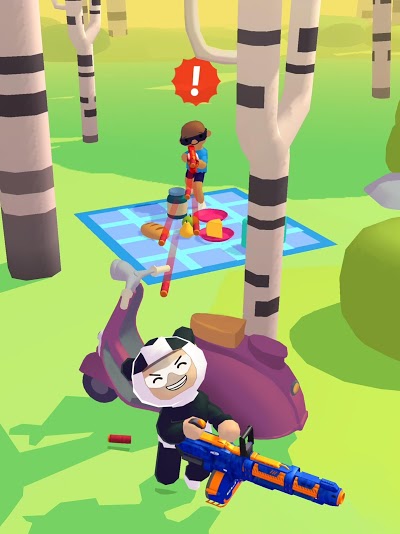 Tips and Tricks for Nerf Epic Pranks
The best way to get the most points out of every round is to be patient with your shots. Each character has a line of sight which is indicated by the big red arrow - if you are seen by them, you will fail the level. While you might just want to unload all the nerf darts into them, you need to wait for the perfect opportunity to shoot! Usually these rotate in a full circle so it can be easy to navigate if you just pay close attention. Duck in and out of cover with your fully upgraded blaster to be a totally annoying Nerf prankster! By the way, we do not condone shooting people with a Nerf blaster unless you are wearing good face protection!
Nerf Epic Pranks APK
Download the newest version of Nerf Epic Pranks apk to unlock all skill in the game. Become the best prankster!