Need for Speed Most Wanted APK 1.3.128
Download Need for Speed Most Wanted APK – latest version – for Android and test your racing skills against the best racers around the world!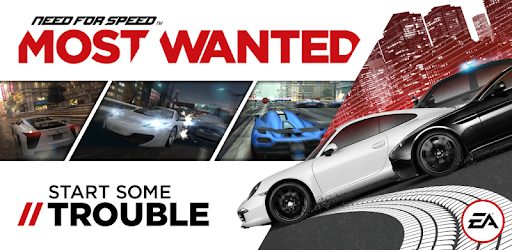 The racing games genre has been around for ages. It's one of the pioneer genres that were used for games back then. And when you say racing games, it's hard not to associate it with the Need for Speed series.
In this article, we're going to take a look at one of the most popular games from EA – Need for Speed Most Wanted APK. Normally, this wouldn't need an introduction or an article like this since it's such a popular title. But for the sake of this article, we're going to talk all about it! Ready to experience the race of your lifetime? Buckle up!
One of the Best Racing Games Ever
Released in 2012 for mobile gaming, Need for Speed Most Wanted has now over 1 million downloads in Google Play alone. With such a popular series title behind the game, it's difficult not to see this game taking off.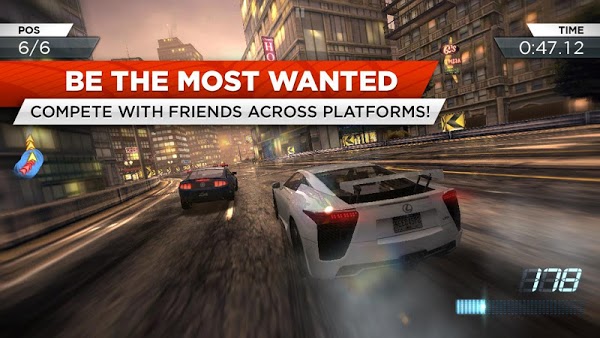 In this game, the game is set in the city of Fairhaven which is the place where the biggest racers come together for adrenaline-pumping action. In here, it's normal to see wild police chases, intense races and more action than you'll ever see outside the city.
But in order to be recognized as the very best, you're going to overcome a lot of challenges. First and foremost, there are the 10 best racers in the city that are put in a list of the "Most Wanted". If you ever hope to become the best, you need to beat each and every one of them at their own games and claim the top spot. Sounds challenging? We hope so!
But aside from that, there are also a lot of exciting features that the game offers. In this game, your only goal is to get better and faster every time. That may mean upgrading your car, skills, items, and elevating your gameplay to the elite level status.
Need for Speed Most Wanted Best Features
Just to comprehend how much this game offers, let's take a look at some of its best features. Although the game was released 8 years ago, it's still played by many people from around the world. So, what exactly makes this game such a classic? Here are the features of Need for Speed Most Wanted:
Simple controls - Like most racing games, NFS Most Wanted also has a simple and an intuitive control scheme. The common control is the tilt mode where you tilt your phone left or right according to where you want the car to move. Then there's also the touch mode where you touch the left and right side of the screen to move left and right respectively. You can also rearrange the touch button controls and adjust their sizes to better fit your preference.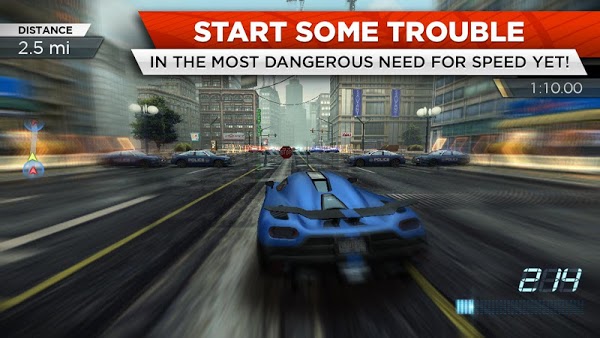 High-quality graphics – Because Electronic Arts has been around for so long, they're known for pushing the boundaries to what is theoretically impossible. They've done this again and again and this game isn't an exception. Need for Speed Most Wanted was a result of hard work and a long time in the making. This game has one of the most realistic graphics and elements for such a classic game! You can really tell that they've put a lot of effort into making this game.
Collection of cool cars – The main elements of the game – the cars. In this game, you'll get to drive and own over 40 super cars from around the world! As the story progresses, you'll need faster and better cars to help you claim that top seed. In order to do that, you need to constantly unlock newer cars. You can also upgrade and modify your car parts to better suit your needs! Can you collect all the cars?
Endless customization – In the garage, you'll find tons of customizable features to your cars. You can change the engines, tires, transmissions and more. Aside from that, you can also customize the way your car looks! Be the best and also the most stylish racer in the world!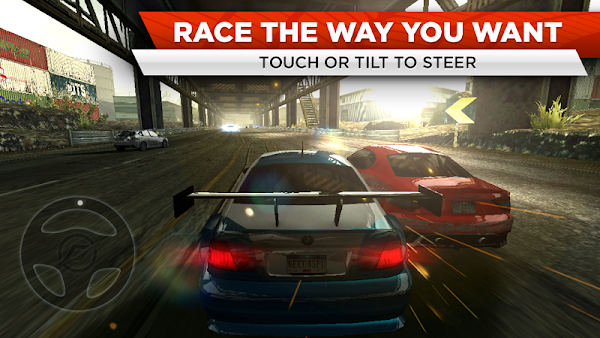 Different game modes – This game also offers tons of game modes to enjoy! There's Freeroam where you can explore the entire city without having to worry about time and challenges. Most importantly, you won't need to worry about the police chasing you on this mode! Then there's the Pursuit mode where you are the police looking for speedsters around the city. See what it feels like to drive a fast police car and chase down the naughty kids around the block. Lastly, there's the single player campaign where the main storyline is. In here, you'll begin your journey as a beginner without money as you race your way to the top inch by inch. It's your job to earn the title "Most Wanted" after you've defeated all the other top opponents in the area.
Tips to Become the Fastest Racer in Need for Speed Most Wanted
Of course, defeating a bunch of talented racers isn't a walk in the park. This is especially true if you haven't played any racing games before. But don't fret, it's our job to take you to the top. Here are the tips you'll need to become the fastest racer there is:
Be aggressive – In a racing game, the most important thing is to come out on top. You can't do that by being passive. You can't just let others overtake you and expect to win the game. You need to be constantly on the lookout for openings and to be able to use other items to your advantage. It's really a matter of not being afraid and taking risks. Just be sure not to drive like a madman.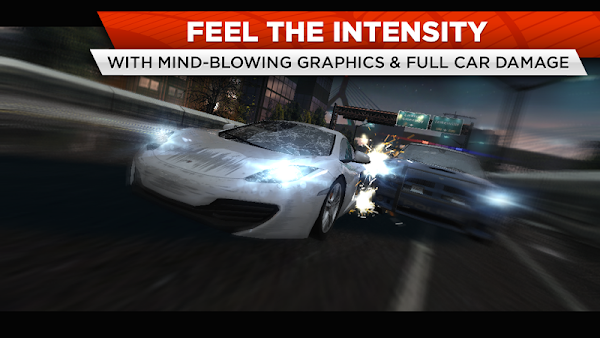 Take out the cops – In this game, the other racers aren't just your opponents – the police will be there too. You need to do everything you can to get rid of them whether ramming their cars or avoiding speed traps – it's on you. Try to squeeze on openings to avoid the speed traps the police lays.
Race naked – When starting a new race for the first time, try to race without any modifications. Instead, you should just use the best car you already have. Keep an eye out for shortcuts, police positions and the map itself. This allows you to better plan your next race when you do decide to take this race seriously with upgrades.
Need for Speed Most Wanted APK
Don't want to wait a long time just to unlock cars and upgradeable items? Download the unlimited money now and be the fastest racer ever!