Mortal Kombat APK 5.0.0
Download Mortal Kombat APK for Android if you want to test your fighting skills against the very best in the world featuring characters you've come to love!
The very first Mortal Kombat game was released in 1992. During this time, games were still developing and the fighting genre was at the peak. If you're a die-hard fan of the Mortal Kombat series, you'd instantly love every game they'd release.
Mortal Kombat apk for mobile is a very popular game with over 50 million downloads as of this writing. Everything you've come to love from the series such as the characters, the brutality and the sheer action is present! If you're missing the action, read on to know more about this game!
What is Mortal Kombat?
If you were born in the 90s, there's a high chance that you've played a Mortal Kombat game as a kid. Who can forget these games with its over the top actions, stunning graphics and the sheer brutality it brought? But even if you're not familiar with it, you'll appreciate this mobile game just by playing once.
Mortal Kombat apk obb for mobile is a modern miracle – bringing top-notch combat to the mobile experience is a smart move. In this game, you can collect the 11 original Mortal Kombat characters from the console game called the MK11. These characters include familiar faces such as Kabal, Sub-Zero, Scorpion, Raiden and more!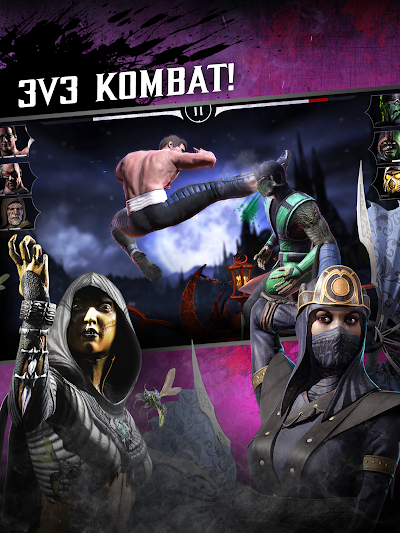 Aside from these, you can also participate in multiplayer matches to face warriors all over the world. In the Faction Wars, you can engage against other players as you rank up the leaderboards for crazy awards. Overall, the Mortal Kombat game is optimized for mobile complete with stunning graphics and over the top gameplay that will leave you wanting more!
Features of Mortal Kombat
We all know that Mortal Kombat games can be pretty epic. But just how much effort did they put into creating this masterpiece? Let's find out its features:
A Massive Roster of Characters – In this game, you have the chance to assemble a team of MK11. This team comprises of the characters you're familiar with in the console such as Sub-Zero, Scorpion, Kabal, Skarlet and many more! If you're a fan of these ones, you're in for a treat as they also perform the same Fatal Blow they're famous for. Aside from that, there over 130 Mortal Kombat characters you can collect in this game. There are tons of new characters that you don't want to miss such as Klassic Reptile and more.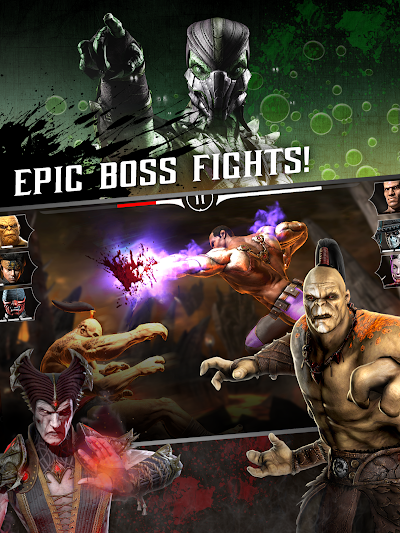 3 vs. 3 Battle – In this mode, you will take your top 3 strongest warriors to fight a match against a team of 3 characters. You will fight to the death to earn gold, experience and the ability to upgrade your characters. Team up warriors with unique synergies to create an unfair advantage that will topple your enemies. Think you can concoct a better team than the enemies?
Multiplayer – In the multiplayer Faction Wars, you can compete in the global leaderboards by fighting real players in real-time! In this mode, you can show off your skills to top the leaderboards and earn crazy rewards!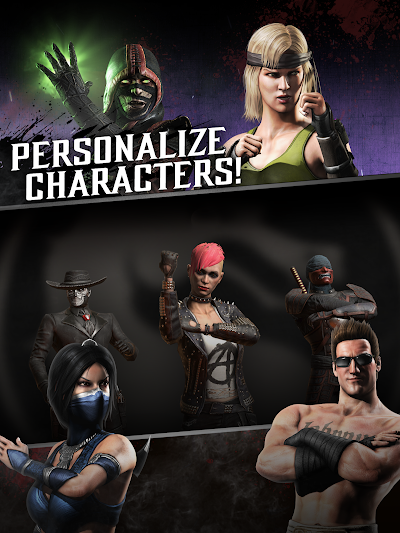 Graphics – Everyone knows that the brutality of Mortal Kombat is unmatched. But in this game, you'll appreciate the brutality even more thanks to the stunning 3D graphics that the game offers. Every attack is designed to give you a realistic experience. This is especially true when your character does a Fatal Blow which will render the opponent useless.
Controls - Mortal Kombat does a great job of transforming a console game into a working mobile game. The controls of Mortal Kombat are easy enough to learn but hard to master. In here, you'll also be challenged as you time your attacks correctly.
Mortal Kombat APK
Mortal Kombat apk offline brings back the nostalgic gameplay we've been missing in mobile form! Download the unlimited money to instantly unlock all the characters and upgrade them to the fullest!