Mobdro for Smart TV – Learn How to Stream on Television
Video Streaming on Your Big Screen?
How many streaming services can you name off the top of your head? Take your time to count them up. Now, out of all of these streaming services, how many of them are absolutely free to use without a subscription? Not as much as you thought, right? Well, there a quick fix for that, Mobdro!
The application is a "freemium" video streaming application that allows you to watch hundreds of different movies, TV shows, and series from your device. Besides the stray advertisement here and there, the application is 100% cost free from your part!
And for that reason, everyone wants to get their hands on it. Rightfully so, everyone is entitled to spend their boring free time watching the best movies and TV shows the world has to offer. It's out right as humans.
But, Mobdro is initially a mobile application. That means, mainly iOS and Android mobile users are the ones to enjoy the luxury of unlimited streaming on their devices. How can that be fair?
Don't you wish you were able to join in on the glory of all around streaming and video viewing of all kinds from the big screen? Luckily, we have good news – There definitely IS a way for you to watch Mobdro from your Smart TV.
We've prepared a guide in detail to explain how you can download and install Mobdro onto your Smart TV, regardless of the specific device.
Yes, this includes: LG devices, Samsung, Sony, Toshiba and TCL devices are all subject to the guide we are about to demonstrate.
Mobdro Features
Before downloading, here are the features of Mobdro that everyone is downloading the application. Here are the additions of the app that you should look out for and be aware of:
Discover hundreds and even thousands of different videos that are free to stream.
The user interface and homepage are stunning. Every Category is properly displayed on the home screen. These Categories include: Channels, Movies, Shows, Live, Podcast, Sports, Games, Spiritual, and many more (you get the point).
Additionally you get live event streaming, as well as regular livestreamed videos. See what's going on, RIGHT NOW in life.
Share across multiple devices with the Cloudshare capabilities and integration in the app.
Mobdro is also compatible with any scree, as you are about to see in a few minutes.
You can stream all videos in perfect HD quality. That's right 1080p and high frame rates will keep all video looking crisp, fresh, and clean.
Lastly, you can also Bookmark videos, Capture them, Chromecast, and even share all of the videos, movies, streams, and shows that you watch.
There you have it. With all of these additions to the application, including the fact that it's free – there's no reason why anyone would stand up the opportunity to have this in their apps library.
How to Download Mobdro to Smart TV
The moment you've been waiting for. Now, you can learn exactly how to add Mobdro onto your big screen TV for perfect movie and TV series watching. Again, all of the following steps are compatible with all, if not most Smart TV devices. Therefore, regardless of the device you are using, you will be able to download Mobdro onto your device.
You can follow these simple steps in order to download and have Mobdro install on Smart TV. Follow along as you read and you'll already be on your way to unlimited streaming. Ready? Let's begin…
Follow these simple steps for the Mobdro Smart TV download.
First, go to your smart TV's settings. You will need to enable the option of allowing "Unknown Sources" on your Security and Restrictions.
Once you have this enabled, you can go to the respective App Store of your Smart TV depending on your device (LG, TCL, Samsung, Sony, Toshiba). You can search for the ES File Manager in the App store. After you locate the application, go ahead and download the application.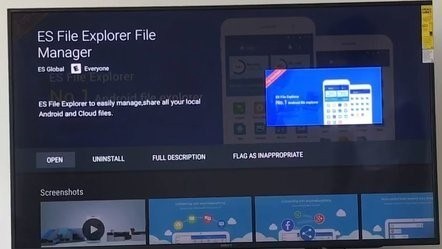 Go ahead and open up the ES File Manager. In the top menu you should be able to see the "Add" option. Go ahead and select it to open a pop-up box. This pop-up will ask you for a "Path" and "File Name".
This is the time to download the Mobdro APK file. You can refer to the download link and add it to your Smart TV.
Next, you can add the path of the just installed and added APK. Or, you can directly add the path of the file if it's stored on cloud. Name them whatever you like, then click on the "Add" option.
Now, you'll need to navigate to your Bookmarks. Here, you should be able to find Mobdro (it should be named whatever your name input was when adding the path in the previous step).
Select on the file and you should get the choice to "Download for Android". Pick this option and then you'll simply need to follow the on-screen instructions guide to install the file onto your device.
And there you have it! You should have successfully added Mobdro to Smart TV with little to no difficulty. The best part, these procedures can also be followed using any other Smart TV listed above, as well as FireTV and Amazon.
Conclusion
So, take a load off. You've been working for the entire week and now is the time to take a break and relax. You have all of the resources needed for the perfect weekend. Pick up a few snacks, grab some buddies and turn on your Smart TV. Mobdro is waiting, alongside hundreds of different movies, TV shows, and series.
Is there really any other way to spend your weekends? Don't answer that. Just Turn on your newly acquired Mobdro and begin streaming away! We hope you enjoy.
Maybe you missed this great article: Mobdro for Windows