Marvel Realm of Champions APK 6.1.0
Are you a huge Marvel fan? If you are, you'll love Marvel Realm of Champions where you can play in a multiplayer action game! Customize your hero today!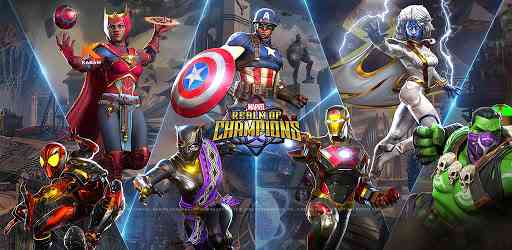 Are you a huge Marvel fan? For the past decade, the heroes under these have ruled over the cinemas as they've released a lot of movies and shows. When it comes to superhero films, nothing can beat the Avengers and its heroes. In Marvel Realm of Champions, you get to play with popular characters such as Spiderman, Iron Man, Hulk, Thor, and many more! Plus, you get to participate in a 3 versus 3 battles now.
A product of Kabam Games, Inc., this game brings all of your favorite heroes into one enjoyable game. In this game, you'll appreciate the full 3D graphics where you can attack the enemies with different abilities of the heroes. Team up with your friends online now and take part in incredible action scenes. Customize your hero and level up to take on challenging enemies!
Gear Up as a Hero
Superhero films are super popular nowadays since the Marvel universe has done a great job over the past decade. They've culminated enjoyable and interconnected films that are a joy to watch. With heroes such as Iron Man, Captain America, Hulk, Thor and many more, you may have some favorites. In Marvel Realm of Champions, you get to play with these heroes to defeat evil forces! Enjoy 2v2v2 deathmatch and 3v3 battles for epic rewards in this game today.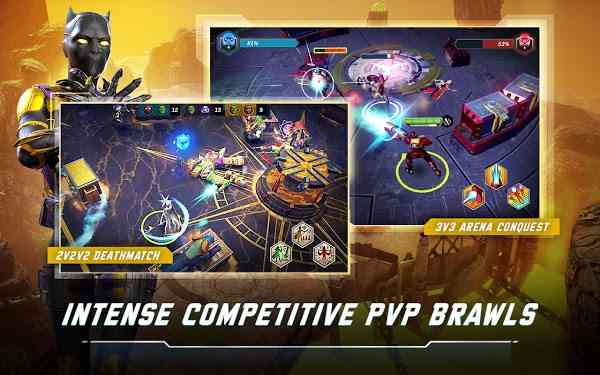 Here, you can go on the Story mode and fight against forces of evil and fight Maestro which is an evil version of Hulk. Here, you'll fight many enemies that have become evil due to different timelines merging. Assemble your team of superheroes such as Spiderman, Black Panther, Hulk, Iron Man, Thor and many more in this exciting game now. You can even customize your heroes such as equipping gears, weapons and upgrades to level up and become much stronger.
You can try your might and fight 15 waves of continuous battles in the Onslaught events. Or, you can team up with friends as you go on team-based battles in this game.
Marvel Realm of Champions Features
Do you love superheroes? You'll never get enough of them in Marvel Realm of Champions! Enjoy fierce battles today.
Superhero Action Game – Do you want to try becoming a superhero that saves people from evil forces? If you've always wanted to play as your favorite Marvel superheroes, you can enjoy doing it in Marvel Realm of Champions! Here, you get to partake in epic fights that will lead up to the battle of Maestro which is an evil Hulk. Then, you can also participate in real-time multiplayer matches to show off your strength to everyone.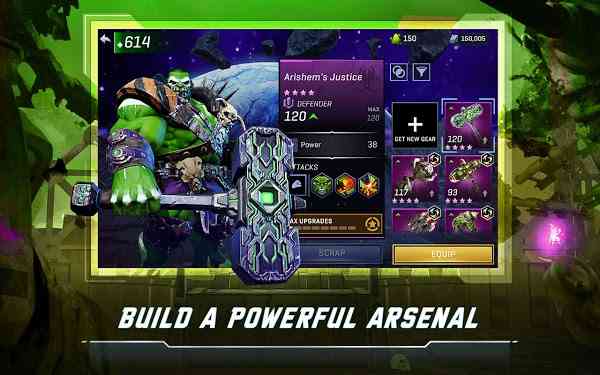 Customize your heroes well and recruit many powerful beings in the Marvel universe. Here, you can collect weapons, gears and do endless upgrades that will allow you to dominate each fight. There are many weapons and items being added all the time in this exciting game of heroes. Assemble the Earth's mightiest heroes today and fight the bad guys!
Collect Exciting Heroes – There are a lot of superheroes that we know of that aren't just limited to the Marvel universe. But in Marvel Realm of Champions, you can recruit many superheroes such as Black Panther, Super Soldier, Hulk, Storm, Iron Legionnaire, Sorcerer Supreme, Web Warrior and more. Each hero has unique superpowers as well as uniforms. There are a lot of them out there that you can recruit so you can fight powerful enemies and players.
Upgrades – In this game, you can freely customize your heroes and make them yours. Here, you can mix and match gear and weapons that you get from battles to your advantage. Change your weapons and gears and do endless upgrades to increase the rating of your heroes. Here, you can upgrade your heroes so they can increase their attack and health stats. There are so many other customizable parts as well such as the weapons, head, torso, arms and pants.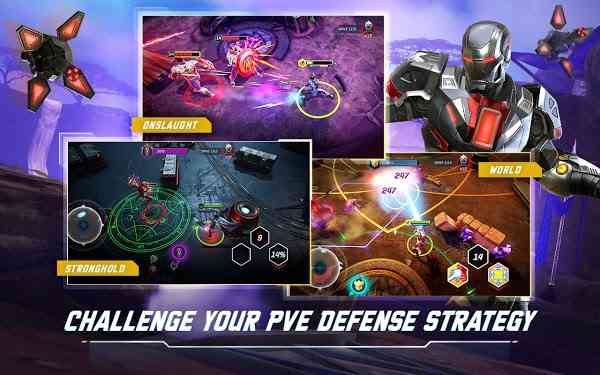 Participate in Multiplayer Brawls – Aside from the Story mode in this game, you can also enjoy real-time multiplayer brawls. In Marvel Realm of Champions, you get to enjoy 3v3 battles against real players so you need to assemble your best team. Then, you can also go for 2v2v2 Deathmatch showdowns and show off your best moves against your opponents. There are also other ones where you need to fend off against 15 waves of enemies!
Epic controls and graphics – Unlike most superhero mobile game, this one isn't a card game or an RPG one. This means that you can fully control your characters so you can unleash powerful attacks!
Download Marvel Realm of Champions APK
Fight against the best heroes now in Marvel Realm of Champions! Show off your hero's strength now.