Like a Pizza APK 1.8.2
Download Like a Pizza APK latest version and manage a pizzeria. You must be hands-on to ensure flawless operations and optimum productivity.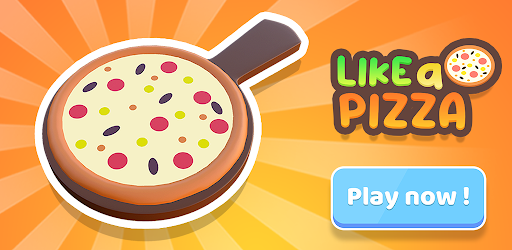 | | |
| --- | --- |
| Name | Like a Pizza |
| Updated | |
| Compatible with | Android 5.1+ |
| Last version | 1.8.2 |
| Size | 99.57 Mb |
| Category | Casual |
| Developer | MondayOFF |
| Price | Free |
| Google Play Link | com.mondayoff.pizza |
What You Need to Know about Like a Pizza APK 
Like a Pizza APK is a business simulation game offered by MondayOFF. It challenges you to start a pizzeria from scratch. You must turn it into a thriving business empire, by keeping your customers satisfied and expanding your operations.
The game starts in a small pizzeria, with only a handful of customers. You must take care of every aspect of the business, from baking the pizzas to serving them to your customers. The better you serve your customers, the more they will spread the word about your pizzeria, and the more business you will do.
You can use the coins you earn in the game to buy new ingredients, upgrade your equipment, or even expand your pizzeria to multiple locations. With each new upgrade, you will accommodate more customers and serve better pizzas.
The key to success in Like a Pizza APK Android is to keep your customers happy. You must pay attention to their needs and wants, and always strive to give them the best possible experience. If you can do that, you will find success in this fun and challenging game.
So what are you waiting for? Download Like a Pizza APK and start building your own pizzeria empire! It is optimized for Android 5.1+ devices.
What is Special about Like a Pizza APK Download?
One of the most unique elements of this game is its home delivery feature. You will start delivering the pizzas to your customers' homes or workplaces. This is a great way to ensure that your customers are always happy with the pizzas they receive.
Another great thing about this game is that it is fun & uncomplicated to play. Even if you have never played a business simulation game, you will get the hang of it fast. The controls are straightforward, and the game is designed to be as user-friendly as possible.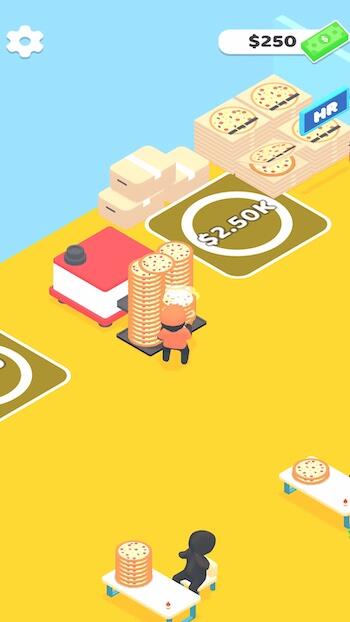 So if you are looking for a fun and challenging business simulation game to play, look no further than Like a Pizza APK. It will provide you with hours of entertainment and is a great way to learn about running a successful business. Download it now and start building your very own pizzeria empire!
Hire Helpers and Automate Processes
While you will start small, there is no reason why your pizzeria should stay that way. As you earn more coins, you can hire helpers to take care of the baking and the serving, allowing you to focus on other aspects of the business.
You can also automate some of the processes in the game so that you can save even more time. For example, you can set up a delivery system where customers can receive their pizzas without waiting in line.
Your employees will also level up as they work more shifts. This will allow them to work more efficiently and increase their pay. As your business grows, you will afford to hire even more employees. Eventually, you can open up multiple locations.
Earn Coins & Level Up Your Gameplay
Of course, the ultimate goal is to earn as many coins as possible. There are numerous ways to do this, and you will find that the more customers you have, the more coins you will earn.
You can also level up your gameplay by completing certain tasks. For example, you can earn bonus coins by serving a certain number of pizzas within a given time frame.
You can also watch ads to earn coins. This is a great way to get a steady stream of income, and it will also help you level up your gameplay.
Outstanding Features of Like a Pizza APK
Click-and-Drag Gameplay.

This game is child play, and you will understand it quickly. You will not require any special skills or knowledge to play this game.

Showcase Your Creativity!

Everything about this game is customizable, from the pizza ingredients to the decor of your pizzeria. This means you can let your creativity shine through as you design your dream restaurant.

Test Your Time Management Skills.

Customers will make requests, and it is up to you to ensure they are fulfilled promptly. This will require you to manage your time wisely, a great way to test your organizational skills.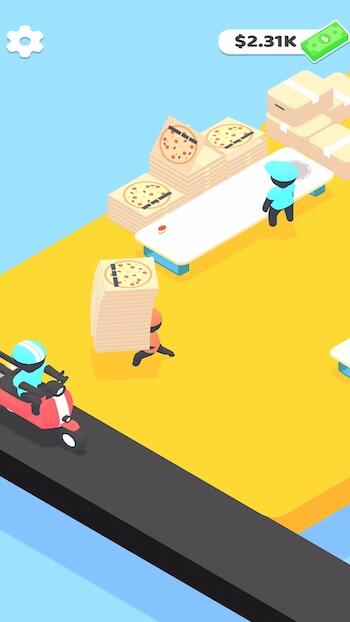 Endless Gameplay Potential.

There are numerous tasks to complete and achievements to earn. You can also open up multiple locations and hire a variety of employees. This means that the gameplay potential is practically endless.

Intuitive Touch Controls.

This game has super responsive touch controls that make fun to play. You will not have any trouble deciphering the controls, and you will be able to master them in no time.

Easily Accessible In-App Purchases.

You can use real money to purchase in-game items, but you will not be pressured to do so. In-app purchases are completely optional, and you can still enjoy the game even if you do not make any. They cost $3.99 per item.
Like a Pizza APK
The modded version of the game will provide you with an unlimited supply of coins, allowing you to purchase any in-game item you want. Here are its other features: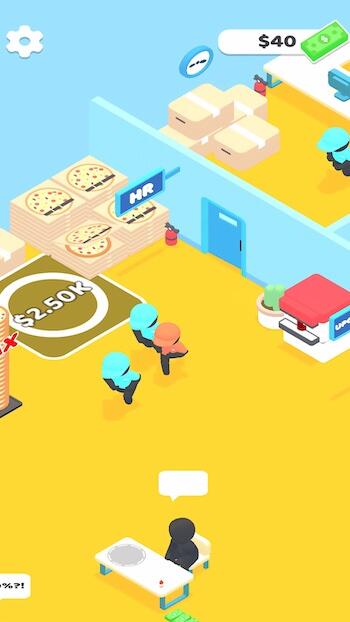 Free Shopping.

The Like a Pizza APK free download will allow you to make free purchases.

Unlimited Money.

You will have unending resources at your disposal, and you can use them to buy anything in the game.

No ads.

You will not have to deal with any ads while playing the game.
Conclusion
Like a Pizza is an excellent business simulation game that is perfect for those looking for a challenge. It is also great for those who want to showcase their creativity.
You must be patient while playing this game as it requires time to grow your business. However, the rewards are worth it, and you will become more addicted to the game as you progress.