Like a Dino APK 2.5.2
Do you want to enjoy a clean and a simple rhythm game? Download Like a Dino today and enjoy a rhythm game where you need to catch all the lines in tune.
Nowadays, we're bombarded with plenty of mobile games in different shapes and sizes. There's no longer a shortage of mobile games since there are new game releases every day. Now, you can play a variety of games but most of these games are heavy and they take a lot of focus to play. So, if you're looking for a light game you can enjoy anytime you want, play Like a Dino now and enjoy. This cute-looking game is a music game published by Hyun-jooing Kim.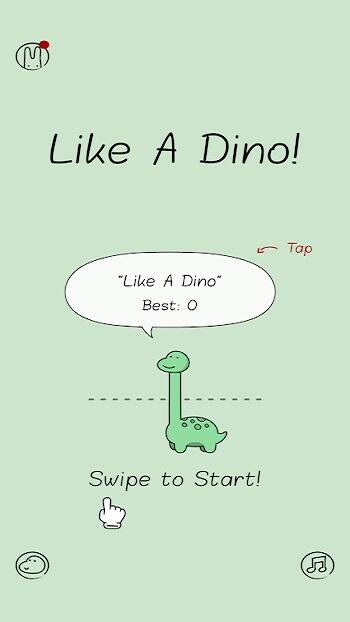 This game is loved by many simply because it's cute and minimalistic. Here, you just need to catch all the falling lines that resemble the neck of the dinosaur. They're all falling to the background music so you can predict and make the appropriate action. You can move sideways here and enjoy a variety of songs such as "Like a Dino", It's Ok to Not Be Ok", "Good Luck Today", "A Piece of Cake" and many more.
A Relaxing Music Game
Do you ever just want to relax and play a calming game that doesn't take too much energy and focus to play? The problem with games today is that there are too many elements present which can make it draining. Sometimes, we're tired and we just want to relax and not have more work. If this is you, then you must be looking for the perfect game to play when you want to relax? Like a Dino is the perfect mobile game for you to play.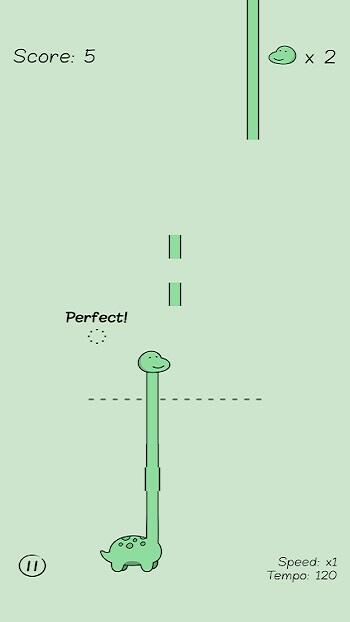 This is truly a minimalistic game that lets you enjoy what you're doing. Here, you simply need to catch the falling tubes that and score as many as you can. Here, the speed and tempo can get faster as you want to make it more challenging. Can you catch all of the tubes in here by moving sideways? This game lets you enjoy the background music as well as the tubes will fall based on the rhythm of the music.
This lets you enjoy a calming and a relaxing game today.
Like a Dino Features
If you love dinosaurs and clean games, then try Like a Dino now. Here are the features you'll get.
Calm and Relaxing – Do you love dinosaurs and all things peaceful and cute? There are a lot of mobile games today that lets you relax and enjoy the vibe. But often times, they are still challenging and stressful for some for there are still lots of elements. But if you want a game that gives you the best time ever, download Like a Dino and play it. This is a fun rhythm game that lets you catch the tubes as a dinosaur today.
In this game, your job is just to catch the tubes falling in random places as you can move sideways as you wish. Then, you can score and get free coins so you can unlock different skins and songs. Get as many songs as you can and enjoy the fun music while wearing headphones. This is the perfect game to play when you're just chilling outside at home or at school. You can easily play this game whenever you want because it's so light.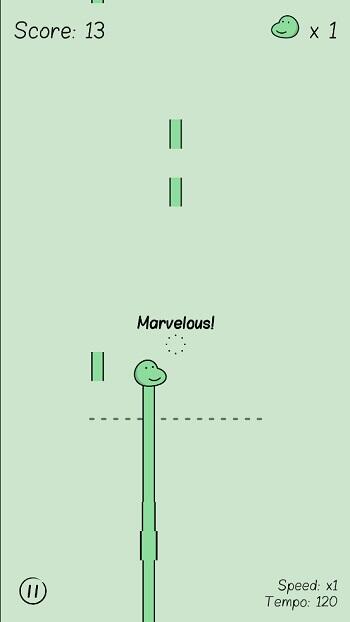 Score by Catching the Tubes – Here, you'll start as a small dinosaur and you will grow by catching as many green tubes as you can. Here, the tubes will fall randomly but you can move sideways to perfectly catch them. They also fall according to the rhythm of the song that's playing. This lets you enjoy a fun game with music today! Don't let a single tube fall out today so you can complete the song and score higher.
Unlock Many Songs – There are many songs to unlock in this game today. Here, the songs will be playing in the background but will also influence how the tubes will fall. You can enjoy songs like Good Luck Today, It's Ok to Not be Ok, Like a Dino and many more. You can unlock these songs today by buying them with coins that you earn from playing the game.
Enjoy a relaxing vibe – This game gives a relaxing vibe that you can enjoy right now. Play this game whenever you're feeling blue and instantly become happier.
Download Like a Dino APK – Latest version
If you want to enjoy a fun and relaxing game, download Like a Dino now and catch all the tubes!